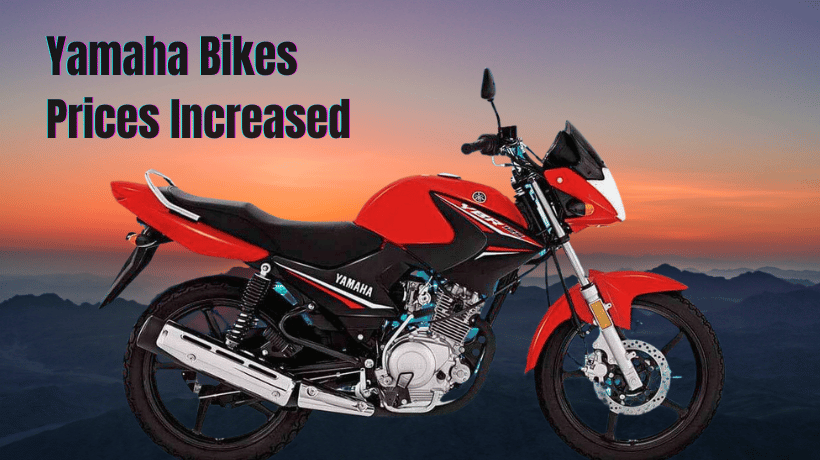 It has been a while since the bike prices increased in Pakistan overall. Similarly, Yamaha Pakistan had not increased the prices for few months unlike earlier when prices used to increase more than once in a month. On the contrary the value of Pakistani Rupee kept declining continuously. Bikes have become so overpriced that despite the dropping currency value and increasing cost, bike companies were reluctant to increase the prices of bike they make. Mainly due to the fear that people will not be able to buy the bikes anymore and they will lose in sales.
But now finally, Yamaha Pakistan have come up with a price hike for the whole range of motorcycles that it sells. The details of old and new prices and difference between them is as follows.
| Bike Make & Model | Old Price | New Price | Difference |
| --- | --- | --- | --- |
| Yamaha YB125Z (Red / Black) | 380,500 | 396,000 | 15500 |
| Yamaha YB125Z DX | 408,000 | 423,500 | 15500 |
| YBR125 (Red / Black / Blue) | 419,000 | 435,500 | 16500 |
| YBR125G (Red / Black) | 436,000 | 453,500 | 17000 |
| YBR125G (Matt Gray / Matt Orange) | 439,000 | 456,000 | 17000 |
Challenges for Pakistani Bike and Car Makers
Pakistani bikes and cars makers are facing many challenges these days, the biggest of them all is deterioration of local currency, the Pakistan Rupee (PKR). When the value of PKR goes down, this means local bike and car makers, who sells the products in Pakistani Rupees, have to pay even more as compared to earlier to import the supplies used to for making bikes and cars. Pakistani bike and car makers mostly rely on the import of Completely Knocked Down (CKD) kits of bikes and cars, which are only put together here in Pakistan. So this means a large amount of money, for each bike or car, is to be paid in US Dollars or other foreign currencies for each bike or car that is manufactured in Pakistan.
Also there are govt taxes which apply on the prices. So no matter the cost of import in USD remains same but when the amount required for import increases in Pakistani Rupees, the govt taxes also go up. So this contributes to the overall increase in the prices of bikes and cars.
People's purchasing power and vehicle prices
The prices of all kind of vehicles including bikes and cars have gone up. They have even more than doubled in some cases in just few years. Also local inflation, commodity prices and even prices of daily used items have gone up very significantly. So people's power of buying the bikes/cars have gone down significantly. So that is why the local auto industry of Pakistan is in worst condition right now. The sales figures are also on the lowest. So bike companies had not increased the prices for few months in between. Otherwise in May 2023 and before that, the bike makers were increasing the bike prices every now and then, sometimes twice a month.
Political instability, bad economy, deteriorating value of Pakistani Rupee and inflation is responsible for all the issues. Also there is less hope for investors to invest in the Pakistani economy right now, as the country have lots of foreign debt and in coming few years Pakistan have to go through tough time to pay these debts. So all these things worsen the circumstances for locals and decrease their purchasing power.
Our dedicated pages for latest bike prices
This was just an update about an increase in prices of Yamaha bike prices in September 2023. Anytime in the future, after September, if you need to check yamaha bike prices, use the link in the list below. Also the links of pages with other bikes prices are included below. On these pages we do try to keep the prices updated all the time.