Along with few others Road Prince is also one of economical and popular bikes brand in Pakistan. They also have quite a few offerings in motorcycles range. They offer many motorcycle variants when it comes to engine capacity (CC), including the 70CC and 125CC, which each motorcycle manufacturer in Pakistan makes and sells. Then each in variant by CC, they offer different color options ranging from 2 to 5. We have made an effort to bring you the latest road prince bikes prices. We will also keep updating these prices as they change in the future.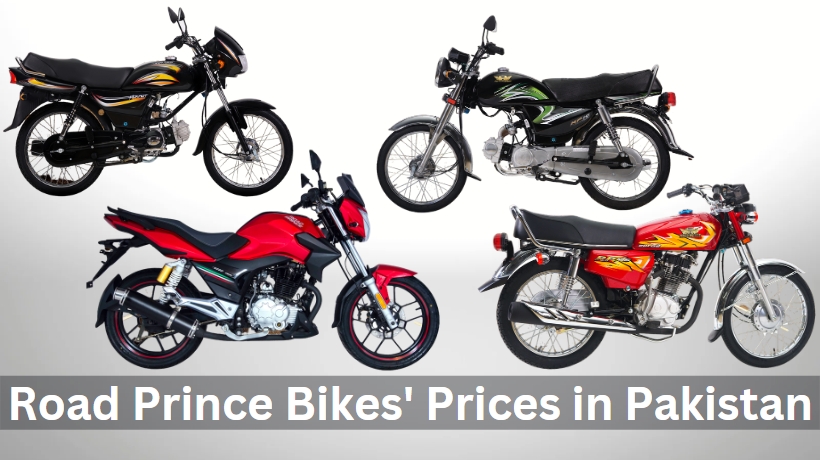 Road Prince Bikes Prices
Following are the prices of different variants of the Road Price motorcycles in Pakistan.
Motorcycle
Price
Price Updated On
Road Prince Passion 70cc
106,500
April 22, 2023
Road Prince Passion Plus 70cc
116,500
April 22, 2023
Road Prince Classic 70cc (RP70)
112,500
April 22, 2023
Road Price Power Plus 110cc
115,500
April 22, 2023
Road Price Power Plus 100cc
112,000
April 22, 2023
Road Prince Shift 125cc (RP125)
160,000
April 22, 2023
Road Prince Jackpot 110cc
(Jackpot RP110cc)
115,500
April 22, 2023
Road Prince Wego 150cc
375,000
April 22, 2023
Road Prince Robinson 150cc
390,000
April 22, 2023
Road Prince RX3 250cc
922,000
April 22, 2023
Road Prince Bella
254,500
April 22, 2023
Road Prince Zeus
260,000
April 22, 2023
Road Prince Zeus XR
278,000
April 22, 2023
According to the information shared on official website of Road Prince, Road Price company was started by three brothers. Vision was to bring in a brand which is local, affordable and high-quality. The vision not only includes selling and competing locally but also envisions to sells products and compete internationally.
It has been further revealed by information provided on official website, Road Prince have a huge dealership network across the country, they have already surpassed 1000 dealership locations in the country. They came into being in 2004, Road Prince is also making the rickshaws and 3 wheeler loaders as well, along with the motorcycles.
Road Price bikes warranty details and terms
Road Prince gives different warranty for different parts of the bike, details are as follows.
Overall Bike Warranty is up to 6000 KM or 6 months, whichever occurs first.
Warranty of both tyres is up to 1000 KM or 1 month, whichever occurs first.
For both, battery and electrical equipment, warranty is again up to 3000 KM or 3 month, whichever occurs first.
Also, on time of buying the bike the warranty registration is necessary, the warranty registration can only be done from an official or an authorized dealer. It is also necessary that warranty certificate is filled with full details on time of bike delivery, it should have stamp of authorized dealer as well as the signatures of buyer. Without these terms fulfilled, the warranty claim will not be considered valid.
There are many other terms which dictate that the motorcycle maintenance should be done on time, first oil change must be done on 300KM, second on 1000KM and than other ones regularly. Also motorbike must not be stored for long term. Warranty manual etc should be kept safe, otherwise warranty claim will not be accepted. Not taking care of any of these will void the warranty of Road Prince bikes.
One interesting term was, only first owner of bike can claim the warranty, if bike is sold, than second owner and so on, will not be able to take a warranty claim. This seems bit unfair in my opinion, however, there is a chance this must have been implemented to curb the buying and selling of new bikes for 'on' money.
Also there are other terms which discourage the work of bike from non official repair shops etc, it is not written in plain and simple text however text like use of non standard oil or faults occured due to non professional work etc. Terms dictate that any claim of a fault, which occurred due to carelessness or faulty usage, will not be accepted.
Bikes from other makers
Another similar affordable bike brand is United, if you are interested we have also listed prices of united bikes for you. Also if you are interested in prices of bikes of more popular and expensive foreign bike brands officially available in Pakistan, you can check Yamaha bike prices, Honda bike prices as well as Suzuki bike prices.