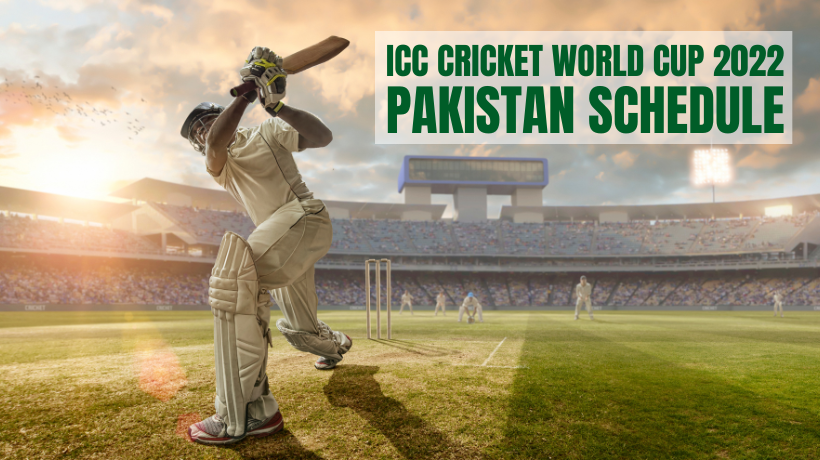 The main matches of ICC Cricket World Cup 2022 are starting from 16 October 2022, however, the warm-up matches have already been started. Some of warm-up matches will continue along with first round matches of world cup T20. Following matches of Pakistan Cricket Team have already been decided for the T20 World Cup 2022, further matches will be decided as the tournament progresses and we will update those here.
Match Detail
Date / Time
(Pakistan Time)
Round Name
Winner
Result Detail
Pakistan vs England
Oct 17, 2022
01:00 PM
Warm-Up
England
England won by 6 wickets
Pakistan vs Afghanistan
Oct 19, 2022
08:00 AM
Warm-Up
No Result
Match called off due to rain
Pakistan vs India
Oct 23, 2022
01:00 PM
Super 12
India
India won by 4 wickets
Pakistan vs Zimbabwe
Oct 27, 2022
04:00 PM
Super 12
Pakistan vs Netherlands
Oct 30, 2022
12:00 PM
Super 12
Pakistan vs South Africa
Nov 03, 2022
01:00 PM
Super 12
Pakistan vs Bangladesh
Nov 06, 2022
09:00 PM
Super 12
Pakistan T20 Cricket World Cup 2022 Schedule
As Pakistan progresses in the tournament, we will update the schedule and add more matches here, as they get decided. If you want to watch them online, one option you will have to use Daraz.pk app to watch t20 world cup matches. As we had reported earlier that Daraz.pk have acquired the digital streaming rights of ICC Cricket T20 World Cup 2022 Matches and they will be live streaming these matches through daraz live on daraz app. So if you do not have any other way, you can use Daraz.PK app to watch T20 World Cup 2022 matches live.
Right now Pakistan is ranked on number 4 in ICC World T20 Rankings after India, England and South Africa. Pakistan have history of performing very well in T20 Cricket Matches. They were runners up of first world cup played in 2007 after losing from India in final match and in 2009 in second T20 World Cup Pakistan was the winner after beating Sri Lanka in final match.
Overall Until today, Pakistan have played 206 T20 matches since introduction of Twenty20 cricket format in 2006, out of which Pakistan won 125, lost 73, tied 3 and 5 matches just ended without any result. So this implies Pakistan have a respectable T20 history and always have given tough time to its opponents in Twenty20 Cricket.
Cricket is very popular game in Pakistan, people are crazy for cricket and watch the matches of its national team with peaked interest not matter its Twenty20, ODIs or test cricket. Specially, the bigger tournaments grab lots of attention from people of Pakistan and as the tournament nears its conclusion almost every Pakistani is hooked to TV or some kind of screen to watch matches of their team.