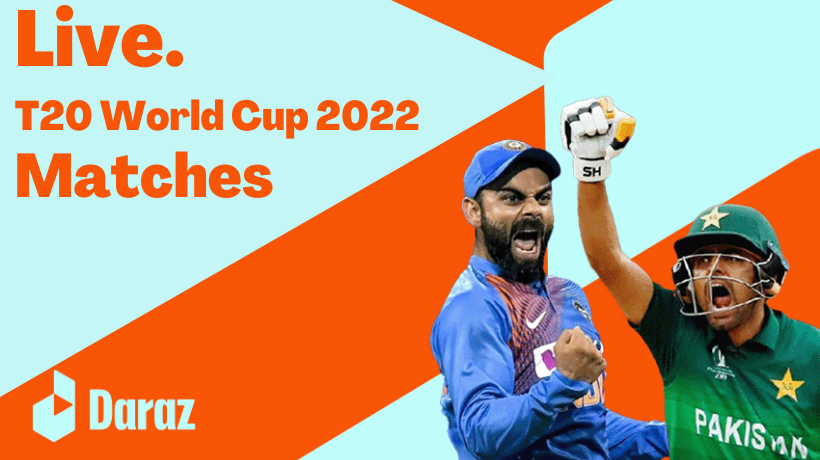 From last one year of so, Pakistan's biggest ecommerce platform Daraz.pk have been live streaming the cricket matches. This has two upsides to it, one for the people, they find a way to watch the matches live and free of cost, online. The upside for Daraz.pk is more and more people install their app from Play Store as well as iOS App Store. Normally, if you see there are nearly none options available to users to watch such matches online, which comes to play as huge upside for Daraz.
The latest news in the town is that Daraz have acquired the digital streaming rights of ICC T20 World Cup 2022. Means like many tournaments earlier, ICC T20 World Cup 2022 matches will also be live streamed by daraz. Pakistan has huge fan base for cricket, people are in fact crazy when it comes to cricket, so it is once again going to result in millions of app installs for Daraz, which has already become e-commerce giant, specially after it came under the umbrella of chinese based e-commerce giant AliBaba.com few years back.
This idea of integrating the sports into e-commerce is amazing. Specially, during the matches million simultaneously log into the app. Naturally, they would not only want to enjoy the matches, they would also like to explore the app, to buy stuff or at least out of curiosity to see what is available. And I am sure in this process some would find price of some product appealing, this in turn brings in business for Daraz.
Bringing Cricket matches to the platform however does not come free or even cheap for Daraz. They also have to do their fair share of expenditure on claiming media rights, upgrading and acquiring servers and resources to support millions of people watching matches together at same time. Another challenge is to not only support the stream but also keep up the core Daraz.pk functionality while dealing with the unusual inflow of visitor traffic.
This has however, not been the smooth sailing for Daraz.pk in the past. Their cricket streams lagged during the matches and specially on moments of peaked interest from the viewers. But I am sure they are learning from each experience and will come up with better infrastructure to support the huge influx of viewers and visitors. Specially, Cricket World Cups are the tournaments for cricket fans which grab attention of most of them, so Daraz have to do next level preparations to live stream Cricket T20 World Cup 2022 matches. Which I am sure they are working on already.