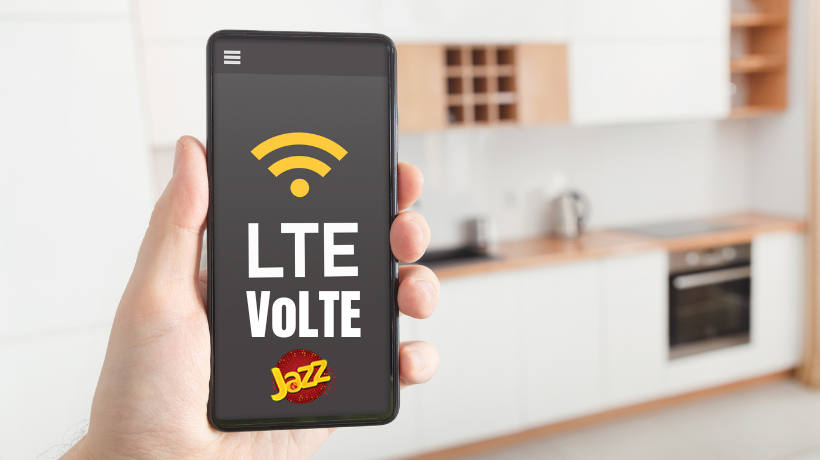 Recently a Pakistani mobile phone service network named as Jazz have started promoting its Voice Over LTE (VoLTE) service, so here today we will discuss what this service is. How to enable and use it in your mobile and what advantages you will have when using this service.
What is VoLTE?
VoLTE or Voice Over LTE as name suggests is a service which enables you to send your voice over 4G data connection of your mobile network. In simple words, when you are on call, the voice data is traveling on same connection as internet data. So when you are on calls, on same time you can use internet. Normally if you have connected to internet and a call comes in or you need to make a call, you internet disconnects but with VoLTE enabled, this will not happen. There are other advantages too but we will discuss those later in the article.
How to enable VoLTE on mobile phone?
If you have a mobile phone which supports 4G only than you will be able to enable and use VoLTE feature. To enable you just need to go to settings, search for mobile networks, it will probably in main menu called connections or WiFi and Other Networks, than inside that enable the toggle button of VoLTE to on position. It will be either just enable VoLTE or it will be written as separate option for sim 1 and sim 2. Like "Enable VoLTE for sim 1" and "Enable VoLTE for Sim 2". Other variation may be just "Enable Voice Over LTE" depending upon your phone manufacturer and model.
So just look for Mobile Networks -> VoLTE in any main menu in settings, probably main menu will be called "connections" or "WiFi and Other Networks" or something else.
How to use VoLTE on Jazz Network?
You just need to enable VoLTE feature by using the method we have explained in above section of this post. Other than that VoLTE will be automatically enabled for your connection. However, there are few more obvious things which you need to take care of, in order to use VoLTE on your Jazz mobile connection.
Make sure your phones support 4G and also you have enabled 4G in network settings for the sim on which you want to use VoLTE.
Make sure you are using a 4G enabled sim card on your phone, not some very old sim card which you had once bought when only 2G & 3G networks were available.
Third and final step, as mentioned above, will be to enable VoLTE feature on your mobile phone. For more details on that see the "How to enable VoLTE on mobile phone?" section of this page above.
Advantages of VoLTE
There are several advantages of enabling and using VoLTE service, few of them are as follows.
You can use internet and make 4G calls at same time – Normally, when we used to receive a call or make a call to someone, during the call our internet used to get disconnected. This is specially annoying when you have made a WiFi hotspot from your phone using mobile data, a call comes in and you immediately lose access to internet for duration to that call.
Clear and crisp voice quality during calls – Without VoLTE enabled, whenever a call comes in, your phone switches your mobile connection from 4G to 3G or 2G, whichever is available, so your voice quality will naturally drop in that case. On other hand when your voice data is also traveling on 4G connection, voice quality will be crisp and clear, many times better than 2G and 3G.
Other advantages – You call will be more stable with less interruptions, due to high data rate. Call will connect faster. And one more thing which Jazz claims is when you are using VoLTE, your battery usage is lower than usage during the normal 2G or 3G call.
What is cost of using VoLTE on Jazz?
This service is totally free. Anyone with 4G enabled handset and a 4G enabled sim can use this service without paying extra. VoLTE is just an improvement of how things work, so companies does not normally charge anything extra for enabling VoLTE service.
On which locations VoLTE is available for Jazz?
For Jazz VoLTE is available all over Pakistan. Basically anywhere you can use 4G network of Jazz, you can also use this VoLTE feature. You just need to enable VoLTE in your mobile phone and it will be automatically enabled for you from Jazz.