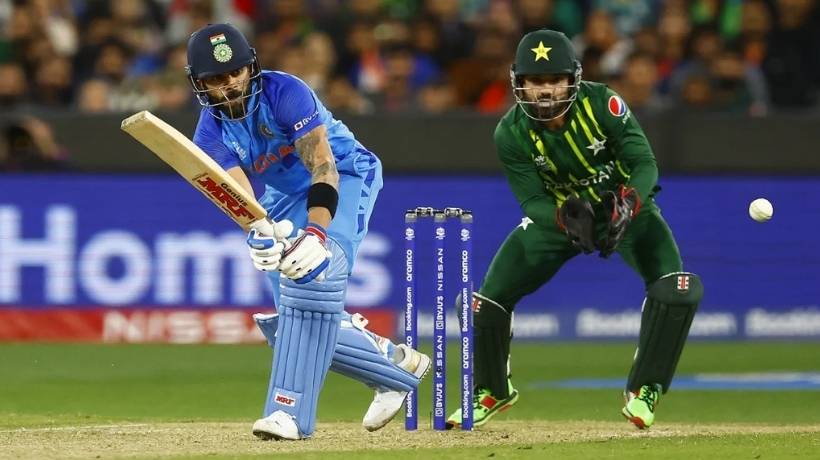 Today first match of both Pakistan and India in world cup T20 2022 held in Melbourne Australia. It was a tough competition for both sides. Top order batsmen of both teams struggled, however in the end India was able to win the match on the last ball of the match, it was pretty close.
Pakistan's Inning
India won the toss and elected to bowl first. The decision turned out in favour of India as openers of Pakistan cricket team got out very early with Babar Azam not scoring any thing and Muhammad Rizwan after just scoring 4 runs. Next two players were top scorers of the Pakistan side, where Shan Masood scored 52 runs on 42 balls and remained 'not out'. On other end Iftikhar Ahmed scored 51 Runs on 34 balls with the help of two fours and four sixes.
Other than that only Shaheen Shah Afridi got able to score 16 runs on 8 balls with the help of one four and one sixes. Other five batsmen were unable to take their score to double figures, these include Shadab Khan, Haider Ali, Muhammad Nawaz, Asif Ali and Haris Rauf. Haris Rauf in fact remained not out and only faced 4 balls on which he scored 6 runs via a single 6 over the boundary.
India's Bowling
From India bowling side Arshdeep Singh and Hardik Pandya were top wicket takers, both bowled their full 4 overs and both took 3 wickets each. Arshdeep Singh gave 32 runs whereas Hardik Pandya gave 30. Bhuvneshwar Kumar in his four overs gave 22 runs and took one wicket whereas Mohammed Shami in his 4 overs gave 25 runs and took 1 wicket. Ravichandran Ashwin gave 23 runs in his three overs without taking any wicket for India. Axar Patel bowled one very expensive over by 21 runs in single over and not taking any wicket.
India's Inning
Just like Pakistan the Indian openers KL Rahul and Rohit Sharma got out very early by just scoring 4 runs each. On number three came in the star player of the match Virat Kohli who scored 82 runs on 53 balls and he also remained not out. This was the innings which resulted in pulling India across the line, in the end. Hardik Pandya also scored respectable 40 on 37 balls with the help of two sixes and one four. Other than that only Suryakumar Yadav was able to score 15 and no one else was able to enter double figures.
Pakistan's Bowling
Overall Pakistani bowling struggled today against India, Pakistan at once was able to take early wickets and put India under pressure but slowly and gradually game slipped from hands of Pakistani bowlers. Haris Rauf and Muhammad Nawaz were able to take two wickets each after bowling four overs each. However, Haris Rauf gave 36 runs where as Muhammad Nawaz gave 42 runs.
Only other bowler who took a wicket for Pakistan was Naseem Shah. Also, Naseem Shah remained very economic for Pakistan as he gave just 23 runs in 4 overs and took one wicket. Shaheen Shah Afridi and Shadab khan were not able to take any wicket, they also bowled 4 overs each. Shaheen Shah Afridi gave 34 runs in his four overs whereas Shadab Khan remained very economical by giving just 21 runs in his four overs.
More about the Pakistan vs India match
Overall, match was absolute thriller, until the very end both sides had pretty good odds to win the match. But at the end Virat Kohli's 82 runs on just 53 balls helped India in emerging as victors on the day. Virat Kohli was also awarded the 'Player of the Match' title and rightly so. If you want to know more about the stats of Pakistan vs India match, you see the India vs Pakistan full scorecard here on the website of ESPNCricInfo.
With this India secured its first two points in tournament while Pakistan is yet secure any point in the Super 12 round of the tournament. However, Pakistanis need to keep their hopes high, as it was just first match of Pakistan in this round, there are many more matches of Pakistan's men cricket team, yet to come. We have also brought to you the full details of schedule of Pakistan's matches in T20 Cricket World Cup 2022. We will also keep updating the schedule page with more details as the tournament progresses, so it is better that you bookmark it to stay updated with the developments of T20 Cricket World Cup 2022.