As the PSL 8 is going on, today was the match between Karachi Kings and Quetta Gladiators. It was the sixth match of the Pakistan Super League (PSL) tournament of the year 2023, which is the 8th season of the league. It was very exciting match and the until the very end of match no one knew who will win. It was an absolute thriller with lots of good performances from both teams involved.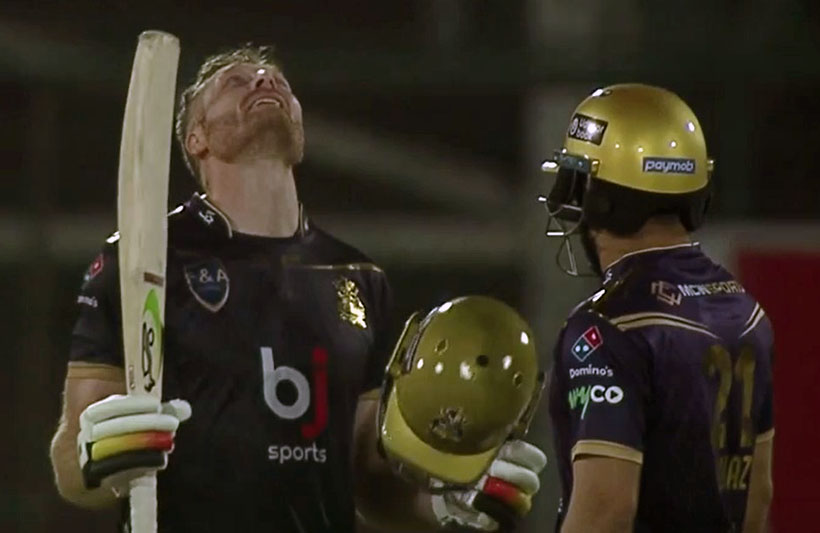 In today's match, Karachi Kings won the toss and they elected to field first. So, as the Quetta Gladiators came out to bat, they lost their first two wickets at zero, without scoring any runs. The ones which got out were Jason Roy and Abdul Bangalzai, soon Umar Akmal followed them after just scoring 4 runs when overall score was 13 for 3 wickets. Soon after, the Quetta Gladiators also lost the wicket of the captain Sarfraz Ahmed, who scored just 5 runs, the overall score at that point was 23/4. While all of this was happening, one of the opening batters, Martin Guptill was standing firm on the other end.
After the fourth over, came Iftikhar Ahmed, he played a good knock along with Martin Guptill. However, Iftikhar Ahmed also departed after scoring the good 32 runs on 27 balls. After him, came Muhammad Nawaz, scored just three. Then came Odean smith he was not out with 1 run scored on the end of Quetta Gladiators innings. However, the star for Quetta Gladiators was Martin Guptill he stood at wicket right from start of match until the very last ball of Quetta Gladiators' innings. Martin Guptill played an amazing innings, he scored 117 runs. Even on the last ball of match, he was trying to hit a six and got out in pursuit of runs. However, luckily this was the last ball of innings.
Without Martin Guptill's 117 runs, Quetta Gladiators had no chance of reaching anywhere near 100 run. However, with Martin Guptill's score included, Quetta Gladiators given the target of 169 runs to Karachi Kings to win the match. At one point, in an over, Martin Guptill hit 30 runs with the help of three sixes and three fours. Overall the Martin Guptill's 117 runs included 12 fours and 5 sixes.
From Karachi Kings bowling side Imad Wasim took three wickets by giving just 16 runs in his 4 overs. Aamir Yamin also took 3 wickets in his 4 overs, however, he given 37 runs. Muhammad Amir took 1 wicket in his 4 overs by giving 23 runs. Imran Tahir also bowled 4 overs, he gave 35 runs and did not took any wickets. Andrew Tye given 55 runs and took no wicket. Andrew Tye's bowling got very expensive due to that one over in which Martin Guptill hit 3 sixes and 3 fours against him, in single over.
When Karachi Kings started, they had to chase target of 169 runs. They lost their first wicket of Sharjeel Khan when overall score of Karachi Kings was 10. He gone for the duck. Then on 25 overall score, Haider Ali departed, he also gone for the duck. Then James Vince also got out soon, his individual score as 22 runs. Shoaib Malik was top scorer from the Karachi Kings side, he scored 71 runs on 49 balls with the help of 8 fours and 1 six. Matthew Wade got out after scoring just 5 runs. Irfan Khan scored 37 runs on 26 balls.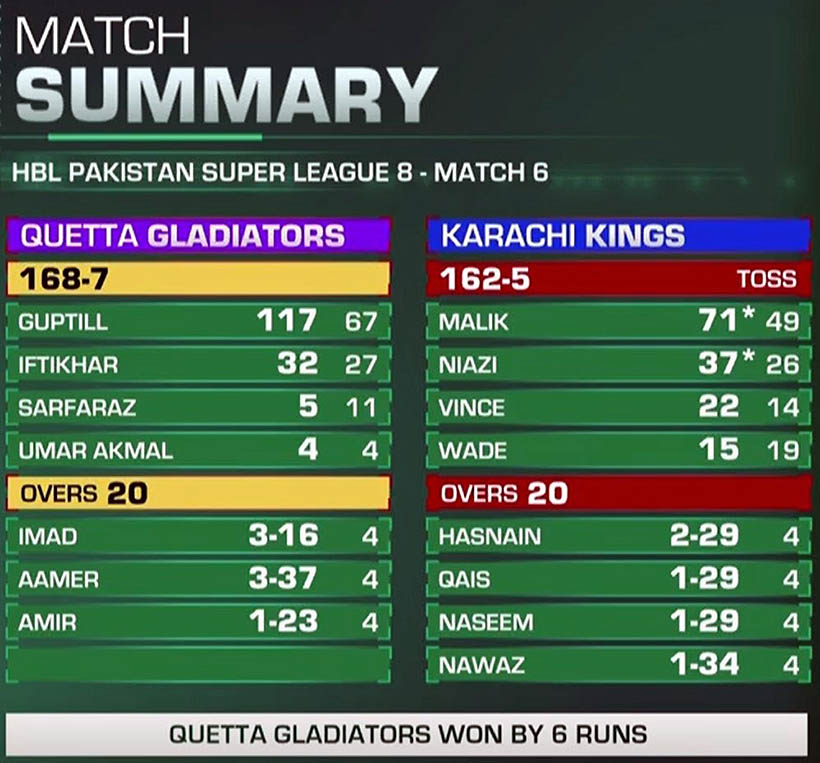 When match got over Shoaib Malik was playing at 71 runs and Irfan Khan was playing 37 runs. However, Karachi Kings were not able to get over the line. They lost by just 6 runs. Quetta Gladiators' bowlers contained the Karachi Kings batting side very well.
From Quetta Gladiators side Muhammad Hasnain took the most, 2 wickets. While Naseem Shah, Muhammad Nawaz and Qais Ahmed took one wicket each. Odean Smith bowled four overs, given 36 runs and did not took any wickets. Naseem Shah, Qais Ahmed and Muhammad Hasnain, all bowled 4 overs each and all given 29 runs each. Muhammad Nawaz given 34 runs in his 4 overs.
This way Quetta Gladiators won the match by performing very well in bowling department. However, the batting of Martin Guptil laid the foundation for victory for the Quetta Gladiators in this match. Martin Guptill was also awarded the Player of the Match title and trophy for his great batting and the 117 runs.
As far as the team standings are concerned, after this sixth match of the tournament, Quetta Gladiator took 4th place on the points table while pushing Peshawar Zalmi to fifth. And losing team of today, Karachi Kings got pushed to the very bottom of the PSL 8 points table, by securing the new 6th and the very last position. As Karachi Kings played three matches until now and they lost all of them. Top four teams on the points table will qualify for the playoffs. The latest standings of all teams involved in HBL PSL 8 are as follows after first six matches.
Karachi Kings still have got chances, as all teams have to play each other twice before the playoffs, so there is plenty more action to go, in the tournament.
You may also be interested in following details about the on going, PSL 8 Twenty20 cricket tournament.