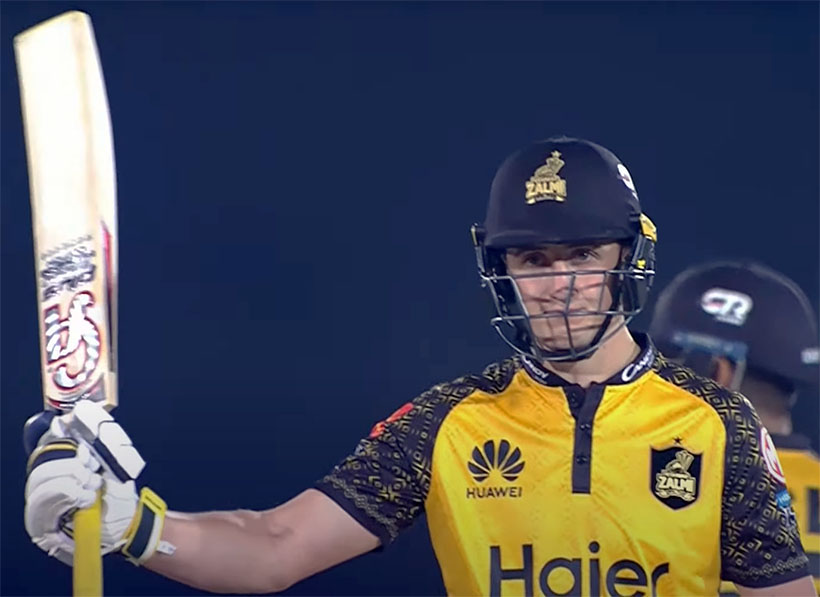 In the Match number 17 of Pakistan Super League Season 8 (PSL 8), Karachi Kings faced peshawar Zalmi. Karachi Kings won the toss and elected to field first. Soon after Peshawar Zalmi came into ground for batting.
As the Peshawar Zalmi started batting, they started to lose wickets. They had devastatingly bad start. As they lost wickets of Muhammad Haris and Babar Azam right on start. Both openers gone without making runs. Both got out on duck. Next, very soon after, Saim Ayub also got out after making just one runs. So all of these gone when the team's total was just 2 runs, for the loss of 3 wicket.
Next batter of Peshawar Zalmi Tom Kohler-Cadmore came in on crucial time. He along with Haseebullah Khan played in a very crucial partnership for the Peshawar Zalmi. Haseebullah Khan scored 50 on just 29 balls. When he got out, him and Tom Kohler-Cadmore had raised the Zalmi score to 84 runs in a combined partnership of 82 runs. Next Rovman Powell also scored very crucial 64 run on just 34 balls. Tom Kohler-Cadmore scored 56 on 45 balls remained not out. Amir Jamal also contributed 13 runs to total, he was also not out on the end of Peshawar Zalmi Innings. Total runs scored by Peshawar Zalmi were 197 runs for the loss of 5 wickets.
For Karachi Kings bowling side, Muhammad Amir, in his four overs, took 4 wickets while Tabraiz Shamsi took just 1 wicket. Aamer Yamin, Akif Javed and Imad Wasim, all of these also bowled full four overs but were not able to take any wickets.
When Karachi Kings started, they had huge target of 198 runs to chase. The opener Matthew Wade played well and scored 53 runs with the help of 9 fours. While the captain Imad Wasim scored the maximum runs from the side, runs were 57 which were scored on 30 balls with the help of 10 fours and 1 six. He also remained not out. Adam Rossington and Ben Cutting also contributed 15 runs each to the total. Other than that there were six players, whom scored under 10 runs each. Overall in designated 20 overs, Karachi Kings were able to score 173 runs for the loss of 8 wickets.
While bowling for Peshawar Zalmi Asmatullah Omarzai and Aamir Jamal took 3 wickets each while Mujeeb ur Rehman took 2 wickets. Wahab Riaz and Arshad Iqbal were not able to take any wickets. All the mentioned bowlers bowled their full four overs.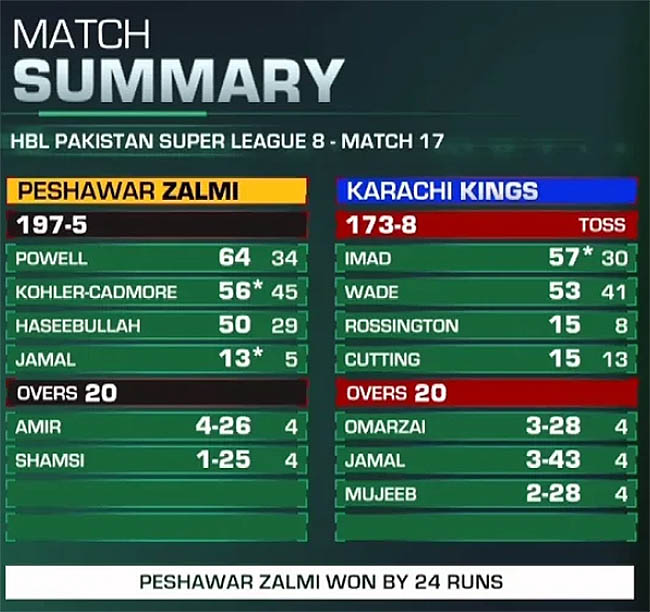 Overall, Peshawar Zalmi won the match by 24 runs. This was huge achievement for them they had lost three very early wickets when total was just 2 runs. Credit goes to Batters Rovman Powell, Haseebullah Khan and Tom Kohler-Cadmore, as they were able to put up big total on board after three early losses. Bowlers also contained the Kings well and took 8 valuable wickets.
Peshawar Zalmi vs Karachi Kings Highlights
PSL 8 Peshawar Zalmi vs Karachi Kings Match Highlights are as follows.
PSL 8 Team Standings after Match 17
If we talk of PSL 8 team standings, after this match Peshawar Zalmi moved to 4th place from 5th and Karachi Kings gone to 5th from the 4th. So both of them just switched places on the points table. While it should be noted that only team on top four places will go on to next stage of playoffs.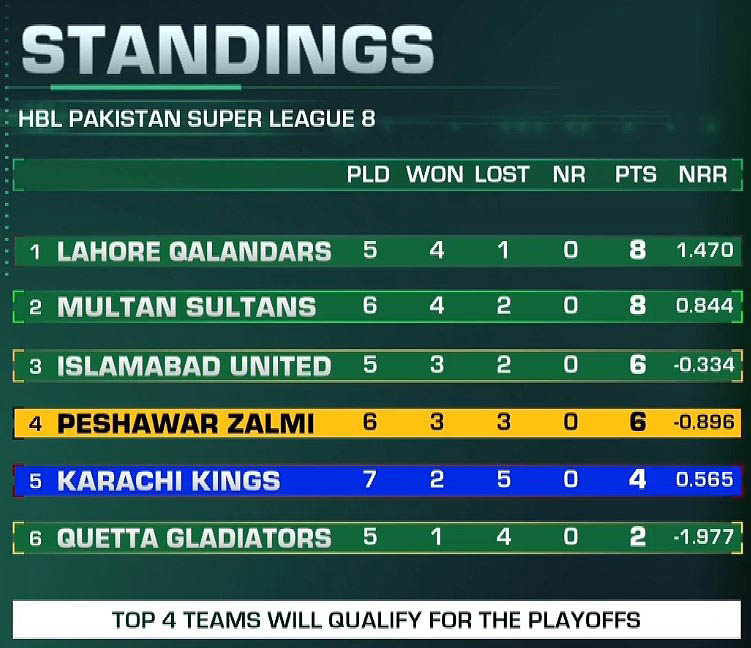 More Stuff Related to PSL 8
You may also be interested in one or more of following information.