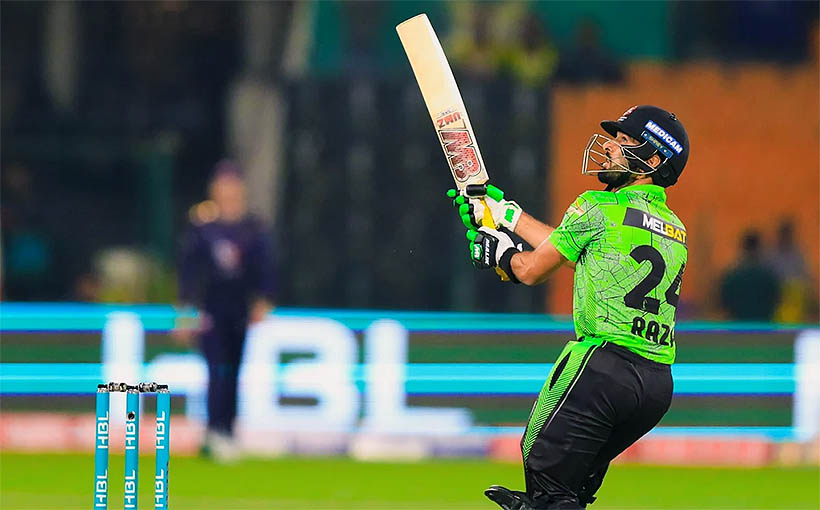 Today the 18th match of the Pakistan Super League (PSL) Season 8 was an absolute thriller. It was played between Lahore Qalandars and Quetta Gladiators. Quetta Gladiators won the toss and they elected to field first. The decision of bowling first worked very well for the Quetta Gladiators in the beginning but at the end they were not able to quite finish the game with the bat.
As Lahore Qalandars started batting, Lahore Qalandars lost lots of wickets at beginning. Lahore Qalandars had lost 7 wickets as early as when their scored reached 50 runs. But from that point on, Lahore Qalandars recovered very well. A match winning 71 runs contribution from Sikandar Raza, did it all for the Lahore. He scored these 71 runs on 31 balls on the 8 fours and the 3 sixes. Above all, he remained not out until the end of innings of Lahore while everyone else got out. After him, the top score for Lahore was from Rashid Khan which was 21 runs. Shaheen Shah Afridi, the captain, scored 16 while Abdullah Shafique scored 15 runs.
No one else entered the double figure scores. There were event two ducks on the scoreboard of Lahore. Lahore all team got out at 148 runs. This was obviously going to be hard to defend total, so good effort was definitely needed.
If we talk of Quetta Gladiators bowling, Naveen ul Haq and Muhammad Nawaz took two wickets each. While Naseem Shah, Odean Smith and Umaid Asif took took one wicket each. Muhammad Hafeez bowled one over but was not able to take any wickets, however he just gave 3 runs.
Quetta Gladiators actually started well with the batting. They had quite few good boundaries at start. However, later on they lost a number of wickets consistently and were not able to score required runs. Top scorer was Will Smeed, he scored 32 runs on 25 balls with the help of six fours. Sarfaraz Ahmed scored 27 runs on 28 balls, he remained not out. Martin Guptill scored 15, the opener Yasir Khan scored 14 runs. Odean Smith and Umaid Asif (not out) scored 11 runs each. Everyone else remained under 10.
In total 20 over, Quetta Gladiators were able to score just 131 runs for the loss of 7 wickets. This way they lost the match by 17 runs. They way they bowled against Lahore, this was really a bad luck for Quetta Gladiators, probably due to some careless shots while batting.
Lahore Qalandar bowlers contained Quetta Gladiators well. Haris Rauf took 3 wickets, Rashid Khan took 2 and David Weise took 1 wicket. Shaheen Shah Afridi, Zaman Khan and Sikandar Raza were not able take any wickets.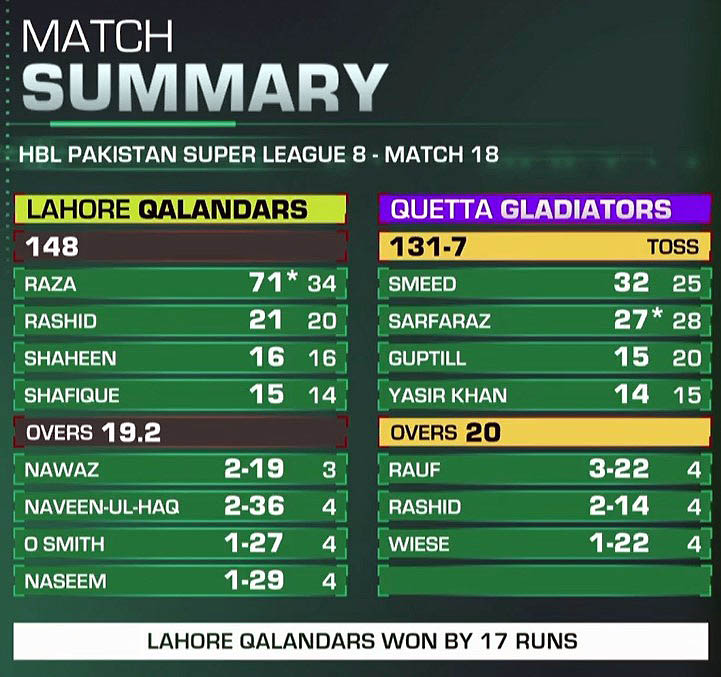 Sikandar Raza was awarded with the player of the match title and trophy for his 71 runs. These were definitely the match saving runs, without these Lahore Qalandars were nowhere as they had lost seven wicket already on just 51 runs. So, major credit going to Sikandar Raza for today's Lahore victory.
Lahore Qalandars vs Quetta Gladiators Highlights
PSL 8, Match 18, Lahore Qalandars vs Quetta Gladiators, first innings highlights are as follows.
PSL 8, Match 18, Lahore Qalandars vs Quetta Gladiators, second innings highlights are as follows.
PSL 8 Team Standings after Match 18
Before the match started, Lahore Qalandar was on top of the points table of PSL 8 and the Quetta Gladiators was on the end of table. And after the end of match the situation remains the same. Its just that, Lahore Qalandars have earned two more points. Lahore Qalandars played six matches and won five of them. So they are on top with total 10 points. Other team standings, after match 18, can be seen on this graphic below.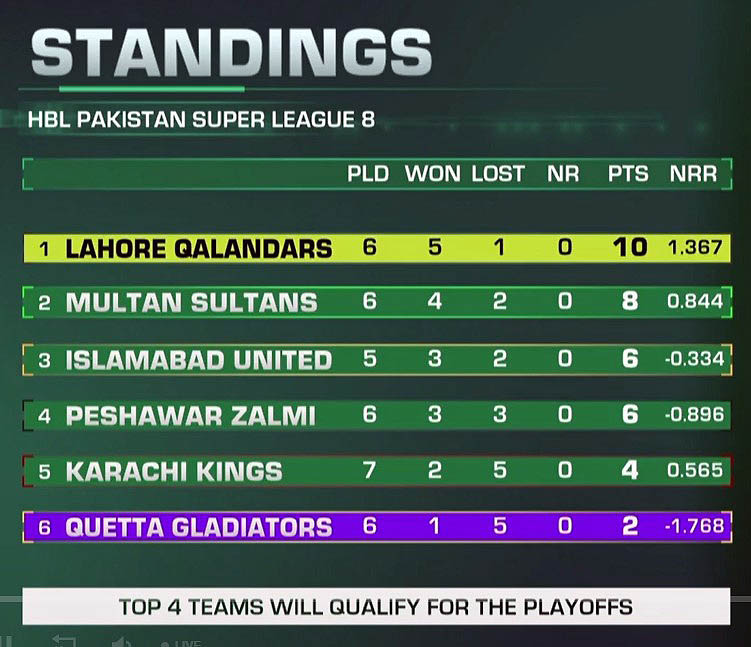 More Related to PSL 8
Use following links for PSL 8 Schedule, to know where to buy PSL 8 tickets and how to watch live cricket online from Pakistan.