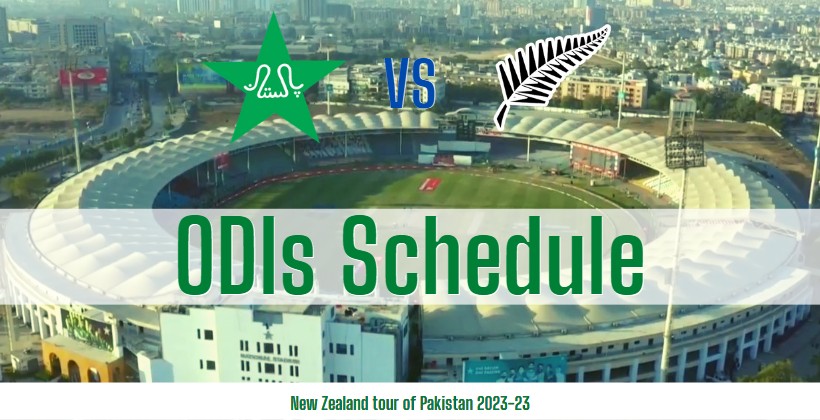 Currently New Zealand's cricket team is on tour of Pakistan, on this tour they have already played two test match series with Pakistan. Both test matches of two test match series were drawn between Pakistan and New Zealand. As for both matches, the score rate of both teams was not that high, so five days were not enough to conclude a match with any one team winning. So it was a series draw, 0-0.
However, now three One Day International (ODI) matches are also to be played between Pakistan and New Zealand, as part of same New Zealand tour of Pakistan 2022-23. The schedule for these ODIs is as follows.
| | | | |
| --- | --- | --- | --- |
| Match | Date | Time | Venue |
| First ODI | Jan 09, 2023 | 02:30 PM | National Stadium, Karachi |
| Second ODI | Jan 11, 2023 | 02:30 PM | National Stadium, Karachi |
| Third ODI | Jan 13, 2023 | 02:30 PM | National Stadium, Karachi |
In long form cricket format, the tests which just have been played, less people showed interest. So less that for second test match, the Pakistan Cricket Board (PCB) had to make the match entry totally free. And also they invited the educational institutions and charitable organizations like orphanages to bring children, so that they can be amused with cricket.
However, ODIs are much more action filled, also as the cricket is returning to Pakistani grounds after gap of fifteen to twenty years, I am sure lots of people will be interested in that. In both test matches on some points in game both teams got very near to winning the game but ultimately no one won and matches were drawn. But now in ODI matches, teams will need to prove themselves and the better team will win.
By the way in recent test matches both teams played very well and specially near to end of second test, contest between both teams was very tough and any team would have won. After that in a test match, I am sure the ODIs between Pakistan and New Zealand will be humongously more interesting to watch.
The tickets of Pakistan vs New Zealand ODI matches are already available online and we have prepared a guide on how and where to buy them, so check it out. Also as the matches are to be played in Karachi, so some people will not be able to reach their, they can just turn on the TV or they can watch them online. For watching online, do check out our guide on how to watch live cricket online from Pakistan or literally anywhere but team must be involved in match you are trying to watch.