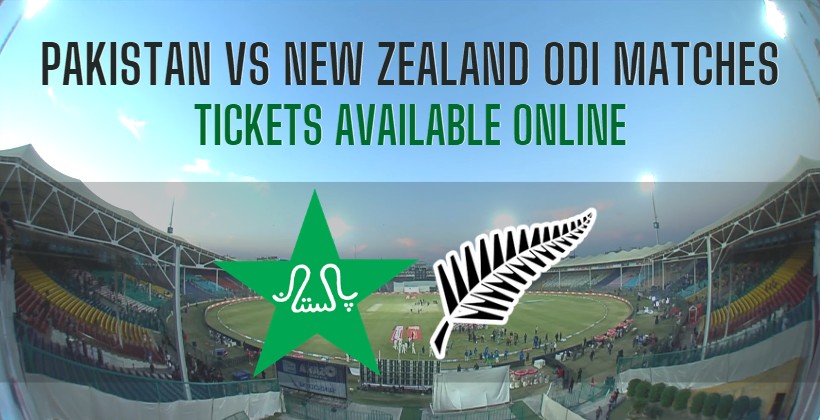 As part of New Zealand tour of Pakistan 2022-23, three one day international (ODI) matches are scheduled to take place in Karachi starting from Jan 09, 2023. Two test matches are already held between these two teams recently. Now both teams are all set to play one day international matches. Fans are also very excited to watch the matches, no matter how they watch them.
However, Pakistan Cricket Board (PCB) in collaboration of BookMe.pk made the tickets of three ODIs available online. They can be bought online at pcb.bookme.pk which is dedicated page for PCB on the famous BookMe.pk website.
The process of buying tickets at the given link is pretty easy and anyone can easily follow it. Also, it gives a number of options, like select an enclosure where you want sit, even you can select the seats which you want to book. However booking will be confirmed after you have finally made the payment. When someone lands on the pcb.bookme.pk page to buy the ticket, they are presented with the list of matches for which they want to buy the ticket. So as first step, user needs to select a match by clicking its box to proceed further into the process of buying the ticket of that specific match.

Second step is to select the enclosure, where you want to sit. For this you are presented with the layout of the ground with all the enclosures in different colours. Colours mostly differentiated by ticket price. For each color in stadium layout, corresponding widgets/boxes with same color and ticket price, enclosure name and other details are present. These widgets have buttons like shown in image below, you can select by clicking 'Book Me' button of enclosure, where you want to sit.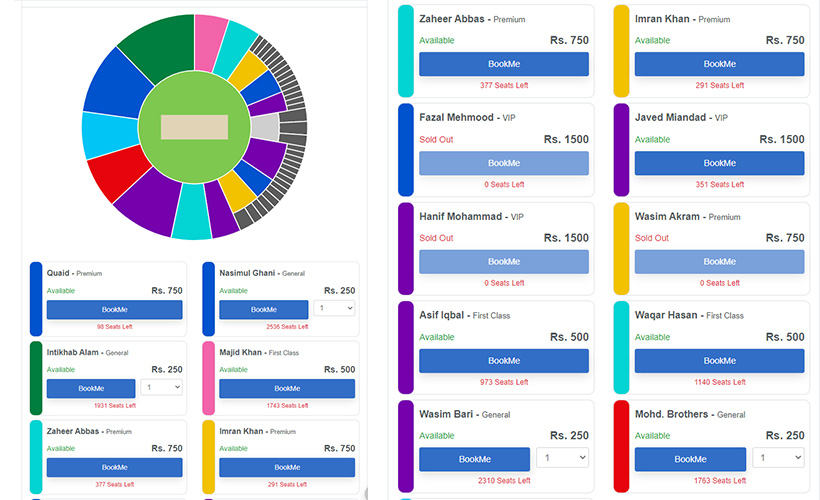 Third step is selection of seats. All seats are shown on the layout. Seats which can be selected are blue, pre book seats are colored in greenish blue or sky colour, whatever you call it. The seats you select are shown are in yellow. Meanwhile on side of screen and in case of mobile, probably on bottom or top of page, you will be seeing preview of total amount with bookme button. Like Show in the image below.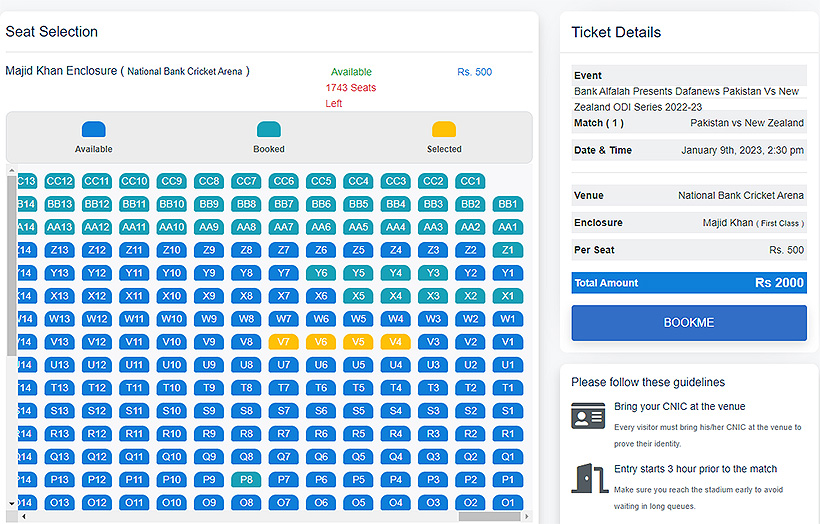 As you click the main blue book me button on next step you will be asked to enter details of each person who will be occupying these seats, details being the name and the CNIC. Also the details of primary contact person will be asked. Then last step, you will payment and afterwards, your seats will be confirmed.
The Schedule of Pakistan vs New Zealand ODI Matches
Pakistan vs New Zealand ODI matches are starting from Jan 09, 2023 and will run up to Jan 13. Exact schedule of Pakistan vs New Zealand ODI matches to be played on New Zealand Tour of Pakistan 2022-23 is as follows.
| | | |
| --- | --- | --- |
| Match | Date | Venue |
| First ODI | Jan 09, 2023 | National Stadium, Karachi |
| Second ODI | Jan 11, 2023 | National Stadium, Karachi |
| Third ODI | Jan 13, 2023 | National Stadium, Karachi |
How to Watch Pakistan vs New Zealand ODI Matches Online
If you do not want to go and watch the Pakistan vs New Zealand ODI matches at stadium, you do have option to watch it from the comfort of your home. Just switch on your TV or there are many platforms, which will be streaming these matches online. So, we do have a guide on how to watch cricket online from Pakistan, which lists details of different platforms which stream cricket for you when team Pakistan is involved in any match. Same is valid for these matches, so make use of it know about how to watch Pakistan vs New Zealand ODI matches online.