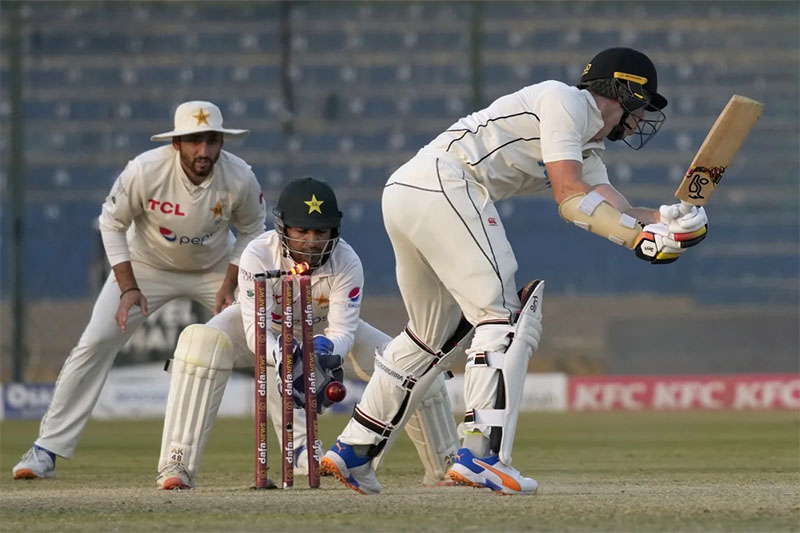 New Zealand's Cricket team is touring Pakistan for two test matches and three ODIs. First test match started on Dec 26, 2022, and was being played in National Stadium Karachi. Today was final, fifth day of the match. Previously Pakistan while batting first, scored 438 runs in their first innings. Later New Zealand replied that by scoring 612 runs in their first innings and securing the 174 runs lead in their first innings. Then on the of fourth day, yesterday, Pakistan was playing at 77 runs trailed by 97 runs with 2 wickets gone already.
Today as the match resumed, there seemed to be two outcomes, first one the draw or a possible New Zealand's victory. However, team Pakistan played quite well, wickets kept falling but not too rapidly. Team Pakistan was able to put up 311 runs on scoreboard for the loss of 8 wickets, before they declared their innings. So when team Pakistan declared their innings, Pakistan was just in lead 137 runs. However, not enough time was left for other team to achieve this target.
From Pakistan's side top scorer in second innings was Imam ul Haq, he scored 96 runs. After him was Saud Shakeel, he scored 55, he was not out when Pakistan declared the second innings. Sarfaraz Ahmed scored 53 and Muhammad wasim scored 43. Other than that there we no noticeable big totals. Mir Hamza was playing at 3, not out when the innings was declared.
From England bowling side, in Pakistan's second innings, Ish Sodhi took 6 wickets and Michael Bracewell took two wickets. Tim Southee, Ajaz Patel and Neil Wagner does not had any luck with taking wickets, so they did took any.
Next, New Zealand started their first innings, however, the game for the day finished when New Zealand was at 61 runs for the loss of just one wicket. From New Zealand, the opener Michael Bracewell gone after scoring just three runs. Devon Conway and Tom Latham were playing, not out, when the match ended. Devon Conway was playing at 18 and Tom Latham on 35.
Match Summary
Pakistan won the toss and elected to bat first. On first day of match Pakistan scored 317 runs for the loss of 5 wickets, these runs included the 161 runs of the captain Babar Azam. Next day however Babar Azam lost his wicket early without contributing any more runs. Later on, on same day Pakistan all team got out after scoring total 438 runs. This Pakistan's first innings total of 438 runs included 103 runs from Agha Salman along with 161 runs scored by Babar Azam. Later, on same day New Zealand started their first innings and scored 165 runs until the end of second day without losing any wicket.
On third day of match New Zealand's cricket team continued their innings and played for the whole day. On the end of day three, they had already leveled the scored with Pakistan by scoring total 440 runs in first innings. On the fourth day, New Zealand declared at 612 runs when they were in lead of 174 runs. Later Pakistan started its second innings, until the end of day they had scored 77 runs for the loss of two wicket.
Today Pakistan started from same 77 and later when they declared the innings they had scored total 311 runs for the loss of three wickets. Pakistan was in lead of 137 runs by then, however, as it was last day of match New Zealand was not in position to get those runs quickly in remaining time. Same happened later when New Zealand started their second innings. Until the end of final day of first Karachi test between Pakistan and New Zealand, they had scored just 61 runs for the loss of 1 wicket. So, this way the match ended in draw.