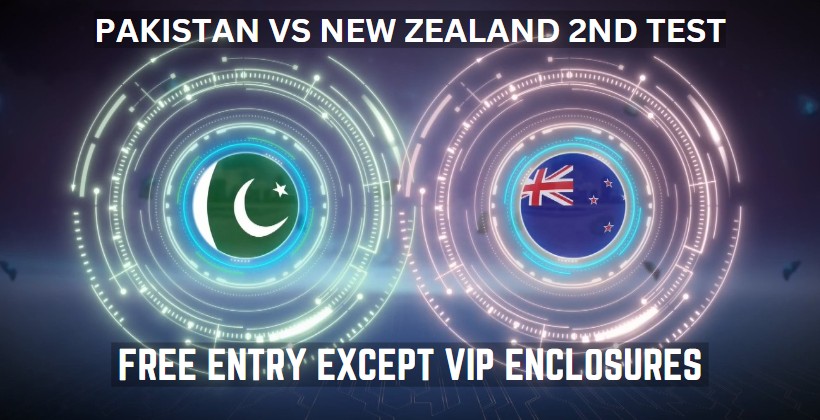 The second test between Pakistan and New Zealand was to be played in Multan on 3rd of January 2022, however, there have been several changes in schedule other things regarding that. Firstly, the match will take place in Karachi and the starting date of match has been advanced by one day. Second test will take place at Karachi on 2nd Jan, 2022.
Secondly, there will be no entry ticket for general public to watch the match. Means entry will be free for all. However, there is an exception to this rule and that is, there are two VIP enclosures, so if you want to sit in them to watch the match, you will need to pay 500 entry ticket per head. This ticket will also be available to be bought at the stadium gates.
As people did not showed much interest in watching the first test match between Pakistan and New Zealand, the attendance at stadium was too low. Keeping this in view, Pakistan Cricket Board's new management decided to free the entry at stadium except just two VIP enclosures.
Also, the educational institutions, schools, colleges and charitable organizations like orphanages were being contacted to bring children so that they can watch the match and be amused. Same step will help filling up the stadium and promote the sport of Cricket in Pakistan.
Also the PCB have other responsibility to think and figure out why the stadium was empty. Tickets for first test match were not available online and were just being sold at stadium while entry. May be this was not communicated well with people, as definitely many were interested in buying ticket. We can claim this because many came on infoPakistan.pk website, in search of those tickets and by many we mean more than a thousand people. Which means, if tickets for first match would have been available online, things would have been much different.
Same is true for second test match, which have free entry to most enclosures. But there is a ticket for VIP enclosure but that is not available online, this may also affect the attendance of those enclosures. As PCB needs to clearly communicate how tickets will be available.
Lastly, selling the tickets at stadium is also not a very good strategy, as it requires people to come and stand in queues for buying tickets. Many will not come in fear that they will get the ticket or not, or how much wait they will need to do. Tickets must be first put for sale online, some tickets may be sold via partnerships with organizations and via banks etc. Then if some tickets are remained, then the number of available tickets should be clearly announced and these can be put for sale on stadium, before entry.