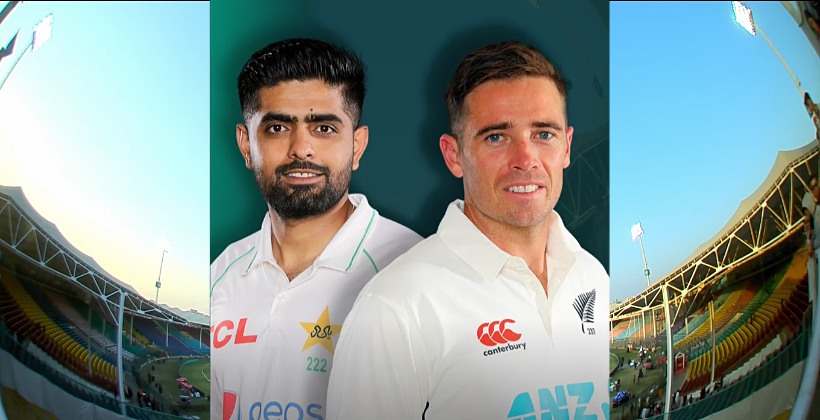 As New Zealand's cricket team is touring Pakistan for its 2022-23 tour to play two test matches and three ODIs. First test match is underway between New Zealand and the host Pakistan in National Stadium in Karachi. Today was the third day of the game.
As the match resumed today for the third day's game, New zealand was playing at 165 runs with all the wickets in hand. Tom Latham was playing at 78 and Devon Conway was playing at 82 runs. Today as the game continued Devon Conway got out after making 92 runs and Tom Latham gone on to score a century and ultimately gone back to dressing room after scoring 113 runs.
The next New Zealand batter Kane Williamson also stayed on wicket for long, in fact he was still not out after game finished for the third day of match. He also scored a century and was currently batting on 105. On the other end Ish Sodhi is batting on 1 but meanwhile New Zealand lost four other wickets. Among them is Tom Blundell, he scored 47 runs, then Daryl Mitchell scored 42, Henry Nicholls scored 22 runs and Michael Bracewell scored 5 runs.
As the game ended for the day three of first test match between Pakistan and New Zealand at Karachi, New Zealand had scored 440 runs total with the loss of 6 wickets. Earlier in the Pakistan's first innings, they had scored 438 runs. This means, New Zealand have leveled the Pakistan's score and they still have four wickets in hand. So they should now try to mount up as much lead, as they can, so it could help them in second innings.
From Pakistani bowling side, Abrar Ahmed bowled the most, 45 overs and took 3 wickets. Behind him was Nauman Ali, he bowled 44 overs and took 2 wickets. Muhammad Wasim took 1 wicket after bowling for 24 overs. Mir Hamza bowled 20 overs and the captain Babar azam bowled 3 overs, both of them did not took any wickets.
So the match summary goes like, Pakistan won the toss and elected to bat first. On the end of day one Pakistan scored 317 runs for the loss of 5 wickets. Next day however, Pakistan's all team got out after scoring total 438 runs in their first innings. When the play stopped yesterday New Zealand was playing their first innings at 165 runs for the loss of no wickets. Similarly, when the play stopped today for the third day, New Zealand was still playing their first innings at 440 runs for the loss of 6 wickets. So at the end of day three New Zealand not only have leveled the score, they also have four wickets in hand.