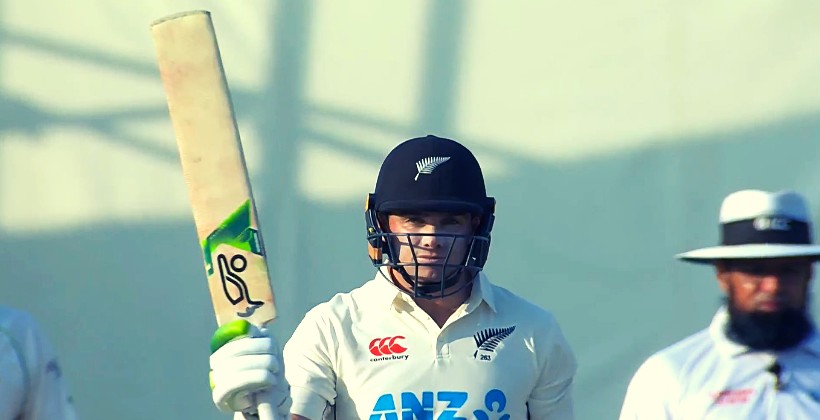 Currently New Zealand's cricket team is on tour of Pakistan for two test matches and three One day Internationals (ODIs). First test match of these is being played at Karachi, in National Stadium. Today was the second day of first test match of two match series between New Zealand and Pakistan.
Today when the match resumed for the day, Pakistan had already scored 317 runs and they had 5 wickets in hand. This 317 runs included the valuable 161 runs from the captain Babar Azam and 86 runs of Sarfaraz Ahmed. Captain Babar Azam was still playing.
However, today as the game resumed, Babar Azam was not able to stay at the wicket for long and got out without scoring any further runs. On the other end Agha Salman was bating and he continued to be on the crease for long. Agha Salman ultimately gone on make a century for Pakistan. But unfortunately the wickets kept dropping with last four players Nauman Ali, Muhammad Wasim, Mir Hamza and Abrar Ahmed (not out) were not able to take their score up to double figures.
Overall Pakistan scored 438 runs, which is bit disappointing as when the game ended for day one yesterday, Pakistan had already scored 317 runs and they still had five wickets in hand. More importantly a set batsman like Babar Azam was still playing. Overall 438 runs is not that bad but keeping in mind the pitch was more supportive of batting side, this total is not very good either.
From New Zealand batting side Tim southee took 3 wickets. Ajaz Patel, Michael Bracewell and Ish Sodhi took 2 wickets each. Neil Wagner was able to take just one wicket and Daryl Mitchell did not took any wicket, however, he had bowled just three overs.
As Pakistan's all team got out in second session of day two of the match, New Zealand started their innings. The two opening batsmen of New Zealand, Tom Latham and Devon Conway played till the end of session three of the day, which means until the end of day, New Zealand did not lost any wicket.
Overall, on end of day New Zealand had scored 165 runs without loss of any wicket. Tom Latham contributed 78 runs and Devon Conway contributed 82 runs in the total. Tomorrow as the match continues, New Zealand can come out as if they are starting their innings from scratch and these 165 runs will seem like bonus, as they have all 10 wickets in hand. Currently team New Zealand trails by just 273 runs, with all wickets still in hand, they can not only score these runs easily but also can mount some lead for next innings, they should definitely try to do that.
Pakistan on the other hand, should go on damage control mode tomorrow. Their total focus tomorrow should be on taking wickets and stopping New Zealand from taking runs. Only this way, Pakistan can strengthen their position in the match. It is not that game is going of Pakistan's hand but it may very well go more towards a tie from here on. On the other hand, it is still anybody's game, tomorrow's game is very important and will impact on the final outcome of the game.