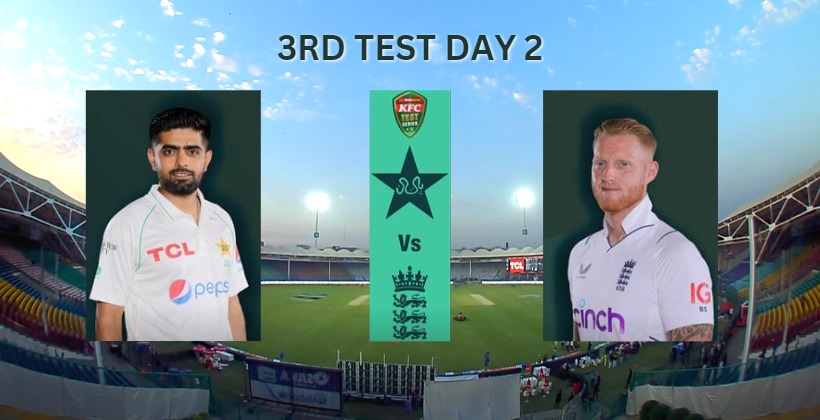 As part of England tour of Pakistan, third test between team Pakistan and team England is going on in national stadium Karachi. Yesterday on first day Pakistan's all team got out after scoring total 304 runs and England had just started their first innings. On end of day one england had just scored 7 runs with the loss of 1 wicket.
As the play resumed today, England was playing its first innings. However until the end of day England lost all its wickets and scored 354 runs in the process. So basically in first innings they gained 50 runs lead. Top scorer was Harry Brook who scored a century, to be exact he scored 111 runs, on 150 balls with the help of eight 4s and three 6s. After Harry Brook, two main contributors to the England's first innings score in third test match were Ben Foakes and Ollie Pop.
Ben Foakes scored 64 runs with the help of six 4s and Ollie Pop scored 51 runs with the help of four 4s. Mark Wood scored 35, Ollie Robinson scored 29, Ben Duckett and Ben Stokes, both scored 26 each. Other than that no one else was able to enter double digit scores. Joe Root and Zak Crawley gone for duck.
From Pakistani bowling side, Abrar Ahmed and Nauman Ali took 4 wickets each and Muhammad Wasim took 1 wicket. Faheem Ashraf and Agha Salman bowled one over each but did not took any wickets.
Before finish of day's Play, Pakistan started its second innings, they were able to play just 9 overs. In 9 overs which Pakistan played in second innings, they scored 21 total runs which included 14 runs from Abdullah Shafique, 4 Extras and 3 runs from Shan Masood. In their second innings Pakistan have all wickets in hand and trails by 29 runs. There are three more days to go and one innings of both Pakistan and England remains. So anyone who performs better in their second inning innings can win the third match.
Above, mostly the details of England's first innings are shared, however in you are interested in batting and bowling stats of Pakistan's first innings, please check our post from yesterday which explains full details of Pakistan's first innings.
If you want to watch the match live by being at stadium yourself we have detailed post on how to buy the tickets of Pakistan vs England third test match online. However, if you are far away from Karachi or for any other reason you do not want to go and watch the live action, you can watch the match via live streaming over internet. For details, see our post about how to watch live cricket from Pakistan over internet.
England had previously won two test matches of same series against Pakistan. First match took place at Rawalpindi and second match was played in Multan. Pakistan and England both had tough fight in both matches and till the very end both teams had high odds of winning, however England had emerged victorious in both of those matches.