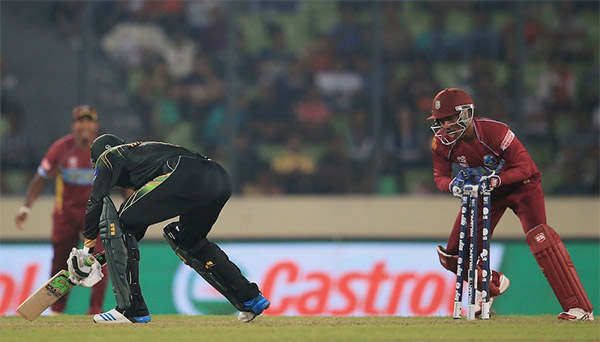 After loosing the first match of its  group against India, Pakistan had managed to pull two well deserved victories against both Australia and Bangladesh. Today Pakistan and West Indies had Do or Die match. This means the team winning the match will go through to Semi-finals of Twenty 20 World Cup and looser will be out of Tournament.
After West Indies won the toss and decided to bat first, while Bowling Pakistanis did well and even got some early wickets and restricted West Indies to lower score but then some hitting came forward and they scored 166, which is not unbeatable but a good score. Pakistan did scored well about 190 in matches with Australia and Bangladesh. So there was good chance that Pakistan will achieve this score easily.
In Pakistan innings on first ball they lost first wicket of very important scorer Ahmad Shahzar. But whatever happened later on is sad and amusing on same time. That is our Captain of team Muhammad Hafeez started to play on strike rate too low which is only and only suitable for test cricket. Not even ODI and never in Twenty 20, this strike rate is just not acceptable. Slow run scoring from Hafeez put pressure on other batsmen. The remaining deliveries were quickly decreasing and score on the board was moving up like an ill lazy turtle. As Hafeez was stopping almost every ball, in pressure of climbing run rate three of Pakistan batsmen lost their wicket by getting stumped behind the wicket while trying to play desperate shot by moving outside of crease.
Muhammad Hafeez who according to majority of Pakistan cricket fans must not even be in Pakistan team, is the skipper (captain) of the team. Today by scoring 19 runs on 32 balls he have played huge role in escorting Pakistan cricket team out of Twenty World Cup 2014 before even we made it to finals. The stats show that in Twenty twenty matches when Hafeez gets out early on few balls Pakistan mostly win those matches.
The soul purpose of discussing the Hafeez's story of utter disappointment for Pakistani people, was to put light on fact that Pakistan Cricket Board (PCB) is not being run the way its supposed to be. Selectors and coach despite the poor performance of players like Hafeez, have not done anything to get rid of such players and give chance to fresh blood. Hafeez's and Misbah's styles suit test cricket, so they must be in that team not in ODI or specially Twenty 20. When an unworthy soul (in this field) Najam Sethi, the chairman of PCB, such things are due to happen. I guess one of former legend players must be given such positions so they can lead the board to right direction in light of their experience.
Whatever, we do or say now, the fact is we are out of Twenty 20 world cup tournament 2014. If we ever going to do good in Cricket, some changes in Pakistan Cricket team and management of PCB are very well due.
Do share your opinions and comments below in comments section. Do follow us on Twitter and Like on Facebook to stay updated with latest useful info and info about latest happenings in Pakistan.