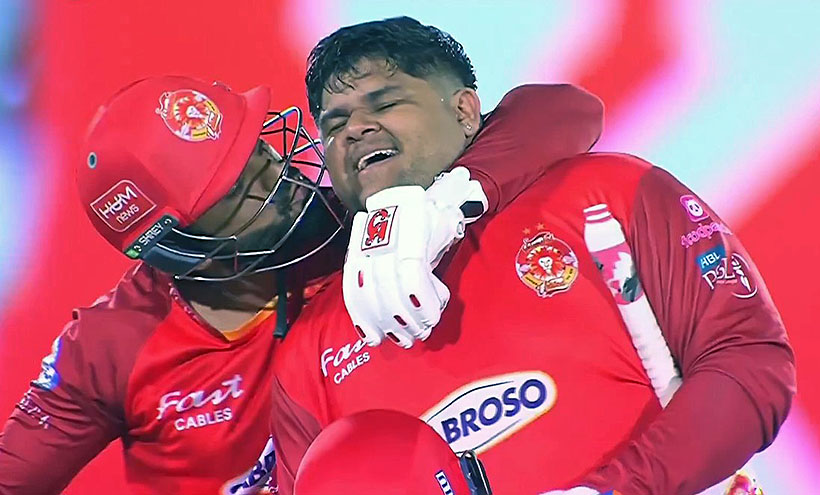 Pakistan Super League (PSL) Season 8 is being played right now. It is the Pakistan's own cricket league. Things are now heating up, was the tournament is already on mid way. About half of total 37 matches have already been played. Today the match number 19 is being played between Islamabad United vs Karachi Kings at Pindi Cricket Stadium in Rawalpindi.
Karachi Kings Innings
Today Karachi Kings won the toss and elected to bat first. While batting, they have put up impressive score on board. Karachi Kings scored 201 runs on board in their innings. Imad Wasim, the captain himself, was the top scorer with 92 runs, which he scored on just 54 balls. It included 11 fours and 2 sixes. The strike rate of Imad Wasim as 170.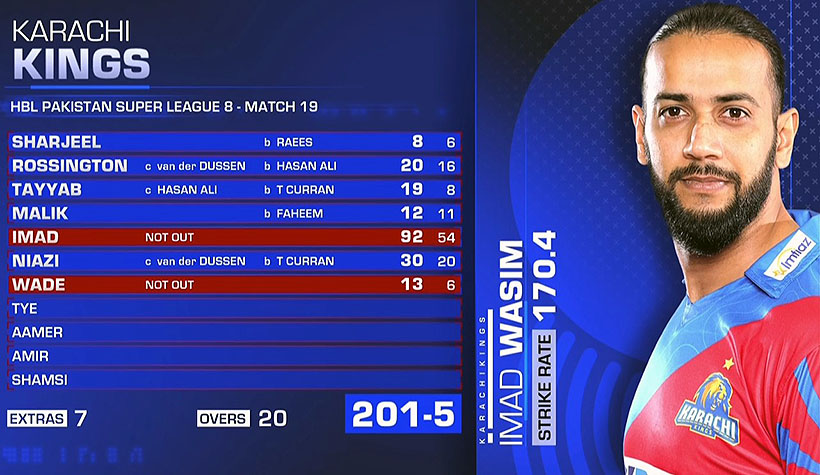 After Imad the top score was 30 runs by Irfan Khan on 20 balls and then Adam Rossington also scored his 20 runs on 16 balls. Everyone else scored lower than that. So this way, the Karachi Kings were able to put up the target of 202 for Islamabad United to chase.
For Islamabad United Tom Curran took two wickets, while Roman Raees, Hassan Ali and Faheem Ashraf took 1 wicket each. Mubashir Khan bowled 1 over, Shadab Khan also bowled two overs, given just 21 runs. Both of these were not able to take any wickets.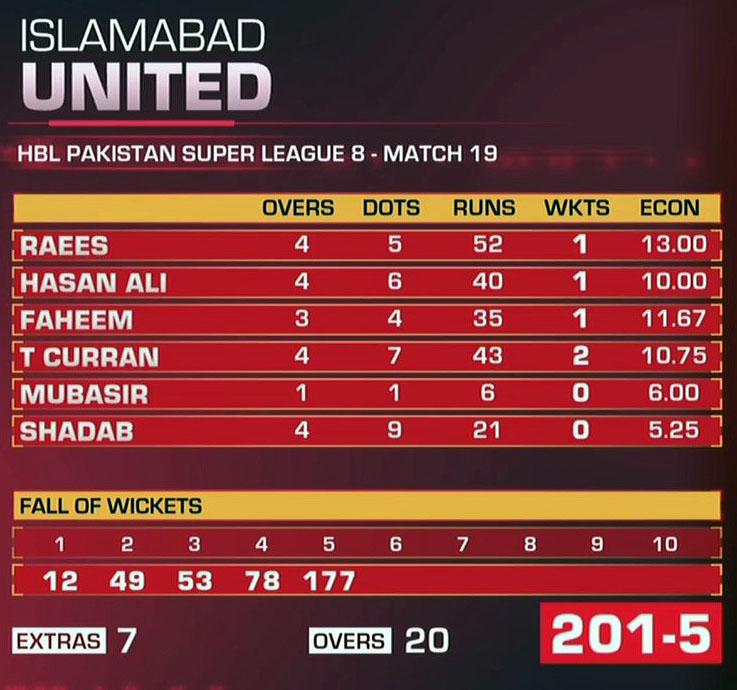 Islamabad United Innings
For Islamabad United Azam Khan played fantastic knock of 72 runs not out on just 41 balls with the help of 8 fours and 4 sixes. He did it with the strike rate of 176. He played the spinners very well and took lots of boundaries with his sweeps shots. Absolutely dissipated the bowling of spinners. Definitely match winning 72 runs and still not out.
Faheem Ashraf backed Azam Khan well with his 41 runs on 32 balls. He ultimately got out via a run out after a confusion between two batters. Faheem just gave out his wicket gladly for Azam Khan as Azam was playing great and both of these batters had done the job already.
Alex Hales, the opener, also scored 34 on just 16 balls, some very valuable runs with the help of 4 fours and 2 sixes. Rassie Van Der Dussen scored 22, Colin Munro 11 and Asif Ali scored 10 runs on just two balls. One six and one four and these were just needed to win the match when Asif Ali took strike.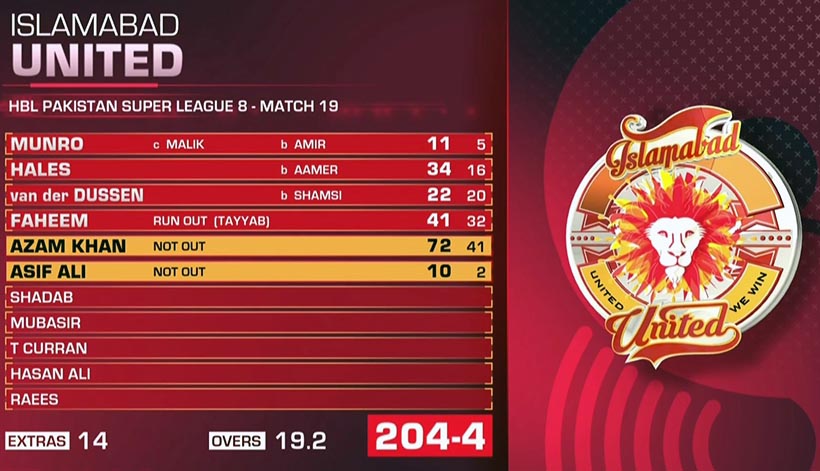 At the end of unbelievable Islamabad United innings Asif Ali was not out along with Azam Khan. Azam Khan, the absolute star of tonight was also awarded the player of the match title and the trophy.
Islamabad United won the match by 6 wickets, as they chased the score with four balls of their innings still remaining. This was the one of the biggest PSL runs chases.
For Karachi Kings, Muhammad Amir, Aamer Yamin and Tabraiz Shamsi took one wicket each. No other wickets, as at the end of Islamabad United Innings, they had lost just 3 wickets.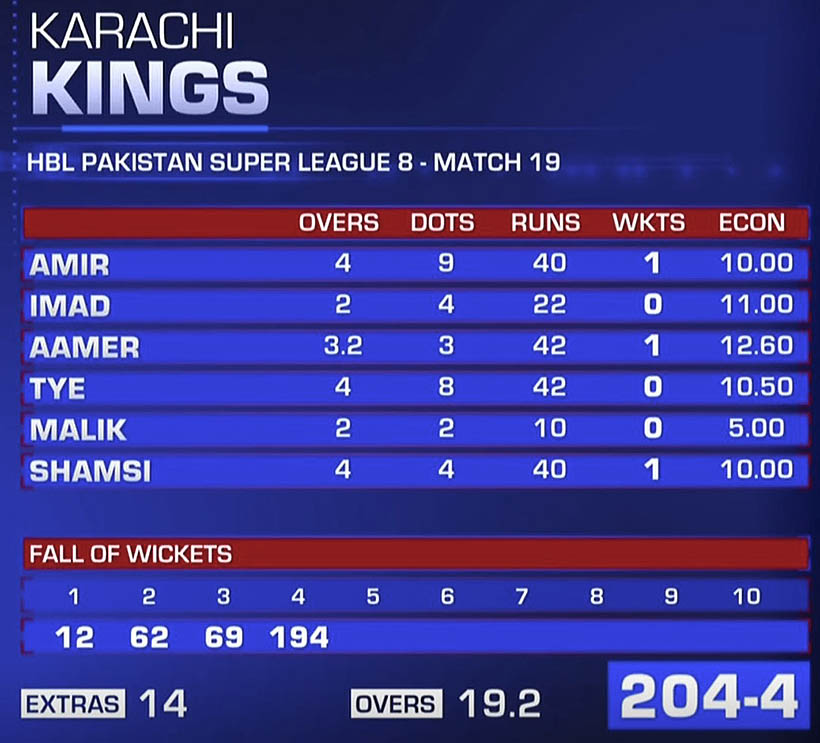 Match Summary – PSL 8 Match 19
Karachi Kings put a very good total of 202 runs for Islamabad United to chase. This total was put up with the help of valuable 92 runs on just 54 balls from Imad Wasim. Islamabad United started well, had good grip on match, then few wickets fell, it seem that match is getting out of their hands.
But then came Azam Khan, with his great knock of 74 runs on just 41 balls, it became very easy for Islamabad United to get over the line. 41 from Faheem Ashraf and 31 from Hales also helped a lot. As Islamabad United won by six wickets with four balls remaining.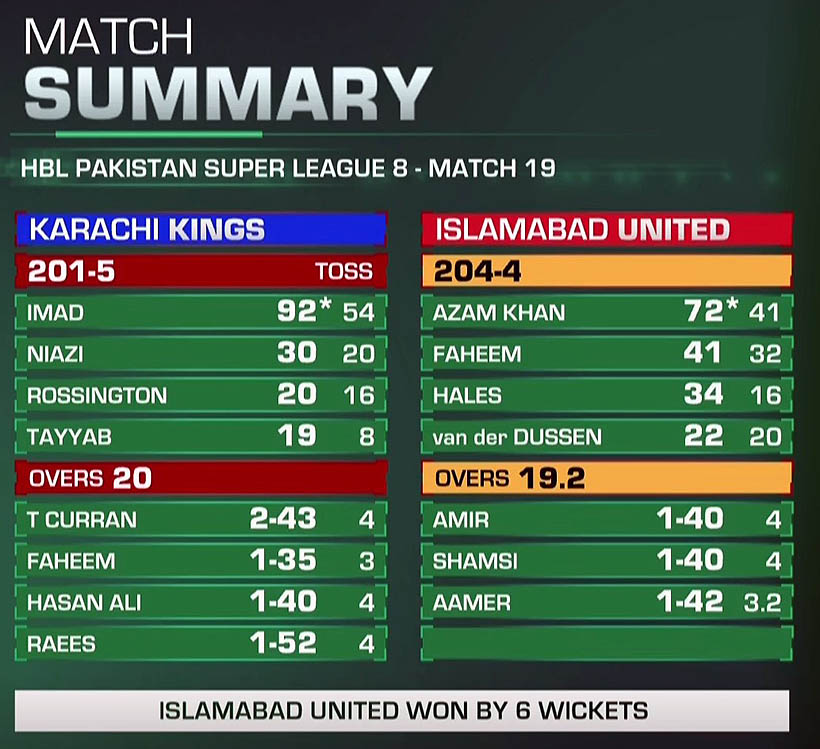 PSL 8 Match 19 Highlights
Match highlights of the Karachi Kings innings are as follows.
Match highlights of the Islamabad United innings are as follows.
PSL 8 Team Standings after Match 19
After this match the Islamabad United stands on second position on points table with total 4 matches won and total 8 points gained. While Karachi Kings is on the fifth place, with two matches won and 4 points gained for them. It should be noted that top four teams will go on to next tournament stage, which is playoffs.
More Related to PSL 8
To know PSL 8 Schedule, tickets and tickets buying information and much more, see following links.