Another very good game of Pakistan Super League (PSL) Season 8. On the March 17th, 2023 the second and the last eliminator match of PSL 8 was played between Lahore Qalandars and the Peshawar Zalmi. In this match Lahore Qalandars eliminated the Peshawar Zalmi from PSL 8 and move on the finals, where Multan Sultans are waiting for them, for the final showdown.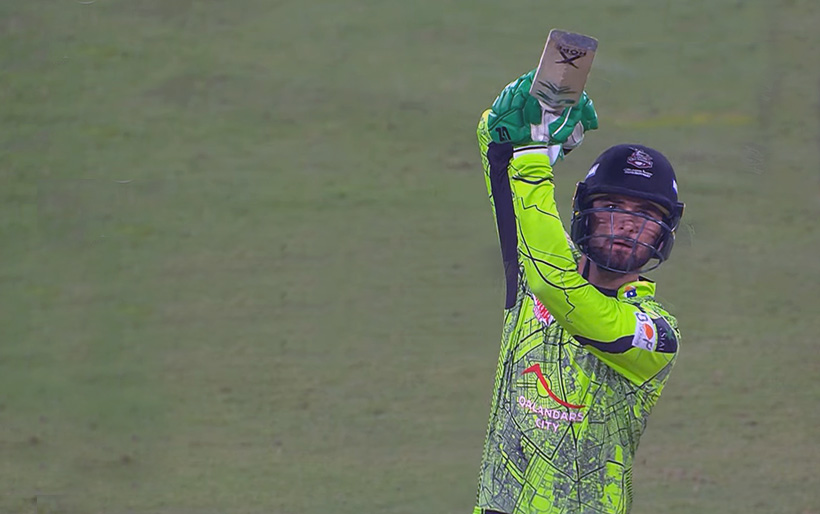 Peshawar Zalmi Innings
Peshawar Zalmi won the toss and they elected to bat first today. While batting first from Peshawar Zalmi side Muhammad Haris scored 85 runs, on 54 balls, with the help of 11 fours and 2 sixes. It was a great knock and biggest individual score of not only Peshawar Zalmi but both the innings. Babar Azam also contributed 42 runs on 36 balls with the help of 7 boundaries. After him Bhanuka Rajapaksa also scored 25 runs, other than that, no one else was able to enter double digit scores. Overall, Peshawar Zalmi scored 171 runs for the loss of 5 wickets in their 20 overs.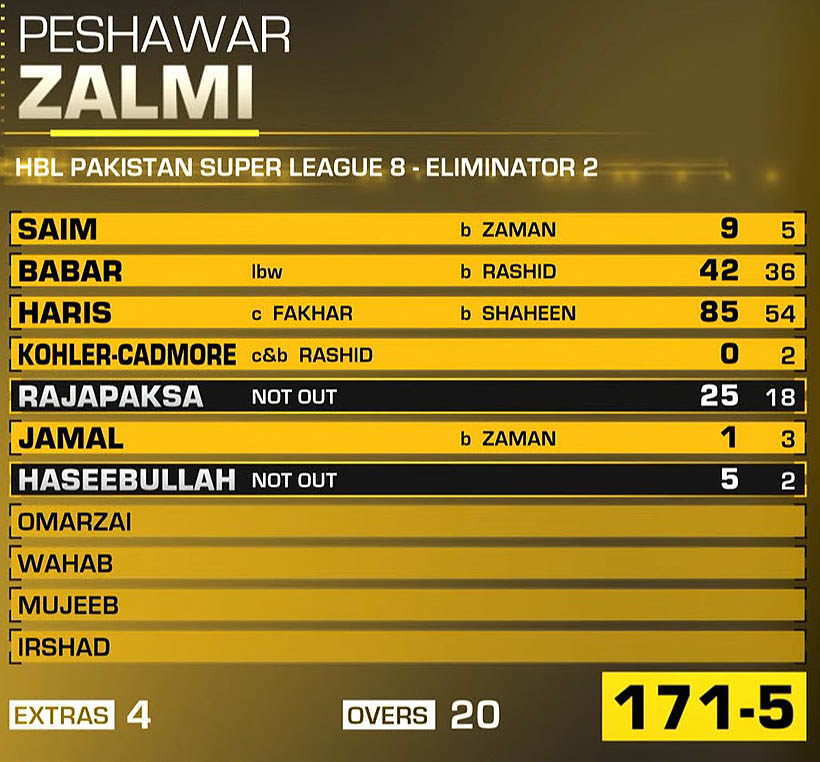 While bowling from the Lahore Qalandars side Zaman Khan and Rashid Khan took 2 wickets each. While Shaheen Shah Afridi also took one wicket. David Wiese, Harif Rauf and Ahsan Hafeez were no able to take any wickets.
Lahore Qalandars Innings
From Lahore Qalandars the opener Mirza Baig scored the most, 54 runs on 42 balls with the help of 7 fours and 2 sixes. After him the best score was from Sam Billings, he scored 28 runs on 21 balls with the help of 3 fours. He supported the run chase, when team desperately needed it. Sikandar Raza scored 23 valuable runs and remained not out. Ahsan Raza scored 15, Shaheen Shah Afridi scored 12 and remained not out.
The Lahore Qalandars were able to chase the given target of 172 runs with 7 balls of the innings still remaining. So they won the match by 4 wickets. Mirza Baig was the man of the match for his 54 runs contribution, which made the overall run chase possible for the Lahore Qalandars.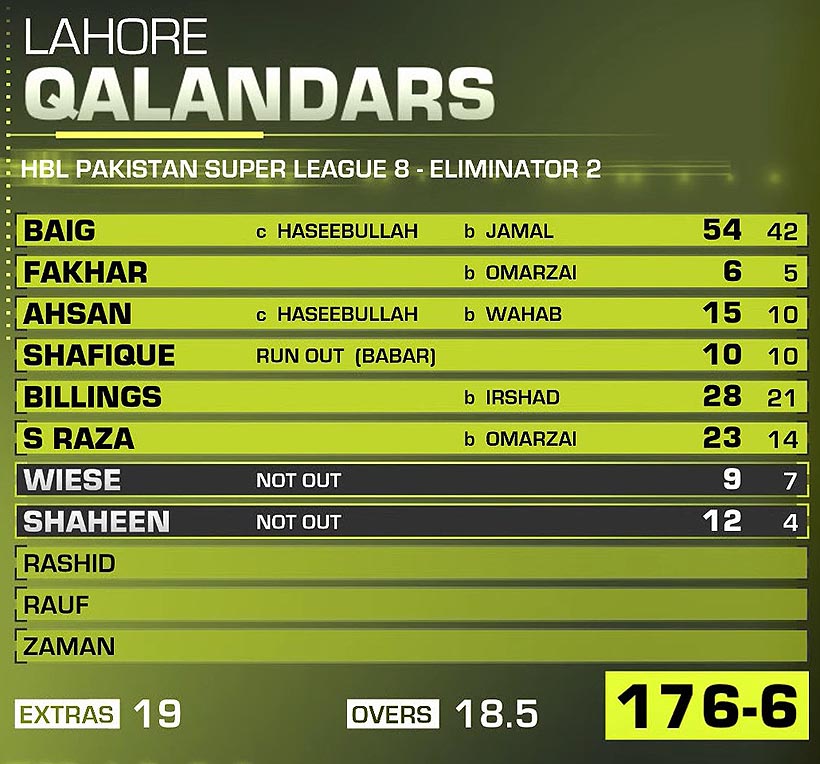 While bowling from the Peshawar Zalmi side, Azmatullah Omarzai took 2 wickets while Wahab Riaz, Aamer Jamal and Salman Irshad took 1 wicket each.
Match Summary
Peshawar Zalmi won the toss and decided to bat first. While batting first they have set the target of 172 for Lahore Qalandars to win. Lahore Qalandars while batting second, chased the target in 18.5 overs and with 7 balls still remaining they won the match by 4 wickets. Mirza Baig was awarded the player of the match title and prize for his valuable 54 runs contribution in Lahore Qalandars run chase.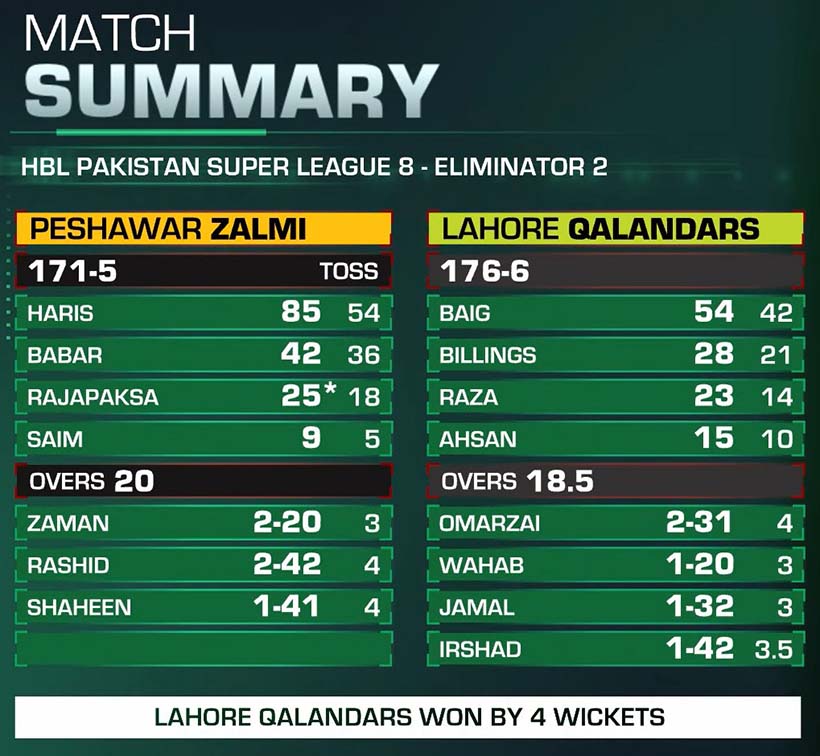 Match Highlights
Lahore Qalandars vs Peshawar Zalmi Eliminator 2, full match highlights video can be watched below.
Next Matches of PSL 8
Now only one match of PSL 8 is remaining, which is PSL 8 final match. PSL 8 final match will be played in Lahore, Qazafi Stadium. It will start with first ball action at 7:00 PM on March 18, 2023. As per original schedule the PSL 8 final was to be played on March 19, 2023. However, due to forecast of rain and heavy showers on 19th March, the final match had recently been shifted to March 18, 2023. However, March 19 is kept as reserve day, if in case match cannot be played on March 18, 2023 due to weather mainly.
In PSL 8 final Lahore Qalandars will face Multan Sultans for one last time for the big prize which is PSL 8 trophy.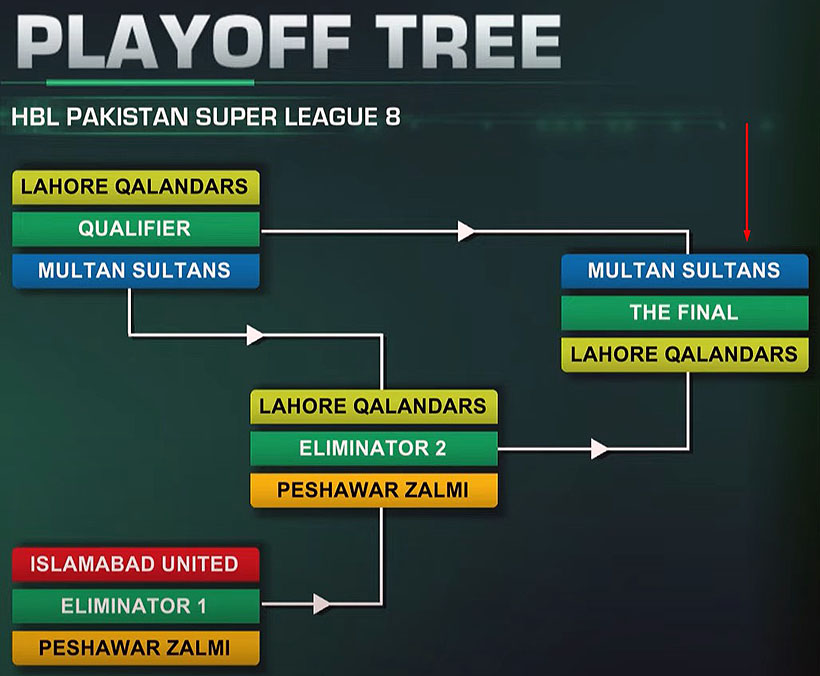 More about PSL 8 and Pakistan Cricket
Once again, please keep in mind that PSL 8 final have been shifted to one day earlier, which is Saturday, March 18, 2023. It was previously scheduled to be played on March 19th. However, shift was made due to the weather forecast for March 19, which included significant chance of heavy showers in the area of venue.
Following are the links to some more related resources, which you might be interested in.