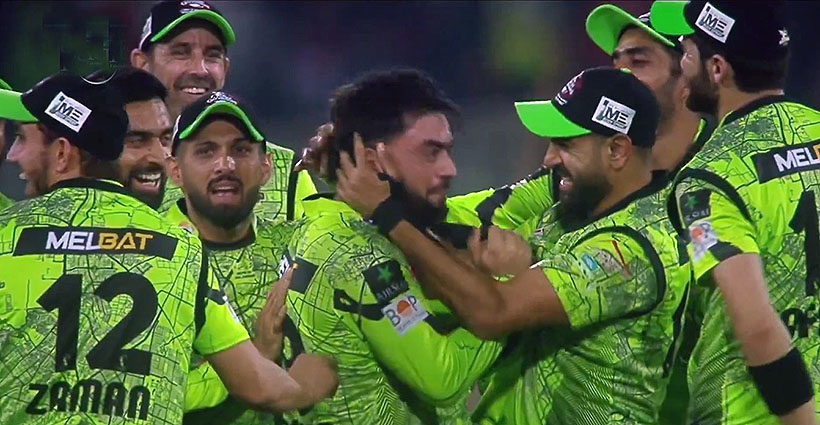 Things here in Pakistan are heating up, as the country's own most popular local sports tournament Pakistan Super League (PSL) progresses in to the mid with the 2023 season. It is season 8 this years. PSL is played every year and have very popular cricket tournament among the local cricket fans. Not only local players but also world class players also are invited and they play from different franchises.
Lahore Qalandars Innings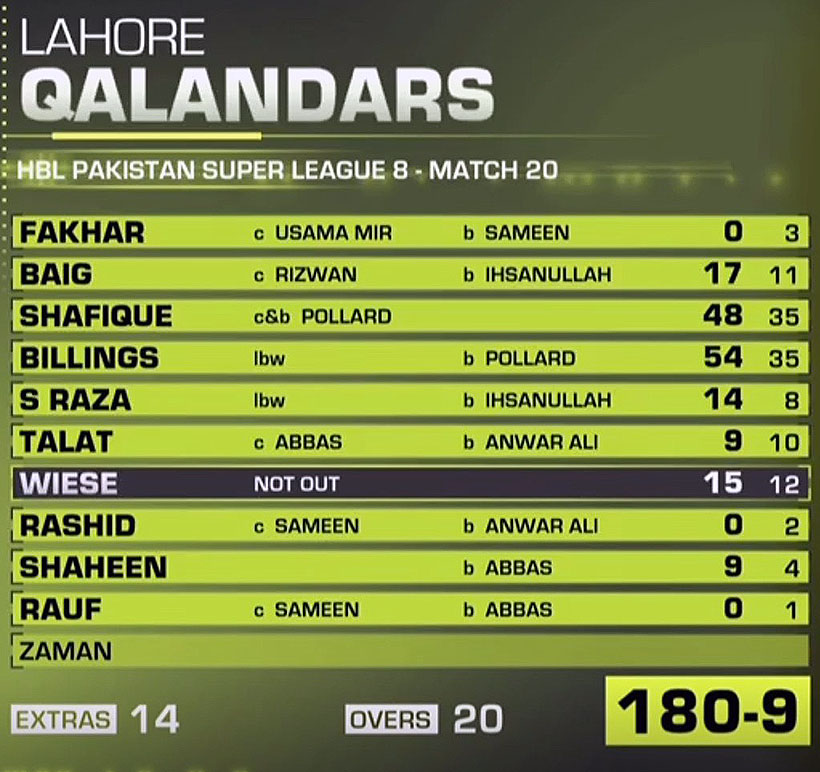 Today Lahore Qalandars faced Multan Sultans in match number 20 of PSL 8. Today, Lahore Qalandars won the toss and elected to bat first. While batting for Lahore Qalandars, Sam Billings Scored 54 runs, on just 35 balls with the help of 6 fours and two sixes. Second best score was of Abdullah Shafique, he scored 48 runs on 35 balls with the help of 6 fours and a six.
Other than these two, everyone else scored lower than 20 runs. However, as Lahore Qalandars lost too many wickets, so all players got the chance on batting, so overall Lahore Qalandars were able to score 180 runs today for the loss of 9 wickets.
For Multan Sultans, Anwar Ali, Ihsanullah, Abbas Afridi and Kieron Pollard, all of these bowlers took two wickets each. While, Sameen Gul took one wicket in his three overs, which he bowled. Multan Sultans bowlers restricted the Lahore Qalandars well on 180.
Multan Sultans Innings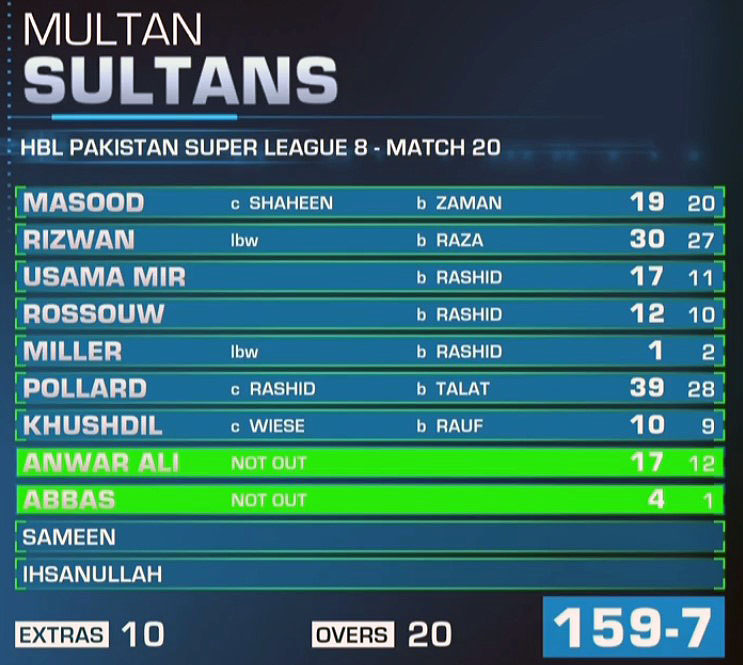 In the Multan Sultans batting order, there were no big scores today but many small performances which brought the Multan Sultans near the given target of 181 runs. However, on the end Multan Sultans were not able to finish it off with a victory. In the designated 20 overs, they were able to only score 159 runs for the loss of 7 wickets.
From Multan Sultans, Kieron Pollard scored 39 runs on 28 balls, with the help of 2 fours and 3 sixes. Muhammad Rizwan, the team captain for Multan Sultans, was able to score 30 runs on 27 balls. Shan Masood scored 19 runs, Usama Mir scored just 17 and everyone else scored lower than that.
Lahore Qalandars' bowlers contained the batters of Multan Sultans very well. Rashid Khan in his designated 4 four overs only gave 15 runs and took 3 very valuable wicket of Multan Sultans. He was the star of the night. He was also given the Player of the Match title and the trophy today, which he deserved very well, without a doubt.
Zaman Khan, Haris Rauf, Sikandar Raza and Hussain Talat also took one wicket each. Shaheen Shah Afridi bowled full four overs while David Weise bowled three, these two were not able to take any wickets today.
Match Summary
Lahore Qalandars won the toss and elected to bat first, as decision, which helped them very much today. As things mostly gone according to plan. They scored 180 runs while batting. Gave target of 181 runs to Multan Sultan to win. However, contained them well on 159 runs in designated 20 overs. Lahore Qalandars won the match 20 of PSL 8 by 21 runs against Multan Sultans. Rashid Khan, the bowler from Lahore Qalandars was awarded player of the match title and trophy for his 3 wickets wickets, which he took in his four overs by giving just 15 runs, an outstanding performance with ball.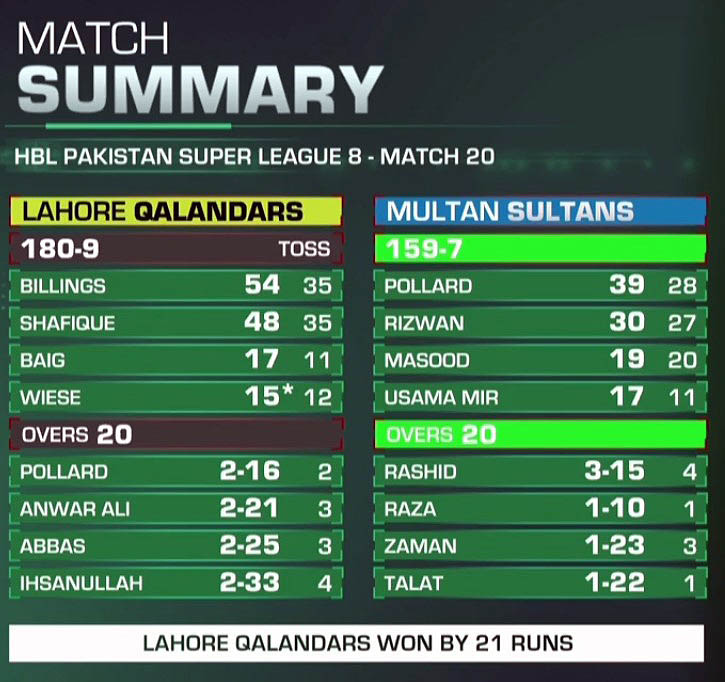 Match Highlights
First innings highlights of Lahore Qalandars vs Multan Sultans are as follows.
First innings highlights of Lahore Qalandars vs Multan Sultans are as follows.
Team Standings after Match 20 of PSL 8
After the victory of Lahore Qalandars in match 20 of PSL 8, they remain on top in tournament team standings while Multan Sultan also hold their number two position on the standing so far.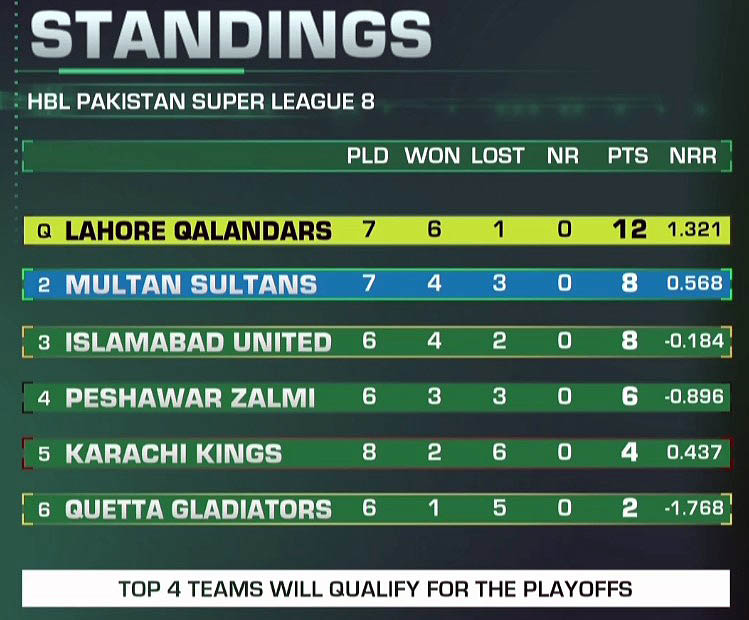 More related to PSL 8 and Cricket
You might be interested in one of following details about PSL 8 and Pakistan Cricket, do follow the links you are interested in.