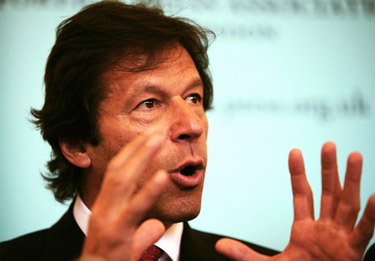 The former Pakistani cricketer Imran Khan have certainly became the hope for Pakistan in politics. Specially Pakistani youth thinks if he is given chance to lead the country, he can do the wonders and can bring the country out of darkness where we are facing many unsolved problems like breaking economy, deteriorating currency, bad security situation, mishandled foreign relations, increasing poverty, electricity/gas load shedding, inflation, corruption, lack of quality education facilities, lack of medical facilities, joblessness and what not. The Irony is that current political parties and even few of previous governments as well mishandled these issues and in fact were not able to do any thing to cope with these issues.
Now many, specially the educated youth of this country believes that Imran Khan is the person who along with his party will be able to bring the country out of situation of uncertainty and put it on the way to development and prosperity.
The reason is that Imran Khan have already achieved success and done wonders for this nation on many front. Starting with cricket, he have been a great player, even a great leader who kept the players united and was the only Pakistan captain in the history who bring back Cricket One Day International World Cup back home. If it was not for his leadership skills and commitment, that world cup achievement was not possible.
Imran Khan have been and is still involved in social work for his fellow Pakistanis. He brought a free cancer hospital for Pakistanis with the help of other fellow Pakistanis, this hospital is one of the best in country named as Shaukat Khanam Memorial cancer hospital and research center. This hospital is the only hospital in country which effectively treats the cancer patients in Pakistan, its a free hospital for those who can't afford cancer treatment otherwise, hospital have the world's latest equipment to treat the unprivileged cancer patients, also world's most modern research is going on, on this research facility to treat cancer more effectively. This Health facility found by Imran Khan have treated hundreds of thousands of cancer patients absolutely free over the years and literally saved all those lives. Hospital currently is in one city of Pakistan but Imran khan is already planning to provide these health facilities in many more cities.
We are talking politics here but Imran Khan's success as cricketer and in social work was critical to be mentioned here, as it defines what Imran Khan have got, as a man. Weather it was cricket or the matter of saving lives, Imran Khan have done much for this country and proved him as a man who can be trusted.
Now same is the reason that in these bad times the people of Pakistan and specially youth, all are supporting Imran Khan. All the online Polls about who should or who will win the next elections, the Imran Khan's Party Pakistan Tehreek-e-Insaf (PTI) wins all these polls with huge majority. He is very popular with all these polls.
Question is, will these polls will actually turn in to the real votes in elections in 2013, I would say this trend should be depicted in those elections. Now the people who believe in Imran Khan are those who really want a positive change in the country, so lets plan to actually get out of comforts of home in next elections and do whats good for the country next elections. I will not try to impose my opinion over any one here but I would say when you vote in next elections do lots of thinking about whats good for the country, Who was given chance, they did well or not, who needs our chance this time and will they be good for country. So first step is to get out and actually confirm if voters list have your name in it, if vote not registered, do it now, because you want to be party of next history making elections.
Its not just previous successes of Imran Khan, he actually have great plans for the country. I have not heard him promising stuff that he would not be able to achieve like other politicians but I have heard him mentioning the un-used natural resources which this country have got and which can be used to resolve the country's own problems.
Luckily, majority of youth of Pakistan already seem have realized that Imran Khan in these times is the last hope for this country and he should be heavy mandate in next elections to see what he have got, to put country back on track to prosperity and development. I would personally be pleased to agree with this.
You can give your opinion as well and feel free to let us now which party or politician you are going to support in next elections. All your input will be via comments below, we respect everyone's opinion and will be more than pleased to know it. We have also recently opened a Facebook poll about which political party you are going to support next elections, we will be shortly post results here as soon as we have got enough votes on that. You can also be part of that pole here.
Do subscribe to us via email as well as follow us on Facebook and twitter, all via options on right side of this page.