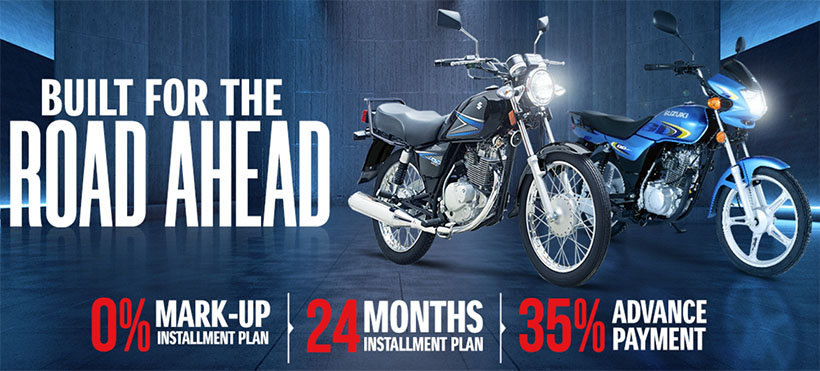 Now a days, the sales of bikes, along with cars, are also down due to hyperinflation Pakistan is facing. Due to inflation the prices of bikes etc are up and the purchasing power of people is down further due to same old income levels and highly inflated daily and utility expense.
The cars and bike maker companies like Suzuki Pakistan and others are offering exciting stuff, never seen before, to attract the customers. One similar scheme came from Pak Suzuki now a days, where they are offering Zero percent Markup plan on purchase of any suzuki bike.
Apparently this Zero percent markup plan is valid on purchase of any of the available bikes by Pak Suzuki. Not only this, the amount have to be paid in easy installments of two years with just 35% upfront payment.
So to be exact, following are the terms and conditions of Pak Suzuki 0% Bike installment plan.
35% of the total bike price have to be paid upfront in advance while booking and opting in to the zero percent markup finance facility.
Remaining payment have to be done in two years, in 24 monthly installments, to be exact.
This installment plan does not involve any interest payments on top of bike price. Only the price have to be paid.
For exact terms and conditions applicable make sure to visit your nearest Suzuki dealership and ask the full details about the 0% markup scheme on bikes. Also inquire them about any applicable processing fees as well. So that while opting in, your fully aware of, what you are going to sign up for.
As a general rule, before going for any installments plan, do hold a one to one meeting with a company representative to fully understand the terms and also ask them about any applicable processing fees. So that you make an informed decision.
Also if you are intertested, you can check our dedicated page for Suzuki bikes prices and our dedicated page for Suzuki Cars Prices.