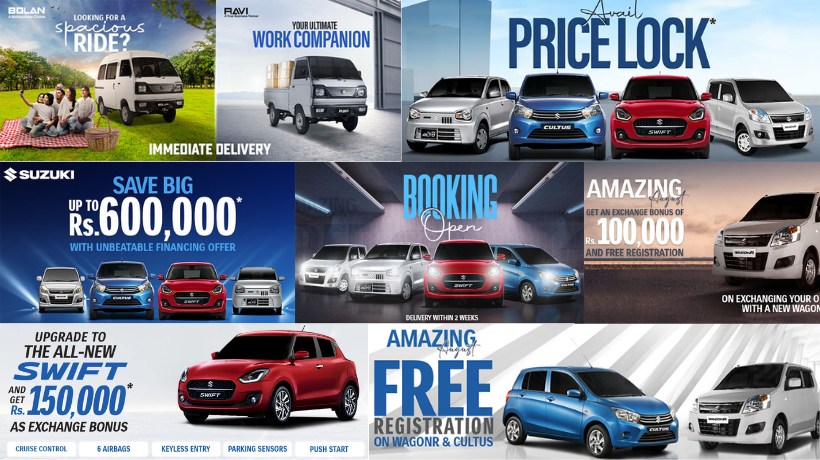 The prices of new cars and other vehicles as well are very inflated right now. After hyperinflation, along with other things, the prices of vehicles also gone up significantly. Same is the reason that the vehicles, which used to be short, are now available in surplus. As demand have lowered due to high prices and lower affordability of buyers.
Same is the reason that Pak Suzuki along with other automakers are offering their buyers many exciting offers, which include free registration, immediate delivery and much more, on different vehicles. So instead of ON, the cars are available on OFF along with exciting promotions.
Today in this post we will have a look on few exciting offers which Pak Suzuki is giving to their customers on purchase of new vehicles. Details of these offers can be seen below.
Free Registration of WagonR and Cultus
Suzuki Pakistan is offering the free registration of your Suzuki WagonR and Suzuki Cultus, if you book them now in this month. This offer is valid for WagonR for all kinds of sales, however, for Suzuki Cultus this offer is only valid for corporate sales, mean if you are buying the car through a bank or an organization is buying the car. Also for now the offer is valid for month of August but the offer may be extended to coming months.

150,000 bonus on exchange with new Swift
If you bring your old Suzuki Car to exchange it with new Suzuki Swift, Pak Suzuki will not only buy your old car, they will give you additional Rs. 150,000 PKR in addition to the value of your old car. This offer is only valid if you are exchanging your old Suzuki Car to with new Suzuki Swift on any Suzuki Dealership. This offer is also valid for month of August.

100,000 bonus and free Registration on exchange with WagonR
In similar to above offer, Pak Suzuki is offering its customers to bring their old suzuki car for exchange with Suzuki WagonR. Pak Suzuki will pay 100,000 bonus in addition to the value of old car which the customer brought for exchange with Suzuki WagonR. Also in this case, Suzuki is offering free registration of the new WagonR which you buy. This offer is valid for exchange with any variant of WagonR and also offer is currently limited to the month of August.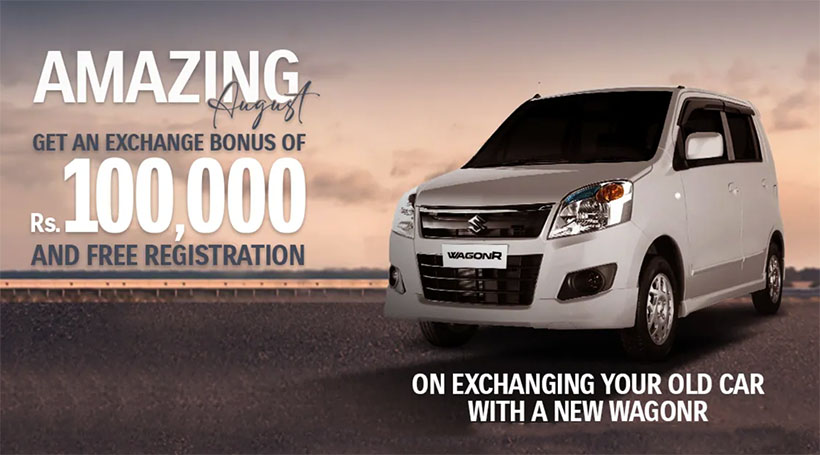 Price Lock on vehicles booked in August
Normally, when you book a vehicle on partial price payment on time of booking, your car is delivered on price which is applicable on time of delivery, in case the price increases. However, Pak Suzuki is offering price lock facility on all vehicles which are booked in the month of August 2023. Which means if you book your vehicle in the month of 2023 and later its price increases, your vehicle will be delivered on same old lower price, the price raise will not affect the purchase.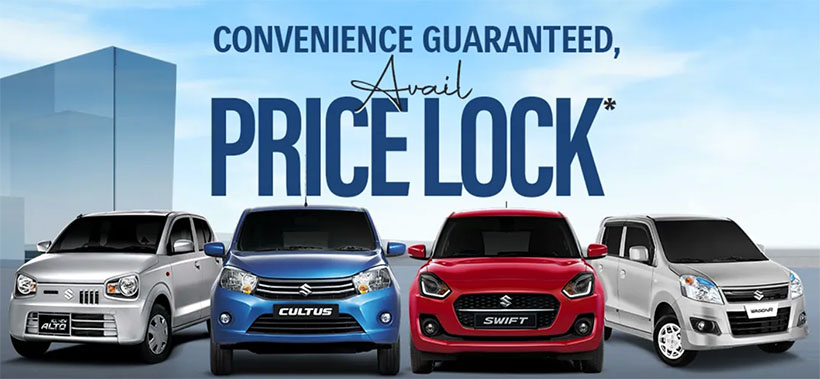 Immediate and Two Week delivery on many vehicles
Few months ago, if you needed to book a Suzuki Vehicle, they had delivery times of six months normally. Now two of Suzuki's vehicles, Suzuki Bolan and Suzuki Ravi are readily available for immediate delivery on Suzuki dealerships. However, four other vehicles which include Suzuki Swift, Suzuki Cultus, Suzuki WagonR and Suzuki Alto are available for delivery within just two weeks of booking.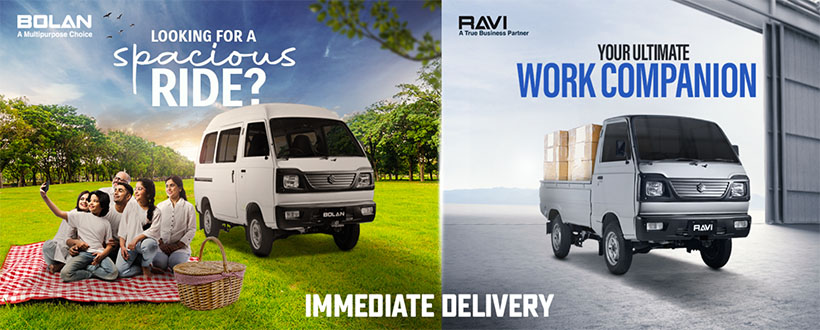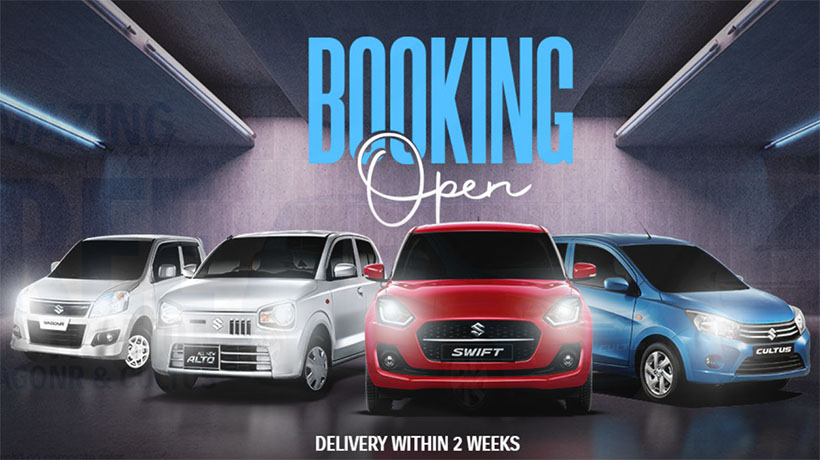 Save upto Rs 600,000 on vehicle purchase on installments via Suzuki Pakistan
If you buy your Suzuki cars or other vehicles directly from a Suzuki dealership, on installments, Suzuki is offering up to 600,000 overall discount on the deal. These installment plans are powered by the collaboration between Suzuki Pakistan and the partner bank HBL. To avail the installment plan, visit your nearest Suzuki dealership in Pakistan.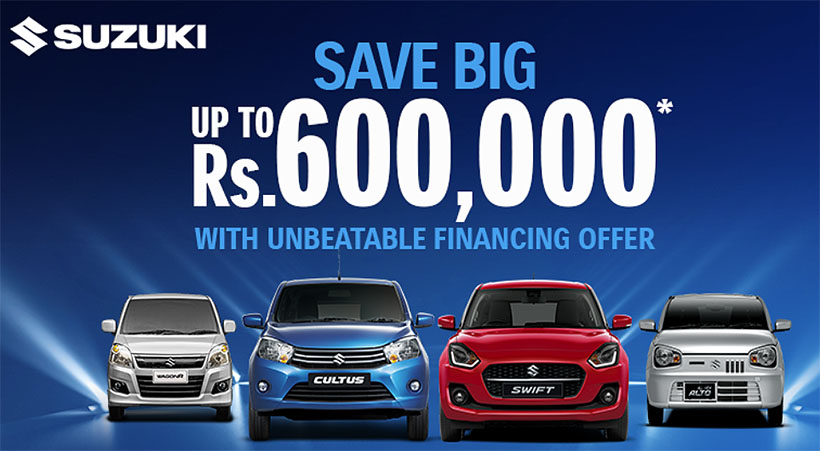 Prices of New Suzuki Cars
We have a dedicated page where we list and keep updating the latest prices of Suzuki Cars. If you are interested, do checkout the latest prices of Suzuki cars in Pakistan.