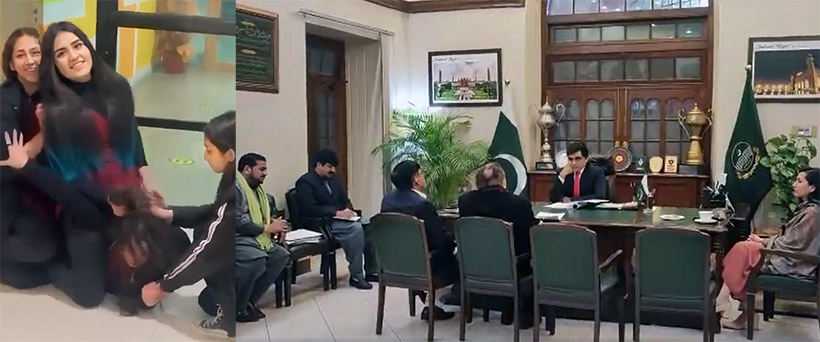 Recently a bullying and beating incident have been spreading like fire on social media, where few girls getting together and bullying & beating their fellow student at Scarsdale International School, Lahore. After the incident widely spread over the social media, government took the notice of the incident. Specially, Deputy Commissioner Lahore (DC Lahore) had recent arranged a meeting with all the concerned stakeholders, including parents and school.
Deputy Commission Lahore revealed this in his tweets, in which he told that on the recommendation of Education Authority Lahore he heard all the concerned parties. He also suspended the registration of Scarsdale International School, Lahore, until further notice. He added to make sure the suspension, CPO Education Lahore have been instructed.
Also, in another tweet in same thread, DC Lahore further revealed that he have instructed the Scarsdale School to submit their reply about the incident, this was done on recommendation of Education Authority Lahore. He further added that he have also instructed the CPO Education Lahore to notify the parents as well to come up with their replies about the incident.
The registration of Scarsdale international school Lahore will remain suspended until further notice. DC Lahore revealed all these details in a twitter thread which consisted of two tweets, which is following.
It is great that at least something is being done in this regard by someone in administration. Previously, the involved students, the aggressors had been granted bail before arrest while the Scarsdale school had come up with a very casual statement about the bullying and beating incident. Also the father of the victim, Aleeha Imran, had been interviewed. If you are interested you can watch interview of victim's father. In that interview, Imran Younus, father of Aleeha Imran, had revealed he is facing threats and much more in the struggle of getting justice for his daughter.
If you really have not been following social media recently and have no idea about which incident we are referring to, check out the videos in following tweet.
Previously, we have been bringing many updates about the incident, which are linked in the above paragraph. We will also keep bringing more updates, so do make sure to follow the push notifications via bell icon on bottom right of the screen. More importantly, we hope that justice is served and all the responsible parties are dealt with accordingly, including the school.