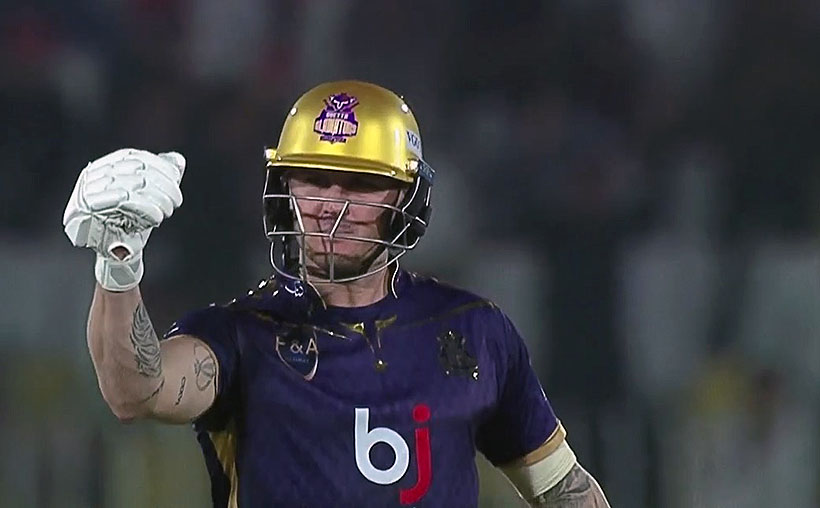 As the Pakistan Super League (PSL) Season 8 is now nearing its end, things are really heating up. Even the teams which were on the very end of points table are now making history in a bid get a chance on the playoffs stage. One such upset was when Quetta Gladiators beaten the Karachi Kings to move up a spot from the bottom of table. But today it was a whole other story, Quetta Gladiators won convincingly after chasing a big total against a good performing team.
Peshawar Zalmi Innings
Today Peshawar Zalmi won the toss and elected to bat first. While batting, the captain of the team, Babar azam scored 115 runs on 65 balls with the help of 15 fours and 3 sixes. Along with him other outstanding batting performance was from Saim Ayub, he scored 74 runs with the help of 6 fours and 5 sixes. Rovman Powell scored 35 (not out) on 18 balls, while on the end of innings Tom Kohler Cadmore was playing at 7 (not out) on 3 balls. Add up all of these and the extras, Peshawar Zalmi scored total 240 runs, which everybody thought is very big total and it indeed was.
From Quetta Gladiators bowling side only Dwaine Pretorius took one wicket, other than that there were no wickets for Peshawar Zalmi bowlers. However, Babar Azam was run out by Aimal Khan, while he was bowling. So two wickets of Peshawar Zalmi dropped.
Quetta Gladiators Innings
Quetta Gladiators right from the start of the innings started the power hitting. They came with the intent to chase the big total of 241 runs and improve their net run rate as well. The required run rate was as high as 12.05 right before the gladiators stated their run chase.
While batting from Quetta Gladiators, Jason Roy, one of the openers played an epic knock, where he scored 145 runs on just 63 balls. He remained not out. He scored 145 with the help of 20 fours and 5 sixes. An unbelievable T20 innings indeed, he made sure to be there at crease till the very end of match.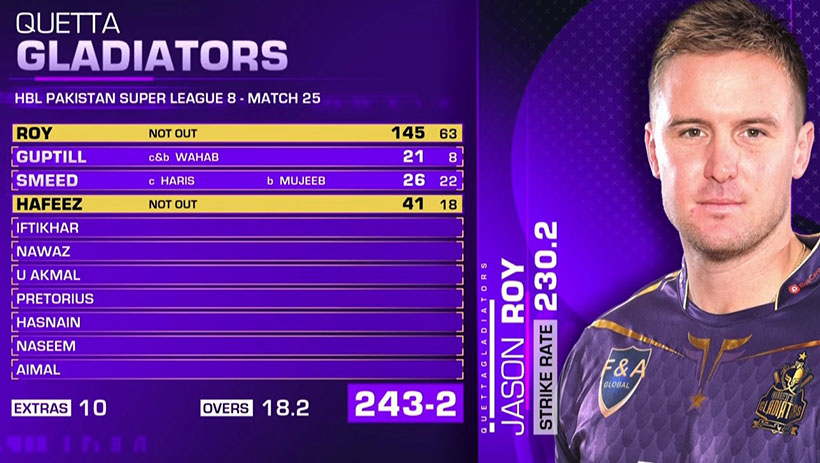 Jason Roy for his outstanding batting performance was awarded three different titles and trophies, these also came with cash prizes. Titles were Player of the match as well as energetic batter of the match. Also he took the moment of the match trophy for his match winning shot, which gone for a six.
Martin Guptill scored 21 on 8 balls, Will Smeed scored 26 on 22 and Muhammad Hafiz scored 41 runs while being not out. Hafeez hit 6 fours and 2 sixes. With this all, Quetta Gladiators were able to chase a big total of 241 runs with 10 ball of the match still remaining.
From Peshawar Zalmi bowlers Mujeeb-ur-Rehman and Wahab Riaz took one wicket each. No other bowler was able to take any wickets.
Match Summary
Peshawar Zalmi won the toss and elected to bat first. Thanks to the 115 runs by the captain Babar Azam and valuable 74 by Saim Ayub Peshawar Zalmi was able to up a total of 240 runs on the scoreboard.
Quetta Gladiators started power hitting right from start while chasing the total of 241 runs. Jason roy enable the Quetta to chase the total with 10 balls remaining, he himself scored 145 runs. He came as opener and remained till the end.
Jason Roy won the player of the match, energetic batter of the match and moment of the match titles and trophies due to his match winning knock with the bat.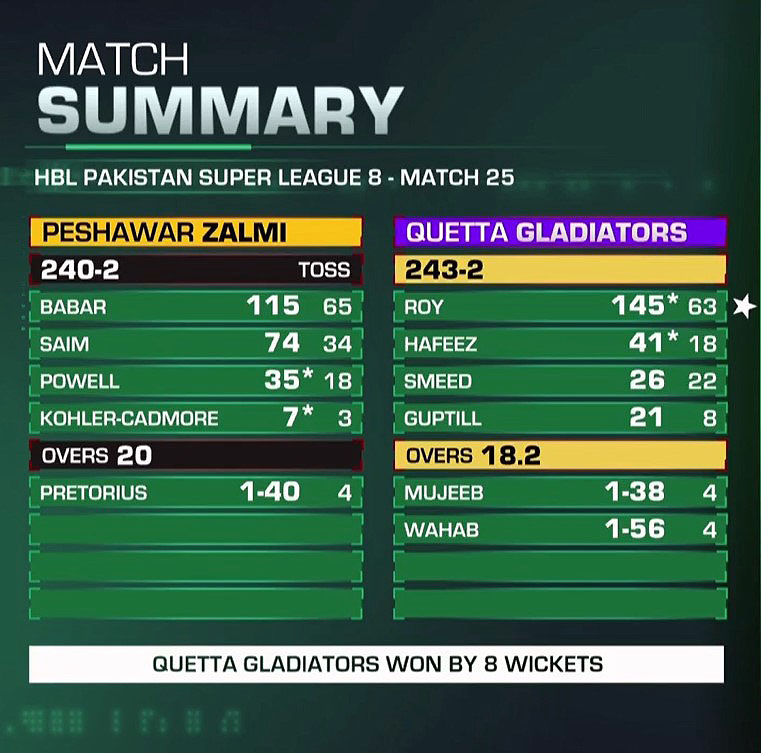 PSL 8 Team Standings
After winning this match, Quetta Gladiators improved their chances to go in to the playoff, that too will be valid if they win the next match with huge margin. Then rest will be upon net run rate. By the way, the team standings after today's match are as follows.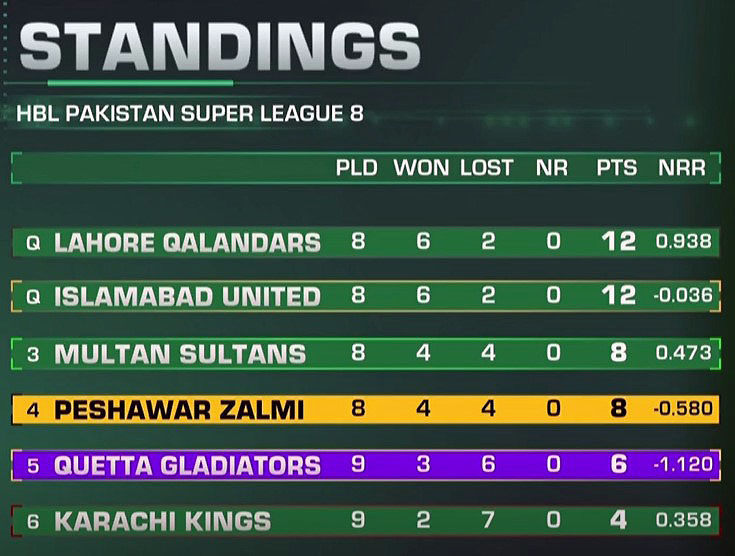 More Related Stuff