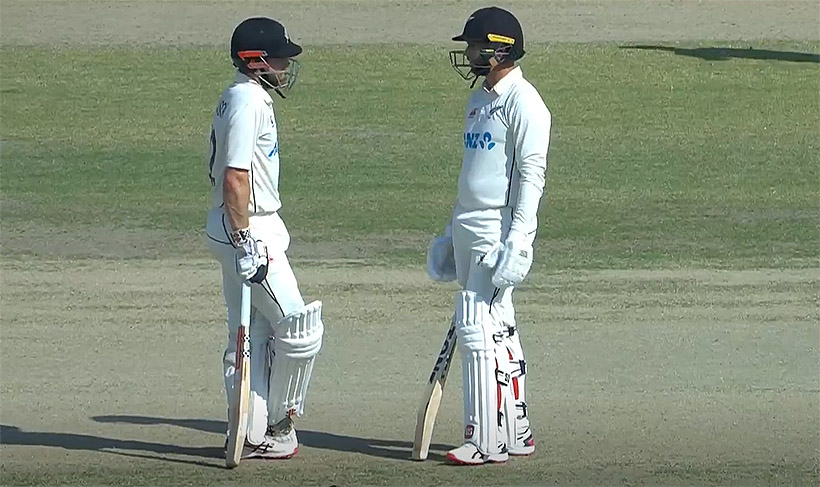 New Zealand is on tour of Pakistan. This tour includes two test matches and three ODIs which are to be played between the host Pakistan and the guest New Zealand cricket team. First match started on 26 December 2022 and ended on the fifth day. First test match was drawn between Pakistan and New Zealand.
Now second test match is being played between Pakistan and New Zealand at National stadium Karachi. Today when this test match was about to start, New Zealand won the toss and elected to bat first. Now seems like the decision of batting first turned out well for them, as currently New Zealand is playing at 181 runs with the loss of just one wicket.
All credit goes to openers for the performance which is shown until now. Tom Latham got out after scoring 71 runs on 100 balls, with a good strike rate for test cricket. Devon Conway is still playing on 89, on the other hand Kane Williamson is batting on 16 runs.
This match had to take place at Multan as per schedule, however due to deteriorating weather conditions there it was shifted to Karachi. Also entry to this match is free for most of enclosures except two VIP enclosures. Also the schedule for second test match and all other ODI matches was advanced by one day.
So if you want to go and enjoy the cricket in stadium, you can go to National Stadium Karachi directly and you will be able to enter the stadium without any ticket. If you want to sit in VIP enclosure, you will still be able to get that ticket on stadium gate, it will cost you Rs. 500 per head.
If you are far from Karachi or do not want to go and watch the match live at stadium, you can still watch it live online. Do make a use of our guide on how to watch live cricket online from Pakistan and enjoy from comfort of your home.