Pakistan Super League (PSL) season 8 is underway right now. PSL is Pakistan's own cricket league, which have become the most popular national sports tournament among Pakistani fans and beyond. Not only Pakistani Cricket stars and new players participate in PSL but also a number of international players as well, come from different cricket playing nations around the world and participate in PSL.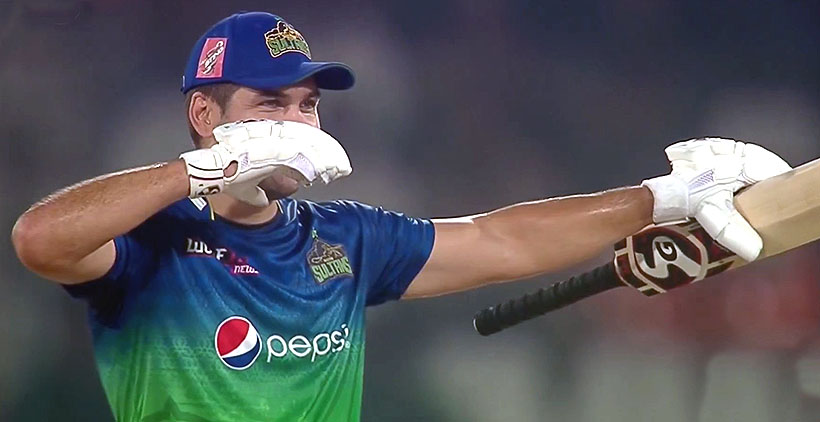 Today was the third match of PSL season 8, which is the season for the year 2023. Multan Sultans faced Quetta Gladiators in the today's match. Multan Sultan's won the toss and elected to field first. This turned out to be a great decision, as at a point Multan Sultan's took all the wickets of Quetta Gladiators.
After playing 18.5 overs and scoring 110 runs the team Quetta Gladiators was back to the pavilion. From Quetta Gladiators batting side Jason Roy was the top scorer with 27 runs on 18 balls. After him Muhammad Hasnain scored 22 on 20 balls. Muhammad Hafiz scored 18, Muhammad Nawaz scored 14 and Umar Akmal scored 11. Other than that, no batter was able to enter double figures.
As far as the Multan bowling is concerned, Ihsanullah took 5 wickets by giving just 12 runs in his 4 overs, which he bowled. Ihsanullah was rewarded with player of the match award for his outstanding performance with the ball. Sameen Gul and Abbas Afridi took two wickets each. Usama Mir took 1 and Akeal Hosein took no wickets at all.
From the Multan Sultans batting side, the opener Shan Masood scored just 3 run on 5 balls and got out early. Other than that no one lost their wicket. Next two batters, Muhammad Rizwan scored 28 on 34 balls and Rilee Rossouw scored 78 runs on just 42 balls with the help of three sixes and nine fours, total 12 boundaries. This way Multan Sultans were able to chase the given target 111 runs early after just 13.3 overs.
From Quetta Gladiators bowling side Nuwan Thushara took one wicket and no one else was able to take any wickets. This was big setback for Quetta Gladiators as the in both departments, batting and bowling, Multan Sultans just plain and simple dominated them.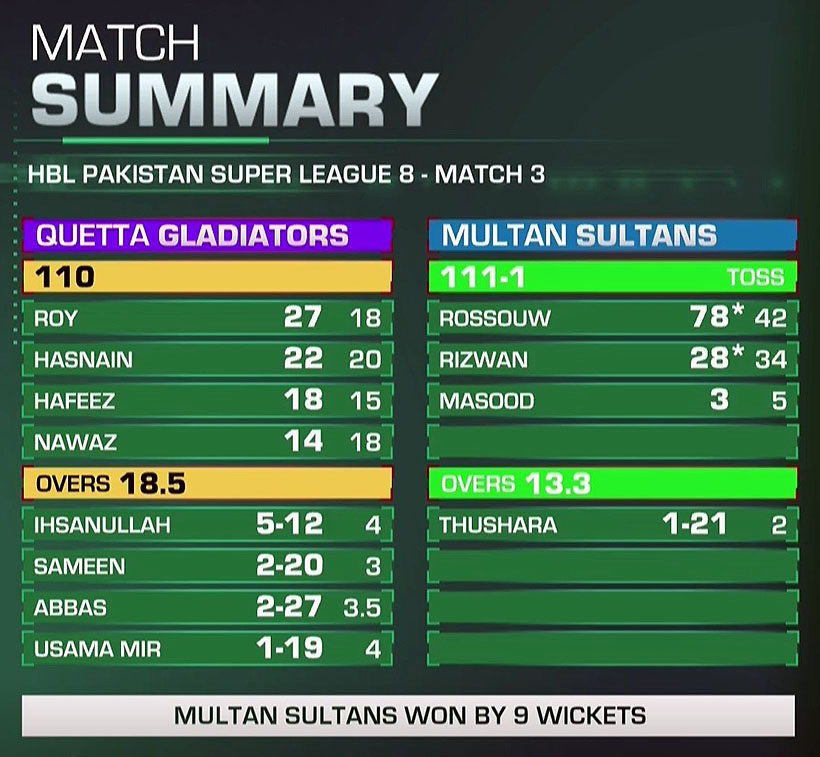 Good thing is it was just third match of the tournament, plenty more action to go as the tournament progresses, so Quetta Gladiators will get more chances. Lets see if they will be able to avail them in good manner. If you are interested, you can check the PSL 8 Schedule here and if you want go and watch the matches in person, see how to buy PSL 8 tickets online.
However, if you do not feel like traveling anywhere right now, now worries, we have guide on how and where to watch live cricket online from Pakistan, due make use it if. Stay happy and healthy.