Pakistan Super League (PSL), Season 8, is underway right now. PSL is the Pakistan's own Cricket league. Many years back when it started, all of it matches used to be played at Dubai, due bad law and order situation in Pakistan. However, now fortunately, we have no law and order issues here at Pakistan and all of the matches are played here in Pakistan. Also PSL 8 is very popular amongst the local cricket fans, making it most liked and loved local tournament of any sport in Pakistan.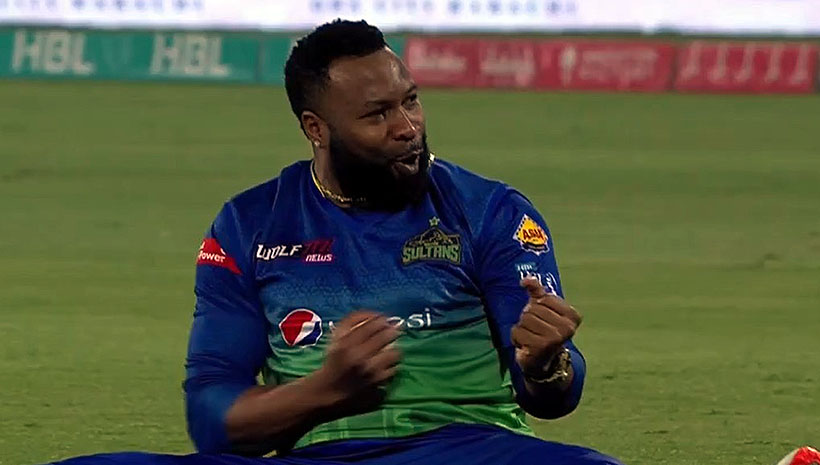 PSL 8 is underway right now and the last match which is played until now was between Karachi Kings and Multan Sultans. It took place in Multan and a very interesting competition, an absolute thriller. Even on the last ball of the game, it was not clear that who will be winner of the game. At many stages of the match, the odds of winning of both teams increased and decreased as compared to the other team. So very interesting game indeed.
In PSL 8 match number 11, Karachi Kings won the toss and elected to field first. While batting Multan Sultans only lost two wickets until the end. Top scorer was the Captain and the keeper of team, Muhammad Rizwan, he scored 110 runs, on 64 balls, with the help of 10 fours and 4 sixes, he also remained not out. Shan Masood scored 51 runs on 33 balls, he achieved this total with the help of 6 fours and 1 six. Rilee Rossouw scored 29 on 21 balls while Kieron Pollard scored 2 on the 2 balls, which he faced. He also was not out while the innings of Multan Sultans ended. Multan Sultans given target of 197 runs to Karachi Kings to win the match.
From the Karachi Kings bowling side, Muhammad Umar and Shoaib Malik took one wicket each. Other than that no one was able to take a wicket, as in total six bowlers tried their luck including Imad Wasim the captain, and two wicket takers.
From Karachi Kings batting side, one of the opener James Vince scored very well, 75 runs in total. At the pace he was going, Karachi Kings would never had to face a defeat. However, in an unfortunate misunderstanding between Haider Ali and James Vince, James Vince got out. According to the experts, this was the event, which resulted in defeat of Karachi Kings. Even without Vince the team did well, as he had built solid foundation but Karachi Kings failed to get over the line and fell just short. James Vince had scored 75 runs on just 34 balls with the help of 6 Sixes and 7 Fours. He was not out on time of end of Karachi Kings innings.
Imad Wasim, the captain himself, scored 46 on 26 balls with the help of 5 Sixes, in fact all of his boundaries were sixes. Matthew Wade scored 20 runs and everyone else involved scored less than that. Until the end of 20 overs the Karachi Kings were able to score just 193 runs for the loss of 5 wickets. So Karachi Kings lost the match by 3 runs.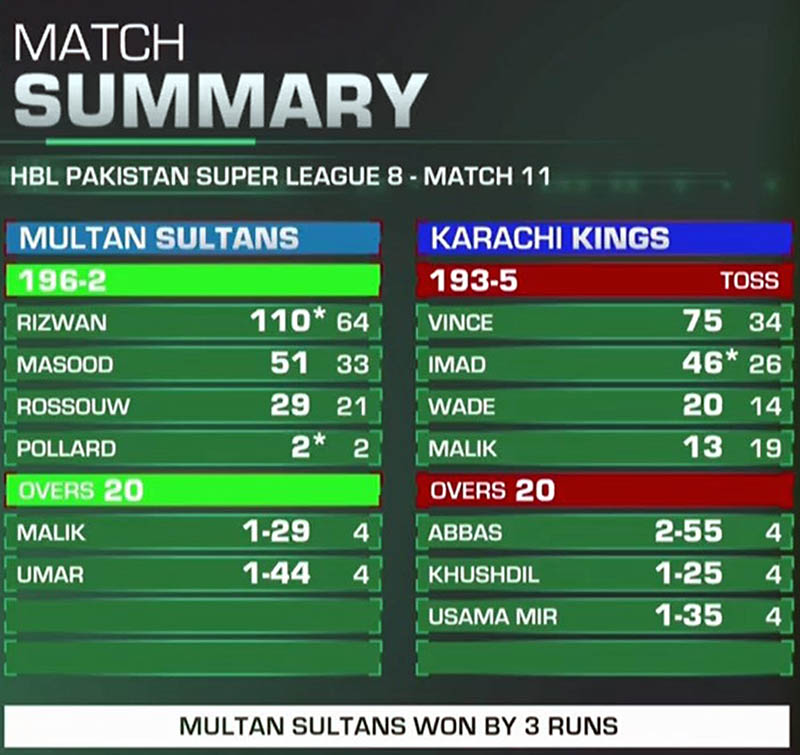 From Multan Sultans bowling side, Abbas Afridi took two wickets while Usama Mir and Khushdil Shah took 1 wicket each. Muhammad Ilyas, Carlos Brathwaite and Ihsanullah were not able to take any wickets.
While Multan Sultans won the match by 3 runs, Muhammad Rizwan was awarded with the player of the match title and trophy for his tremendous 110 runs on just 64 balls.
After the match 11 of PSL 8, the Multan Sultans moved to the top of team standings and the Karachi Kings stand on the fourth place. However Karachi Kings can go further down as they have played 5 matches and teams on number five and six have played less matches than Karachi Kings. Team standings after match 11 of PSL 8 are as follows.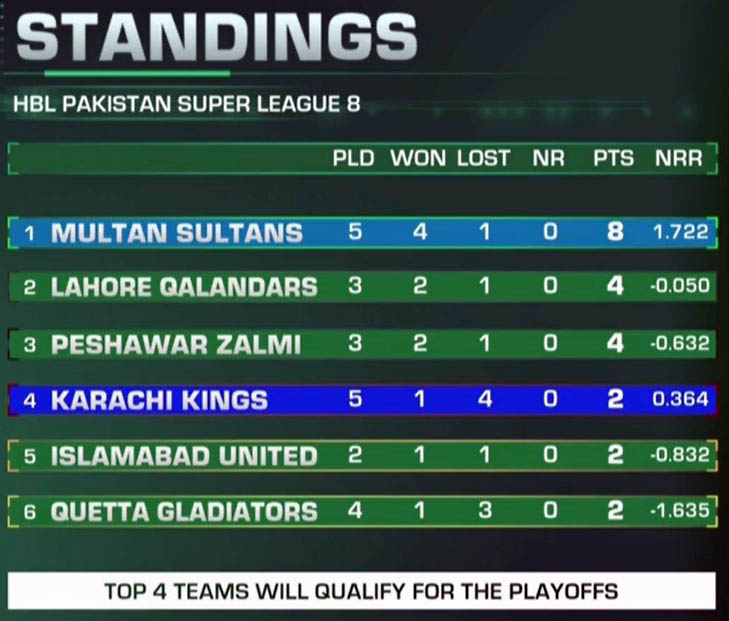 Total 26 more matches, still to be played in PSL 8, for schedule and more details you might be interested in, about PSL 8, checkout following links.