Pakistan Super League (PSL) season 8 is being played now as days. It is Pakistan's own cricket league and is very popular among Pakistanis. As the tournament progresses and nears the end every year, loads of Pakistani Cricket fans take interest in it. On Sunday, Feb 19th, 2023, the second match of the day was played between Karachi Kings and Lahore Qalandars. This was eight match of PSL 8 and Fourth Match of Karachi Kings. This match was also very important for Karachi Kings as they did not won any match yet in PSL 8, as they have already played 3.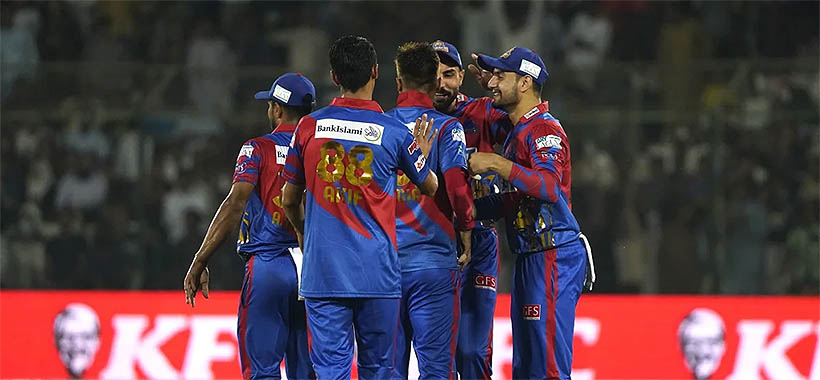 In this match Lahore Qalandars won the toss and elected to field first. Right from start the Karachi Kings batters done very well, every batter seem to do their part to put a big total on scoreboard. Also Karachi Kings did not lost any early wickets like they used to do in all previous matches of PSL 8, which they played.
Anyways, from Karachi Kings batting side James Vince scored 46 top score on total 36 balls. Matthew Wade scored 36, Imad Wasim scored 35, Ben Cutting scored 20 runs while rest of player scored less than that. Overall, Karachi Kings put up total of 185 runs on scoreboard by giving total of 186 runs to Lahore Qalandars to win. On the end of inning Karachi Kings had lost 5 wickets overall.
From Lahore Qalandars bowling side Shaheen Shah Afridi, Zaman Khan, Harif Rauf and Liam Dawson took one wicket each. From Lahore Qalandars batting side Mirza Baig scored 45 runs, Kamran Ghulam scored 23 runs while everyone scored less than 20 runs. Lahore Qalandars all team got out after scoring just 118 runs and playing just 17.3 overs. This way Karachi Kings won by huge margin of 67 runs.
From Karachi Kings bowling side Akif Javed took 4 wickets, Aamer Yamin and Ben Cutting took 2 wickets each, Imad Wasim and Muhammad Amir took one wicket each. While Imran Tahir was not able to take any wickets today in his 4 overs, which he bowled.
Imad Wasim was awarded the Played of the Match trophy and title for the good performance in both batting and the bowling. While batting he scored 35 on just 19 balls while being not out on end of innings. The runs of Imad Wasim Included 2 sixes and 2 fours. While bowling Imad Wasim given just 23 runs in his four overs and also took a wicket. So, great performance by him today overall.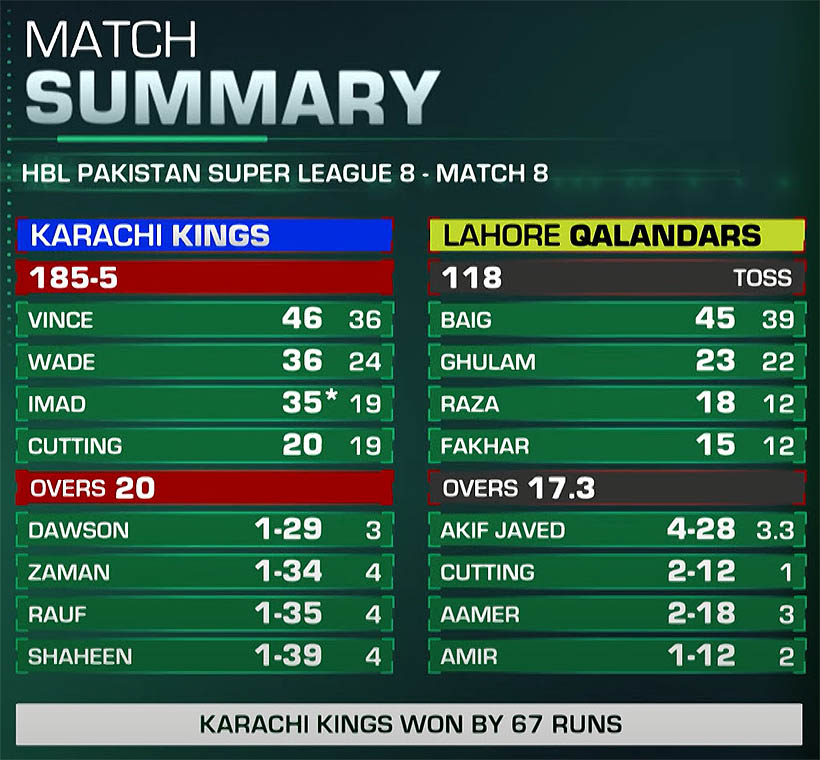 You may also be interested in one or more following details about PSL 8.