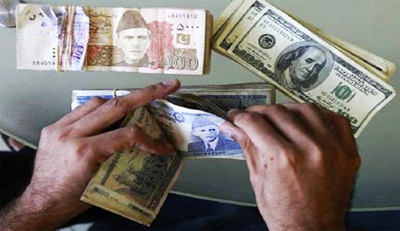 All the good things which Pakistan Muslim League – Nawaz (PML-N) claims to have done, they would have keep tabs on the declining Pakistani Rupee. It is a fact that Pakistani rupee was not stable even before PML-N's era but as soon as PML-N came into power, the depreciation kept going on and even accelerated at moments. Normally when this happens, if state bank of Pakistan intervene and put out some US Dollars in the Market against Pakistani currency things settle down. But in this case first no move was came from State Bank of Pakistan (SBP). Later on they did came in with a move to control the value of depreciating Pakistani Currency but that long due move came on very late and it was just temporary measure.
Then again later on Pakistani Rupee was left alone to depreciate. The party which came into the government with big claims for reviving the Pakistani economy again did took another loan from International monitory Fund (IMF) to settle an installment of previous loan. This again did put pressure on Pakistani Rupee and still it is not settling down but declining day by day.
Moreover as we know that Pakistan have something above 200 billion US dollars foreign dept, which it have to pay back. Value of one US dollar being about 108 Pakistani rupee currently in interbank with just one rupee increase the loan or dept of Pakistan increases by billions as per our local currency.
A PML-N's own official, the federal minister of finance Ishaq Dar stated this in parliament recently
The public and publicly guaranteed foreign debt, including IMF, has increased by Rs403,064 million as a result of depreciation of the rupee during the present government
What he stated is partially correct, the correct portion is increase in foreign debt during the current PML-N era but the figure stated is wrong and too much less than reality. In fact since PML-N came into power, the Pakistan rupee devalued from about 96 PKR against USD in the interbank then to about 108 PKR against USD in interbank now. Considering that Pakistan have over 200 billion foreign dept so actual figure comes somewhere near 24 Billion rupees increase in foreign dept other than just 500 million rupees government have announced.
PML-N led federal Government not only doing less to control the devaluation of Pakistani currency they have just tried to fool Pakistani people by giving the wrong figures about the damage devaluation of Pakistani currency did in terms of hike in foreign dept in their era.
Do share your opinions openly via comments below. Do follow us on twitter and Like/join us on our Facebook page, all from options on right side of this page.