For those who does not know, Pakistan Telecommunications Company Limited (PTCL) is currently the only major land line telephony operator in Pakistan. They once used to be fully Government owned organization but it was later privatized partially, so currently the Etisalat (An Abu Dhabi based company) holds the 26% shares of organization along with the administration of PTCL. Still most of its part is government owned even now. Now along with land line telephony and DSL internet, PTCL also provides 3G evo wireless internet services in the country.
PTCL currently claims to provide the highest internet speeds over their landline (ADSL) and evo 3G wireless networks. But the main problem with PTCL management is their main focus always is on announcing, advertising and launching new services. They does not pay any attention on fixing or improving the current set of services they provide.
Not only quality of service, they have no regard of current valued customers they always keep changing the package prices for new customers meanwhile old customers are stuck with that old higher price.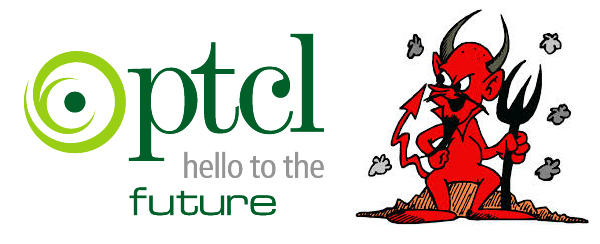 For example EVO Nitro a wireless internet service of PTCL, currently for subscribers who have Evo Nitro devices purchased before Aug 2012 the monthly bill is Rs. 3000 and for customers who purchased their devices after Aug 2012 monthly bill is Rs. 2100. Also in start people had pay 6000 to even get a nitro connection and just 2 months later they started providing same connection free of cost for people who pay 3 months bill differently. This thing is again bit understandable but having different higher rate for old valued customers and lower for new ones is not understandable at all.
A most recent promotion of PTCL product again grabbed my attention to fact that PTCL is bias to its newer and older customers. Unlike any other company PTCL's older customers are suffering more or in other words paying more. Recently, PTCL announced that on payment of 3 months of evo nitro bills in advance its customers could get discount of 800 or 1000. For older customers discount is 1000 but they have to pay a total of 8000 for 3 months (3000×3 – 1000) and discount for newer customers is 800 but they have to pay less for same service and that is 5500 (2100 x 3 – 800). I also took a screenshot of the offer from PTCL's website, following is the graphic showing the PTCL's evil and unfair behavior towards its customers.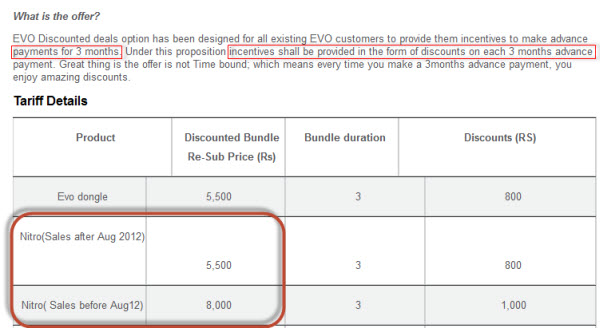 Not only this, there is more to the story, if I start telling everything about PTCL services 100 pages would be less. E.g. On Land line DSL internet PTCL claims to provide internet speeds of up to 50 and 100 Mbps but in some areas their network is bad that these lines could not run even 2Mbps internet. I am not talking about far flung areas its different areas in same cities. They basically don't repair the old installed cables, wires and polls.
Same is the case with their EVO wireless internet, they advertise that evo nitro would give you speeds of 9.3 Mbps but I have seen in many areas it gives speeds lower than 2Mbps and in some others it gives 5Mbps but never seen evo device running on full advertised speed.
Another major issue we have is PTCL is only main internet provider for the country, so all internet to other ISPs is gone through PTCL, they have offered cheap, high speed but low quality packages to people and made the existence of other small ISPs very difficult, so mostly people have only PTCL as choice.
Hope PTCL corrects itself in future or Pakistan Telecommunication Authority (PTA) takes a strict action against them to make lives of Pakistanis better in terms of internet access.
Do share your opinions and experiences about PTCL or internet in Pakistan or anything related via comments below. Follow us on twitter and join our page on Facebook all from the options on right side of this page.