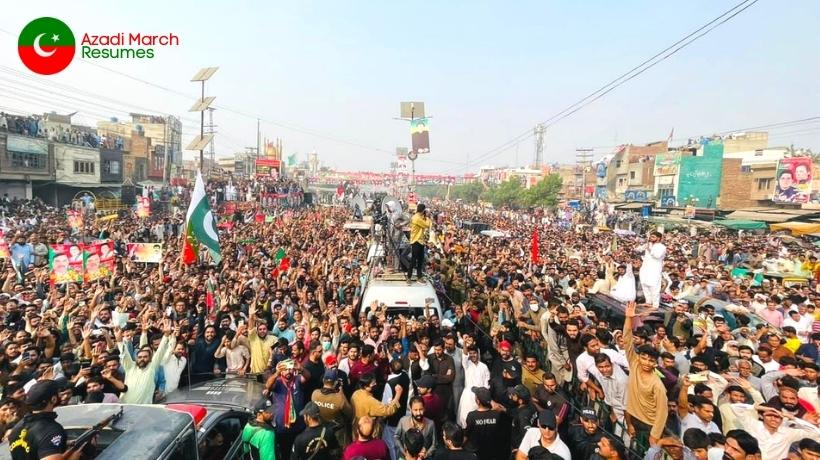 A couple of days back Long March of Pakistan Tehreek e Insaf (PTI) was halted after in Wazirabad the senior leadership was attached via multiple guns. Apparently it was an attempt on Imran Khan's life, however, Allah saved him. He and other leadership, most notably Faisal Javed got shot with bullets, however, lives of those remained safe. One person however died in this attack.
Imran Khan himself remained under treatment in Shaukat Khanum Hospital in Lahore, as he was shot with multiple bullets in his lets. He have however been discharged from hospital and will need rest.
However, an announcement came forward from the PTI Chairman Imran Khan, according to which the Long March will resume from same place in Lahore on tuesday November 8th. Moreover, he himself will not be able to be present on container and will join the march after it reaches Rawalpindi in 10 to 14 days from now.
So apparently this announcement from Khan suggests that long march of PTI will reach in cities of Rawalpindi / Islamabad somewhere from November 18 to 24. March is expected to move smoothly towards the capital, some security risks would be there but until it reaches capital, it is not expected to get any resistance as PTI holds the government in Punjab. However, as the marchers reach Islamabad, things are expected to heat up as Federal Govt is not held by PTI and they are expected to meet some resistance.
Islamabad Police's preparations for PTI long march
Meanwhile, Islamabad police is also preparing again for resumption of PTI long march and to tackle any situation related to the long march. In a tweet from the official twitter account of Islamabad Police, they announced that they have called back FC and Sindh Police as well in preparation of long march reaching Islamabad. Incase you are interested, following is the tweet.