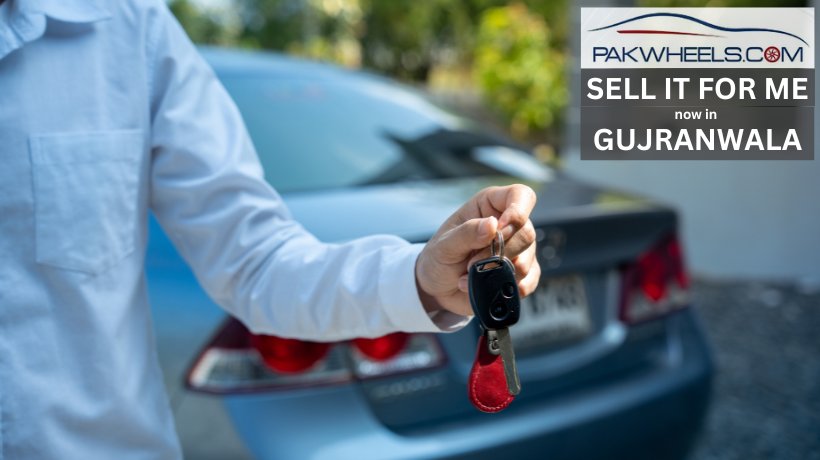 In a latest move PakWheels.com have expanded the 'Sell it for Me' service for the potential customers in the city of Gujranwala. PakWheels offers this service in several cities of Pakistan already. These cities include Karachi, Lahore, Islamabad, Rawalpindi, Peshawar and Faisalabad. Now finally, PakWheels expanded to Gujranwala.
What is PakWheels Sell it for Me Service?
Well, selling a used car is a hassle. You snap pictures, then put it up for sale on some website with an ad, then lots of calls start coming. Sometimes calls are from a serious buyers, sometimes the callers are not very serious. Also people try to get what you have at lower price than what it is worth. Specially, receiving too many calls is a hassle, when you also have to focus on your work.
PakWheels offers a service called 'Sell it for Me', by using this service you can make PakWheels responsible for selling your car. After you order the service, PakWheels staff comes and checks your car against hundreds of checkpoints, so they can assess the condition of car. Then they also snap the pictures of your car. They even clean your call before taking the pictures.
Afterwards, they go and put up an ad for selling your car. Now everycall which comes for your car, is directed to PakWheels. PakWheels.com representatives attend all the calls, they even negotiate with buyers on your behalf. If they find an acceptable and appropriate offer for your car, they involve you and if you agree, the car is sold to the buyer on the agreed price. PakWheels is involved fully in the process but the final decision of selling at certain price to a certain buyer remains with owner of the vehicle.
How much does 'PakWheels Sell it for Me service' cost?
As of today, PakWheels.com takes Rs. 2000 as upfront charges after you order the service. This covers for the initial efforts they put in when they come to inspect your car and put up an ad. They even shine the car before taking the pictures, so initial Rs. 2000 charge is very reasonable. Then later on if your car is sold through PakWheels platform, they also take commission, which is of 1% of selling price.
However, in Gujranwala, as introductory price PakWheels will charge you 2000 upfront charges if you order the service in the first month. However, this is introductory offer will expire soon, one month after launch. PakWheels revealed about the introductory offer in their official blog post about sell it for me service launch in Gujranwala city.
How to order PakWheels.com Sell it for Me service?
If you are looking to sell a car via PakWheels.com sell it for me service, to order the service you can fill a form on PakWheels.com website or PakWheels mobile app. However, alternatively, you can just call PakWheels helpline which is 042-32560406, where your information will be directly taken on phone call and the process will start right away. In my personal opinion, calling PakWheels directly on helpline is most convenient and fastest way to start the process.
Few of Other services offered by PakWheels
PakWheels offers many other services for its potential customers. These include PakWheels Car Registration and transfer service, PakWheels Cars inspection service, PakWheels Certified cars and much more. Let us have a look on some of these services one by one.
PakWheels Car Inspection Service
Either you are selling or buying a car, you can order the PakWheels car inspection service. PakWheels team comes and checks your car against hundreds of checkpoints and make a comprehensive report about the condition of your car. So if you are a seller, you can order this service, get a report generated and show it to the potential buyers of your car instead of talking them through about everything.
However, if you are buyer, it is good to make an informed decision and also it is good to be fully aware about the condition of car you are buying. So, for example you have liked a car for purchasing, now you can order the PakWheels car inspection service, PakWheels team will come and check the car for you. You will get a detailed report and based on that you can make the final informed decision. Even you can negotiate with seller based on the report.
PakWheels Car Registration/Transfer Service
PakWheels had also launched the car registration service, where PakWheels used to bare all the hassles involved in the registration of your new car against a fee. The service was available in limited cities, so you can call PakWheels helpline 042-32560406 for more information and ordering this service. You can also find more details about the service in our blog post about PakWheels Car Registration Service.
PakWheels Certified Cars
PakWheels also inspects and certifies the cars which are in very good condition. They also offer warranties on certified cars. They verify all the car documents and verify the condition before marking it as certified cars. You can find many certified cars on PakWheels.com website's classified ads listings for cars.
PakWheels Auction Sheet Verification
For any imported/used car which you might be looking to buy or have bought already, PakWheels offers you a service to verify its auction sheet. You provide the PakWheels with the chassis / engine numbers of an imported car, PakWheels pulls up the authentic information and real auction sheet which you can compare with the one provided by the seller. This way you can know about any tempering which may have been done with provided auction sheet or info.
PakWheels Car Melas
PakWheels also organizes the car melas in different cities throughout the year. At PakWheels car melas people gather to buy/sell cars and other vehicles. Services like 'PakWheels Car Inspection' may be utilized at the spot, many times these services are on discounted rates when offered in a PakWheels Car Mela. Also PakWheels stall is present in each car mela where PakWheels specialized car care products can be bought.
How to contact PakWheels?
You can contact PakWheels.com by using one of the following options.
The easiest and fastest way to contact PakWheels is through their helpline number which is 042-32560406.
Also if you are looking to order a service you can also fill a form on PakWheels.com website or mobile apps.
PakWheels apps are available on Google Play Store, Apple app store and also huawei app store.
Finally, PakWheels also maintains presence on Youtube, facebook, twitter, instagram and Pinterest. On all these mentioned platforms PakWheels.com is present with username PakWheels. So you can use this handle to interact with PakWheels on any of these platforms.
In case you need any further info, feel free to post in comments below. We will inform you as much as we know, for more you can also directly contact PakWheels.com by using one of the options mentioned above.