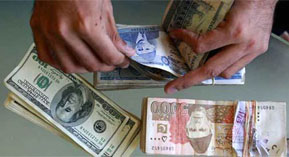 In last few years Pakistani Rupee (PKR) lost its strength more than ever. Never before rupee fallen so much over such a short period of time. This all shows how much grip Pakistan Peoples Party (PPP) had over the economy. In simple words absolutely none. Rupee's worth against US Dollar (USD) was 60 Rupees against one USD 5 years ago but now as PPP ruled and left, rupee fallen to 100 rupees against one USD.
Not only this also over the last 5 years foreign investors only pulled out, Pakistan does not seen any new investment cumming in. Stock exchanges only seen downturn all the time making the lots of investors lose their faith in investing into the shares.
Let alone bringing new businesses Pakistan had some multinational companies pulled out of country. Two of examples I can quote here are the Siemens and HSBC bank. Siemens have already pulled out and HSBC is in process of doing that as they had been merged and sold to local JS Bank.
This all happened due to Zardari led PPP's government's faulty and unsustainable policies. Did they ever had anything called policies, well if they ever had, they were only in books and were never implemented. In fact they were not succeeded in any trait of life but here we are only focusing on their economical failures.
Good news for foreign investors and specially Pakistani people is that future of this country is bright. As we head for Pakistan General Elections 2013, people of Pakistan are more aware than ever. Surveys show that people of Pakistan are fed up of so called leaders who only let them down and are committed to choose the fresh blood who have some futuristic commitments and goals to be achieved for their country. So do get out of your home on elections date, that is 11 May, 2013 as for now.
Do let us know about of your opinions or questions using the comments below. Do Join us/follow us on Facebook and Twitter all from boxes on right side of this page.