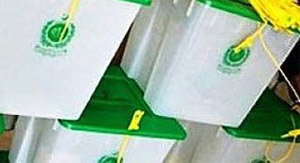 In recent years while election commission of Pakistan was in process of generating the revised voter lists, they gone door to door in each area and registered the residents as voters from that specific areas. In this process there were some people (many) who were for some reason left out of process for such people Election Commission workers just registered their votes on their permanent address instead of current residential address.
In this case for example votes of people currently living in Islamabad was registered on their permanent which may be Jehlam or where-ever they belonged. For most such people traveling back to where they belong for just casting the vote is impractical.
Good news is you can just get you vote transferred to your current residential address. For that you have to visit your nearest Election Commission of Pakistan (ECP) office from your residential address. They will provide you a voter transfer form which you will have to fill, pay a minimal fee setup by ECP and your vote will be transferred in your current area in just one week.
On any time you to find the area where your vote currently registered is just send you National Identity Card (NIC) number to 8300 via SMS. You will immediately receive a reply from Election Commission about current location of registered vote.
Do get your vote registered or transferred to your current location, so you can take part in next elections to choose the next honest people who are in best interest of your country.
Do follow us on facebook and twitter, do let us know your opinions or ask any questions via comments below.