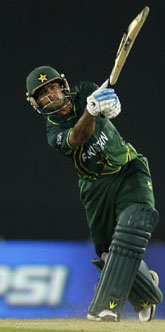 West Indies won the toss and elected to bat first in Quarter final Match of ICC Cricket World Cup 2011 being held between West Indies and Pakistan. With the bat West Indians were not able to do well against the Pakistani bowling. West Indies were all out after doing just 112 runs all team out in 43.3 overs. The best scores on West Indians score card were S. Chanderpaul (44) and RR Sarwan (24). Most of other batsmen got out without even entering the double figures. There were also four ducks on the West Indian score card.
On other side Pakistani bowlers have done very well, it all started in third over with the wicket of Chris Gayle and there was no looking back then. Back to back wickets broken the back of West Indian batting, in Pakistan bowling side the leading wicket takers were Shahid Afridi (4), Muhammad Hafeez (2) and Saeed Ajamal(2). Umer Gul and Abdul Razzaq also took two wickets each. So collectively Pakistani bowlers done awesome job in containing the West Indians to just 112.
Pakistan also done awesome job with the bat and West Indians also look ineffective in this department as well. Kamran Akmal and Muhammad Hafeez started for Pakistan with the bat and were able to do good job as openers. Start was real aggressive  and Pakistan were able to reach 100 runs with without a wicket. Muhammad Hafeez and Kamran Akmal are now batsmen out from Pakistan side, lets see if they can pull of to the victory without any one of them being out.
They were very much able to pull of the victory and Pakistan won by 10 wickets. Kamran Akmal scored 47 and Hafeez contributed to the score with his stunning 61 runs.