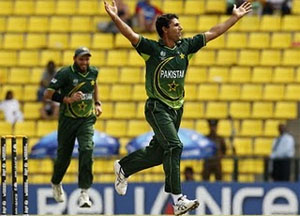 Pakistan cricket team performed tremendously in world cup 2011 match against Australia and won the match. Australia was on winning streak after worldcup1999 and was winning all their worldcup matches continuously throughout in three world cups coming in between.
Last time Australians lost was in 1999 cricket world cup against Pakistan and now again the team which broken Australian winning streak was team Pakistan. Australia is team ranked currently ranked number one on ICC Cricket rankings. Overall Pakistan and Australia played 8 ODI matches in world cups and each team have won 4 of them.
Australia won the toss and decided to bat first, after that it was all disappointment for Australian team against Pakistan. Australian batsmen struggled big time against Pakistani bowlers and no one was even able to score a 50. Best scores from Australian team were Brad Haddin(42), Michal Clarke(34) and Steven Smith(25). A number of em gone back with ducks or single figures. Australia was all out on 176 in under 47 overs.
Pakistani bowling was outstanding and was team work in terms of sending Australian teams back to pavilion as each bowler took at least one wicket with Umar Gul (3) and Aubdul Razzaq (2) wickets standing tall.
Pakistan batting was also quite a success as they achieved the target in 41 overs with loss of 6 wickets. Best scores from Pakistan side were Asad Shafiq (46) and Umar Akmal (44) and Younas Khan (31).
From Australian side Bret Lee was only successful bowler who was able to take 4 wickets, Micheal Johnson and Jason Krejza were able to take one wicket each.
14 teams are participating in this world cup divided in two groups. Pakistan is now on top of its group as per points after winning from Australia. This will put Australia on fourth place in the group, that way they will be facing South Africa in quarter finals, which will eliminate one top team from the world cup. Few matches are remaining before decision of all quarter final matches but it is expected that Pakistan will meat West Indies in their Quarter Final Match.
So far Pakistan have played 6 matches in world cup 2011 and won 5 of them and lost only one and that was against New Zealand.
Hope team Pakistan team continues their good performance in coming matches and brings the world cup trophy back home. Remember this world cup tournament had to take place in Pakistan but was shifted to Srilanka, India and Bangladesh due to security situation back in Pakistan.  Green shirts are now very much in position to make up for this by bringing the trophy back home. Pakistanis had been cricket world champs after winning world cup cricket 1992. They also had been cricket world champs after winning world cup twenty twenty tournament in recent past  years. Current cricketing side  of Pakistan is very much capable of repeating the history in terms of bringing the World Cup trophy back home. So lets hope for the best.