On start of day four of cricket test match being played between Pakistan and England, Pakistan was still playing its first innings and was at 499 for the loss of 7 wickets. Previously, England had scored 657 runs in their first innings and the whole team got out on the second day of the test.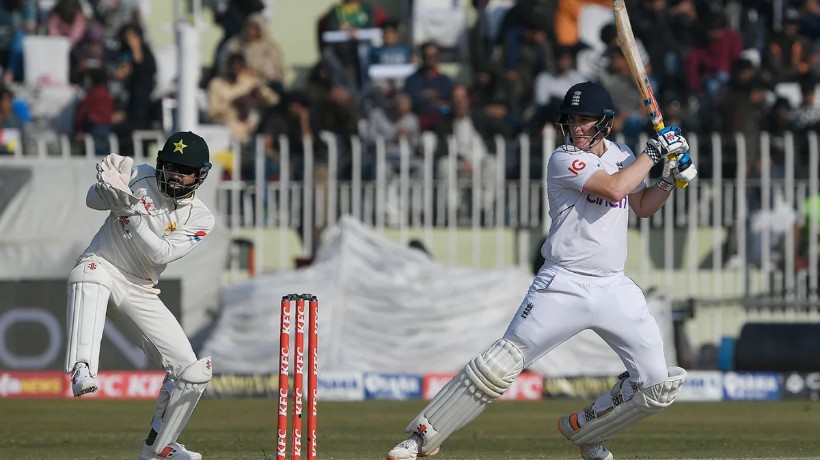 Pakistan Continued First Innings
So, as the day progressed, Pakistan kept adding runs to its previous total of 499. However, as the remaining three wickets of Pakistan dropped, team Pakistan was able to add only 80 more runs to the total and whole team got out at 579. In this 579, there are three centuries a fifty is included. Abdullah Shafique scored 114 runs, Imam-ul-Haq did 141 and third century was from the captain himself, Babar Azam, he scored 136 runs. One more player who was able to take his score above fifty was Agha Salman, he scored 53 runs.
From England bowling side Will Jacks took 6 wickets in his 40.3 overs, Jack Leach took 2 wickets, Ollie Robinson and James Anderson took one wicket each. Joe Root and Ben Stokes also bowled few overs each but did not took any wicket.
England Second Innings
In England's second innings, they lost wickets much faster as compared to their first innings. One of their openers Ben Duckett got out on a duck after playing just one ball and other opener Zak Crawley was able to score a 50. Overall in second innings England declared their innings after just scoring 264 runs for the loss of 7 wickets. Other two top scorers from england side were Harry Brook and Joe Root.
Harray Brook scored 87 runs and Joe Root was able to score 73. England declared their innings at 264 runs when Oille Robinson, Jack Leach and James Anderson were yet to bat. At this moment, England also had 78 runs in store, as the lead from previous innings so they gave Pakistan target of overall runs 343 to win the match.
From Pakistan bowling side Naseem Shah, Muhammad Ali and Zahid Mehmood took two wickets each. Agha Salman took 1 wicket, however he just bowled five overs. Other bowlers mentioned above, each of them bowled about 10 overs. So wicket taking rate of all four bowlers was about the same.
Pakistan Second Innings
Soon Pakistan started their second innings and Pakistani batters were also struggling to bat in the second innings. One of the openers, Abdullah Shafique got out after scoring just 6 runs. Imam-ul-Haq was able to score 43 runs and he is still not out. Azhar Ali retired hurt at 0 while the captain Babar Azam got out after scoring just 4 runs on 5 balls. Saud Shakeel scored 24 and he was also still on crease. Overall Pakistan scored 80 runs, two of its players got out and one retired hurd. Imam-ul-Haq and Saud Shakeel are still playing as the match enters day five tomorrow.
Match Summary after day four
On first day of Rawalpindi test match being played between Pakistan and England, England won the toss and elected to bat first. On day two of the match whole England team got out after scoring just 657 runs. Pakistan team started batting and team Pakistan was at 181 runs for the loss of no wicket on end of second day. Third day, the whole day, team Pakistan played advanced its score to 499 runs and also lost 7 wickets.
On the fourth day of the match Pakistan further advanced its score and by the time Pakistan lost all remaining three wickets, it was able to advance the score to 579. So Pakistan was able to add just 80 runs until whole team got out and at that point Pakistan was trailing by 78 runs. On same fourth day England in their second innings scored 264 runs for the loss of 7 wickets and declared their innings.
So if we combine the lead of first innings and score of second innings, England gave Pakistan the target of 343 to win the match. Again on same day Pakistan started their second innings and by the end they had scored 80 runs for the loss of two wickets, one of their player was also retired hurt.
Match on decisive stage
As for the day five is concerned, Pakistan has to score 263 runs to win the match or have to be on the crease for the whole day to draw the match. England on other hand have to take remaining 8 wickets or even 7 wickets in case Azher Ali, who was retired hurt, gets unable to come back to the crease. Match has entered at very interesting stage and day five play is expected to be very exciting to watch as any two teams have huge chances to win and even there is slight chance of draw.