First test cricket match is taking place between England and Pakistan in Rawalpindi in the Rawalpindi Cricket Stadium. This is part of three test matches between the Pakistan and England team after England team is on tour to Pakistan.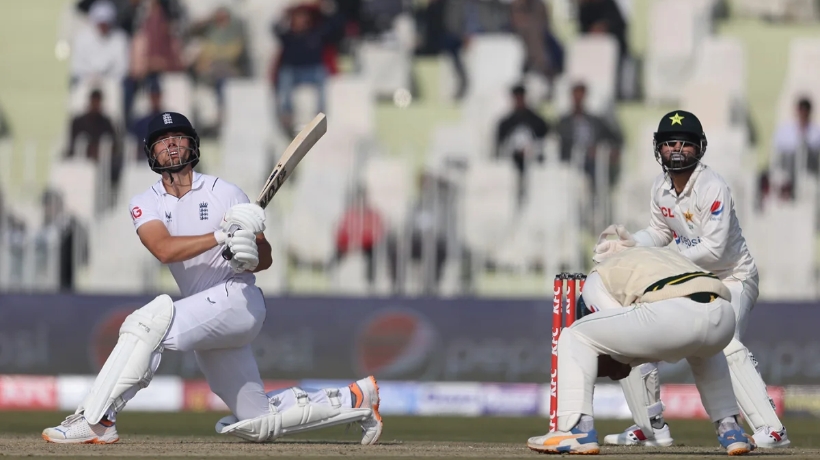 Regarding the ongoing Pakistan vs England match, on second day of test match whole team got out, however they have managed to score 657 runs, these included just 15 extras. From england side Harry Brook was the highest scorer, he scored 153. Zak Crawley scored 122 with the help of 21 boundaries, Ben Duckett scored 107 and Ollie Pop scored 108 runs.
No one else from england side was able to reach even 50 runs. Ben Stokes scored 41 runs, Will Jacks scored 30 and Ollie Robinson 37 runs. Then Joe Root scored 23 and no one else entered double figure.
From Pakistan bowling side Zahid Mehmood took 4 wickets in his 33 overs by giving 235 runs with the run rate of 7.12 runs per over, which is bit higher by test cricket standards. Then Naseem Shah took 3 wickets in his 24 overs after giving 140 runs. Muhammad Ali took 2 wickets in his 24 overs and given 123 runs to team england, meanwhile Haris Rauf took 1 wicket in his 13 overs by giving 78 runs.
Agha Salman did not took any wicket in his 5 overs and given 38 runs. Saud Shakeel in his 2 overs did not took any wicket and given 30 runs on very high run rate of 15 runs per over.
Pakistan's first innings had already been started by now, they have scored 60 runs for the loss of no wickets until now. This match is being played in Rawalpindi Pakistan and the tickets of the event can be bought online.