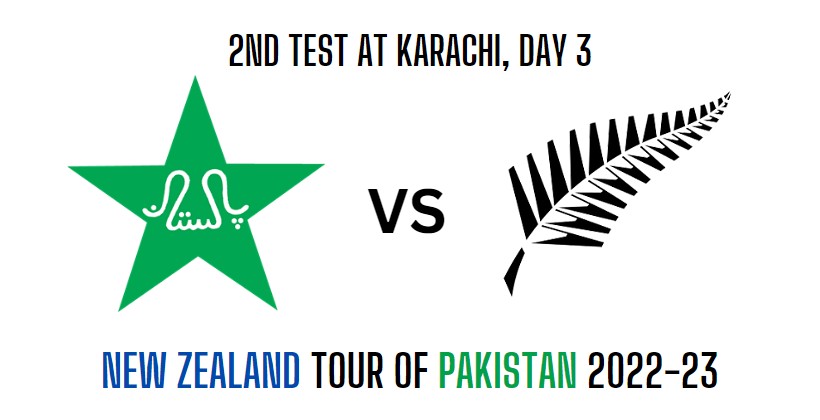 As part of New Zealand tour of Pakistan 2022-23, second test match of two test match series between New Zealand and Pakistan is underway in Karachi at National Stadium, Karachi. The play of third day have already been commenced. New Zealand have already played their first innings and now team Pakistan is playing their first innings.
On day three when team Pakistan resumed their first innings, they had scored 154 runs for the loss of 3 wickets. Soon after that Imam ul Haq got out after scoring 83 total runs. However, later on Saud Shakeel and Sarfaraz Ahmed played well and brought the score of team to respectable level. Saud Shakeel scored a century, Sarfaraz Ahmed scored 78 runs, Agha Salman scored 41 runs. Overall Pakistan had scored 407 runs on the end of day three and they had lost 9 wickets. This was in reply to 449 all team out, first innings scored of New Zealand.
Earlier, Pakistan captain Babar Azam had lost his wicket on 24 runs by being run out while trying to take third run, that too in a test match. Absolutely unnecessary thing to do in a test match. Shan Masood scored 20 and Abdullah Shafique scored 19 runs. Hasan Ali and Naseem Shah, both scored just 4 runs each. Mir Hamza have not scored anything. Abrar Ahmed and Saud Shakeel are two players playing right now in the partnership of last wicket and Pakistan trails by 42 runs.
From New Zealand bowling side, Mir Hamza took 3 wickets, Ish Sodhi took 2 wickets, Tim Southee, Matt Henry and Daryl Mitchell took 1 wicket each. Mitchell Bracewell have not taken any wicket despite bowling 26 overs.
As Pakistan has manage to score close enough to the New Zealand's first Innings score of 449 runs and they still have one wicket in hand, we can safely say it is anybody's game now. Also three days of test match have already been passed, there is a huge chance that the match between New Zealand and Pakistan might end in a draw like the first test match between New Zealand and Pakistan on New Zealand's Tour of Pakistan 2022-23.