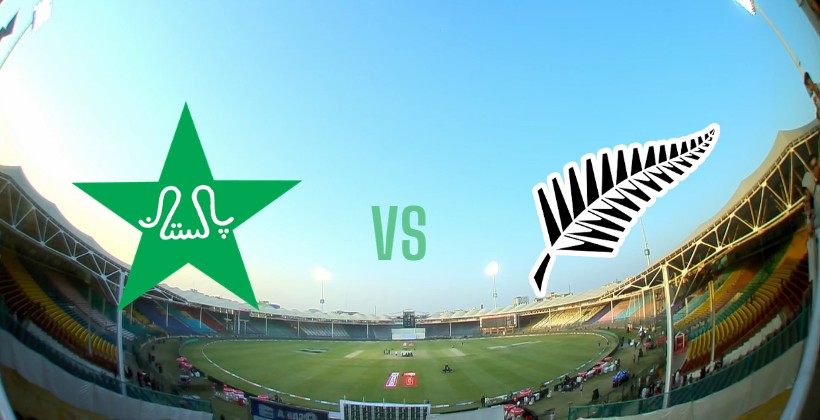 Currently the second test match of Pakistan and New Zealand is going on at National Stadium Karachi. This is part of two test match series which New Zealand had to play against Pakistan in addition to three ODIs. As the fourth day of match started Pakistan was playing first innings at scored of 407 for the loss of 9 wickets in reply to New Zealand's first innings score of 449 runs. However, after just one run, at 408 Pakistan lost all its wickets and New Zealand's second innings started.
On fourth day as there was less time remained to conclude the test match. New Zealand played their second innings until evening, at 277 runs for the loss of 5 wickets New Zealand declared their second innings. Overall New Zealand have given Pakistan the target of 319 runs to win the second test match.
In New Zealand's second innings Tom Blendell scored 74 runs, Michael Bracewell also scored 74 runs and he was not out when New Zealand declared their second innings. Tom Latham scored 62 runs while the other opener, Devon Conway did not had any luck and got out at 0 after on the first ball he faced.
Kane Williamson scored 41 runs, Henry Nicholls got out at 5 runs and Daryl Mitchell was playing at 6 on the time when the New Zealand's innings was declared. Total fifteen extras also contributed to the overall New Zealand's total.
From Pakistan bowling side interestingly every bowler took 1 wicket each while New Zealand was playing their second innings, overall total 5 wickets. Bowlers included Naseem Shah, Mir Hamza, Abrar Ahmed, Hasan Ali and Agha Salman.
On the end of session three New Zealand given Pakistan batting side a chance to play, exactly two overs and five balls were played by Pakistan in their second innings. Pakistan have not scored any runs on these 17 ball but lost two wickets. Abdullah Shafique and Mir Hamza were the batters who got out early. Imam ul Haq was at crease and Shan Masood will join him next probably as the play starts on the first and the last day of second test match between Pakistan and New Zealand on New Zealand's tour of Pakistan 2022-23.
From the New Zealand bowling side, the two bowlers, Ish Sodhi and Tim Southee took one wicket each when team Pakistan started playing their second innings. Now on the fifth day of match it is all about survival for Pakistan. To win they have to chase 319 runs with 8 wickets in hand, to draw they just need to survive for the whole day and if Pakistan loses remaining 8 wickets, they will lose the match. By the way, if the Pakistan team players play cautiously they can survive for the day, as they played through the full third day of this same match.