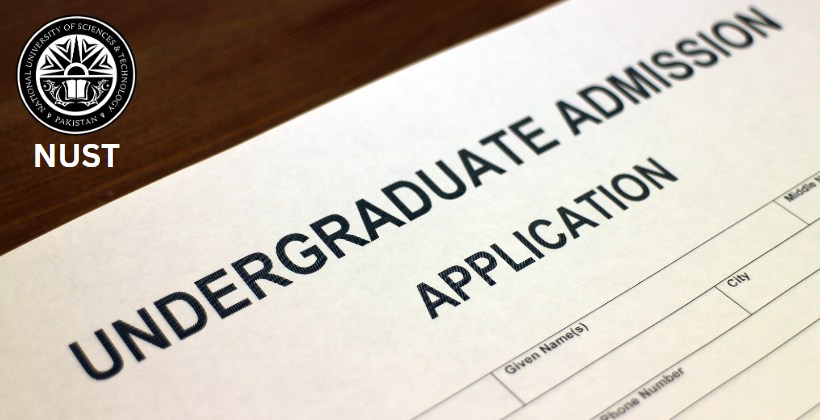 National University of Science & Technology (NUST) undergraduate admissions are open for spring 2023. NUST is opening these admissions in series, in Series One they had already opened admissions in december 2022. However now NUST have opened admissions for Series Two, for which the online registrations dates are from Jan 01, 2023 to Feb 10, 2023.
The entry test dates for series two for Islamabad will be from Feb 10 2023 onwards and for Karachi & Quetta they will be from Mar 2023. The entry test will be NET which is compiled from the text books of HSSC course. NUST university have following terms and details about NET on their website.
Candidates can appear in entry test more than once with the best score considered for the admission. However, in any one series only one attempt is allowed for a particular discipline.
NET is compiled from text books prescribed for HSSC courses. Candidates preparing for NET are advised to consult all relevant text books of various boards of education.
NET is conducted at three locations, that is Islamabad (NUST Campus), Karachi and Quetta.
At Islamabad the Test is conducted in computer-based format. In Karachi and Quetta it is in paper-based format conducted in March & July.
Foreign Nationals can also apply on basis of NET in addition to ACT / SAT

Terms/DEtails about NET Test on Nust WEbsite
For all the students, there is necessary step to fill basic information and get them registered on the NUST website. The login form to proceed with the admission or the link to registration form to make user login for admissions can be found here on NUST's website.
The eligibility criteria for admissions in undergraduate programs is as follows.
FA / FSc stream candidates should have passed HSSC Part-I exam. For those candidates who have completed their HSSC should have minimum 60% marks. All candidates must have 60% marks in SSC as well.
A level students should have minimum 60% marks as per equivalence of O level certificate issued by IBCC.
Admission application processing fee will be charged, which is neither refundable nor it is transferrable and it will only remain valid for same series for which is paid. Details of application processing fees are as follows.
For NUST Entry Test (per exam): Rs. 4,500/- or USD 35/-
For ACT / SAT based National seat: Rs. 5000/- or USD 40/-
For ACT / SAT based International seat: Rs. 10,000/- or USD 80/-
For Foreign Nationals NET (per exam): Rs. 10,000/- or USD 80/-