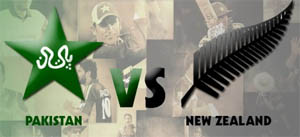 Today Pakistan is going to play their fourth Cricket match of world cup 2011 and its against New Zealand. Pakistan VS New Zealand match will start on 2:00 PM Pakistan Time. Just before World Cup Pakistan had won cricket series against New Zealand and also Pakistan won first three matches of World Cup Cricket 2o11 so they are favorites to win this cricket match.
However Pakistan team will have to play carefully and aggressive at the same time. If we see team Pakistan's previous match against Canada, at one point Canada was looking in good position to successfully chase the score. New Zealand Cricket team is much more experienced team than Canada so team Pakistan will have to put in some extra effort to win this match against them.
Against Canada the batting performance of Pakistan team can very well be counted as poor and all team got out at 184, however bowling saved us, however this time a good total will only save us even if we bat first or not. For qualifying to quarter finals this match may not be very important but to sustain the momentum and winning streak in this world cup green shirts have to win this match.
At end best of luck to green shirts for this match against the kiwis, we will be coming up with the match results later on. Subscribe Info Pakistan on Facebook, Twitter and via email for useful information from and about Pakistan, we are committed to keep you updated.