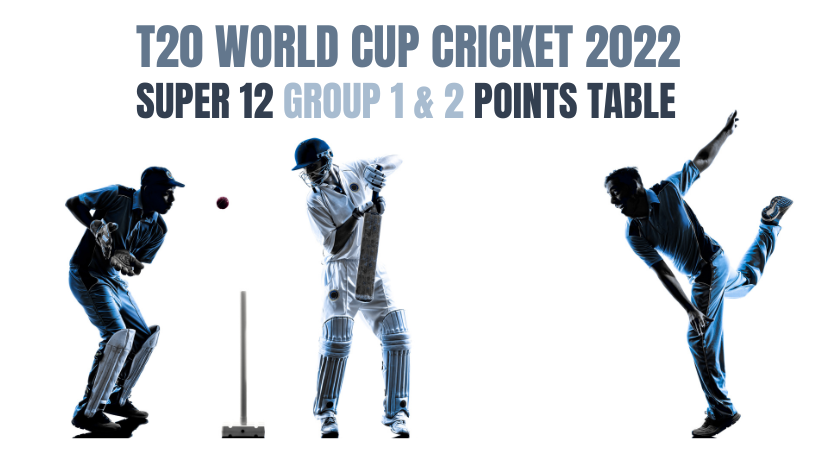 ICC Mens Cricket World Cup 2022 have already been started formally from 16th of October 2022. Many of matches have already been held. Currently the Super 12 stage matches are being played. Super 12 stage is comprised of 12 total teams. Teams are divided into two groups of 6 teams each. These groups are called Group 1 and Group 2.
Two teams from each group of Super 12 stage will go directly into semi-finals stage. Teams will progress into semi-finals stage based on the points they secure in Super 12. The two teams with most points in both groups will end up in next stage. In each match the winning team gets two points, if match is canceled, tied or ends without result, each team will get one point. If on the top there is tie between any two teams to progress in to next stage based on points, then the decision will be made based on the Net Run Rate (NRR).
So following are the points tables for both Group 1 and Group 2. We will also keep updating these points tables below as the tournament progresses.
Group 1 Points Table
| | | | | | | |
| --- | --- | --- | --- | --- | --- | --- |
| Team | Position | Played | Won | Lost | NRR | Points |
| Afghanistan | 6 | 2 | 0 | 1 | -0.620 | 1 |
| Australia | 5 | 2 | 1 | 1 | -4.450 | 2 |
| England | 3 | 2 | 1 | 1 | +0.239 | 2 |
| Ireland | 4 | 2 | 1 | 1 | -1.169 | 2 |
| New Zealand | 1 | 2 | 1 | 0 | +4.450 | 3 |
| Sri Lanka | 2 | 2 | 1 | 1 | +0.450 | 2 |
Group 2 Points Table
| | | | | | | |
| --- | --- | --- | --- | --- | --- | --- |
| Team | Position | Played | Won | Lost | NRR | Points |
| Bangladesh | 1 | 1 | 1 | 0 | +0.450 | 2 |
| India | 2 | 1 | 1 | 0 | +0.050 | 2 |
| Netherlands | 6 | 1 | 0 | 1 | -0.450 | 0 |
| Pakistan | 5 | 1 | 0 | 1 | -0.050 | 0 |
| South Africa | 3 | 1 | 0 | 0 | +0.000 | 1 |
| Zimbabwe | 4 | 1 | 0 | 0 | +0.000 | 1 |