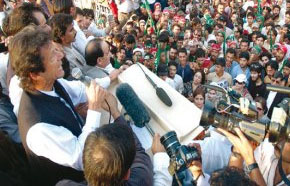 Imran Khan had called a rally for 30th of October at Minar-e-Pakistan and now when that time came people more than expectations of anybody gathered around the Minar-e-Pakistan. 80% of people are the youth of the country, people who want to take country out of chaos.
People from all over Pakistan have welcomed the request of Imran khan and gathered in quantity which is uncountable at all but they are definitely more than 200,000. Even more people are joining the rally every moment. According to electronic media lots of people even not been able to reach and still to join the rally.
With this huge response the Pakistan Tehreek-e-Insaf's (PTI) and people of Pakistan's journey towards the change is already started. A revolution is ahead where everyone is hoping that irony will go away. While the current parties in government have been failed to run the country, they have done nothing for the betterment of people of Pakistan or resolving the problems like lack of education facilities, lack of health felicitates, Power load shedding, Gas load shedding, lack of justice and many many more. Moreover country have seen the biggest downturn of economy in current government period of Pakistan Peoples Party (PPP).
Now when the Imran Khan came in politics to bring revolution for people of Pakistan, people are welcoming him in a great manner.