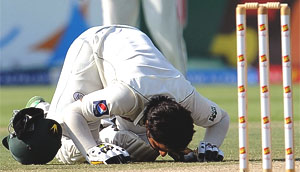 In series of test matches against Sri Lanka, Pakistan cricket team is giving the tough time to Sri Lankan cricket team. Match started on October 2011 in a Neutral venue, Sheikh Zayed Stadium  in Dubai. It is bowling or batting, Pakistan Cricket team is going strong. Sri Lanka batted first in match, following of details of match so far.
Sri Lanka first Innings
Sri Lanka were all out in their first Inning after just scoring 197 runs. The best scorers were "TM Dishan" with 85 runs, AD Methews with 52 Not Out and RAS Lakmal with 58 runs. No one else passed the 50 runs mark, so team ended up doing just 197 runs.
From Pakistan side the new Bowler Junaid khan did well with the bowl by taking 5 wickets in his 14.1 overs by giving just 38 runs. Umer Gul took 2, Saeed Ajmal took 2 and Muhammad Hafeez ended up taking one wicket.
Pakistan first Innings
Pakistan did too well with the bat in their first Innings, overall they scored 511 runs and had to declare so that they can clean sweep the Sri Lankans to head for the victory. For this 511 most of credit goes to Taufeeq Umar who scored 236 runs, Muhammad Hafeez scored 75 and Azhar Ali ended up adding 70 runs to the total.
For Sri Lankan side HMRKB Herath ended up taking 3 and UWMBCA welegedara took 2 wickets, so they were only able to send 5 Pakistani batsmen to the pavilion till Pakistan declared their Innings.
Sri Lanka Second Innings
NT Paranavitana was back to pavilion as soon as match started, he face just one ball and scored none. Umer Gul took his wicket. Sri Lanka was at 47 runs when it was called a day. So this was Sri Lanka's score at the end of 3rd of the game.
Pakistan's Chances
Sri Lanka still trails by 267 runs with 9 wickets in hand on end of third day. Pakistan have 2 full days to send Sri Lanka back to pavilion and win the match. They also have one full Innings left, so they have better chances to win.
Sri Lanka's Chances
Sri Lanka can try to draw the match only if they can stay on wicket. I don't see Sri Lankan's winning this match from this point but still can easily draw if stay at wicket and just stop the bowls sensibly.
Subscribe via email, follow on Facebook and twitter, all from options on right side of this page.