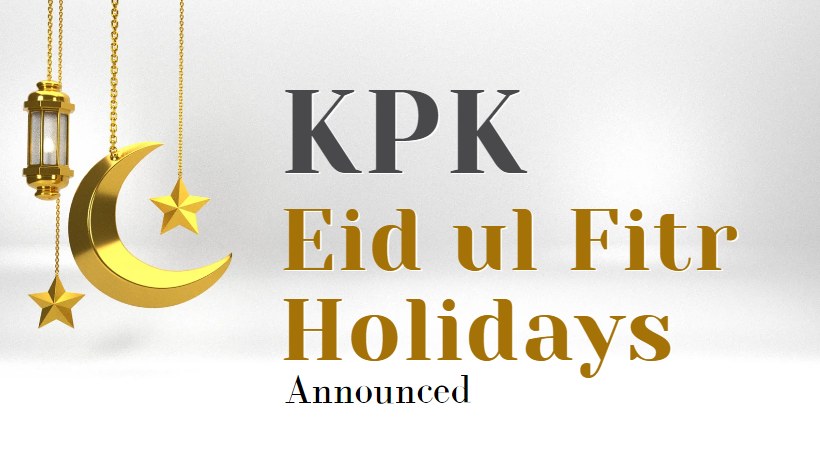 Eid ul Fitr (Eid al-fitr) is just round the corner. It is one of biggest religious festival/occasion for muslims. So across the world the muslims enjoy three or more holidays on this occasion, specially in the countries where muslims are in majority as per population is concerned. Pakistan is also one such country, here too we usually enjoy three to four holidays of eid, sometimes they become five after joining in the weekend holidays. However, this time, in 2023 federal as the provincial governments are being generous when it comes to eid holidays.
In a recent move, the Government of KPK have announced total six holidays for Eid ul Fitr. The Eid ul Fitr holidays in KPK will start from Friday, April 21, 2023 and will end on Wednesday, April 26, 2023. This means that all the office goers, bank workers and students will have to report back to whatever they do, on Thursday, April 27, 2023.
A notification in this regard was issued by the Government of Khyber Pakhtunkhwa, Administration Department on April 14, 2023. The main text of the Eid ul Fitr holidays notification read as per given below.
It is notified for general information that 21 to 26th April, 2023 (Friday to Wednesday) shall be public holidays on the occasion of Holy Festival of Eid-Ul-Fitr 2023 (1444 A.H).

The above Notification may kindly be publicized in all major English and Urdu Dailies both at National & Regional levels and also be given wide publicity through print and electronic media.

Text from Govt. of KPK Administration Dept. NOtification dated April 14, 2023.
If you are interested in having a look on the notification itself, a scan of it is as follows.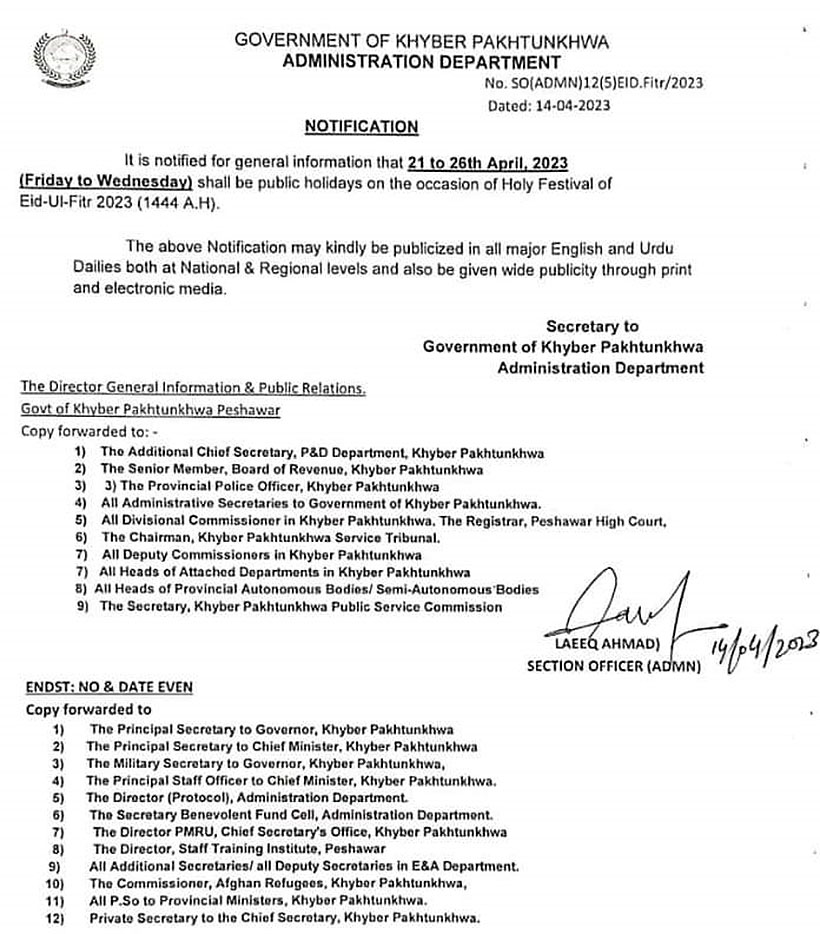 People of Khyber Pakhtunkhwa (KPK) and specially the students will be very happy with their provincial government, as KPK govt have given one extra eid holiday in the province as compared to what the Federal Govt of Pakistan announced. KPK govt announced six holidays whereas recently, the Federal Govt have announced five Eid ul Fitr Holidays. The announcement of five holidays by federal govt, as compared to usual three or four holidays, was a surprising move, however, Govt of KPK have gone one step further in this regard.