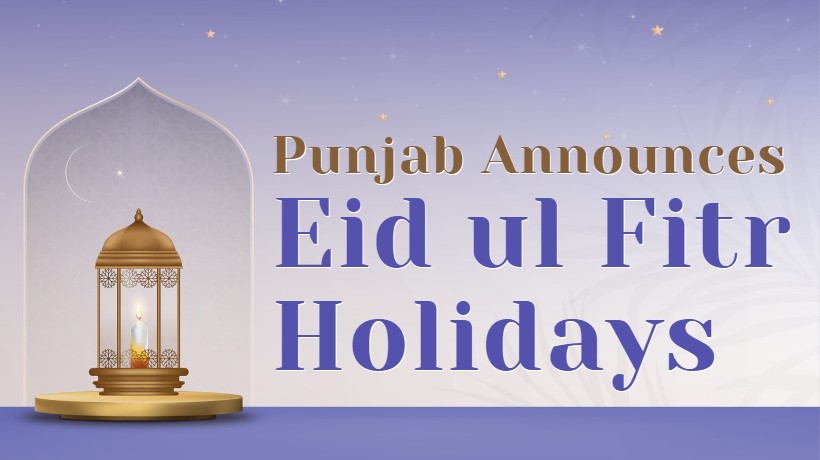 One of the two biggest religious festivals for Muslims around the world is Eid ul Fitr (Eid al-Fitr). Eid ul Fitr is just round the corner. Muslims around the world enjoy three or more holidays in Eid ul Fitr, same is the reason in Pakistan too currently different federal and provincial governments are announcing the Eid ul Fitr holidays. Latest development in this regard came when the caretaker Govt of Punjab announced holidays for Eid ul Fitr 2023.
If we go into the detail, the govt of Punjab Pakistan have announced five holidays exactly the Federal government. The holidays will start from the April 21, 2023 (Friday) and are until the April 25, 2023 (Tuesday). These holidays are valid for all the offices, banks, businesses and the educational institutions including schools, colleges and universities. Everyone will have to report on their study or workplace on April 26, 2023 (Wednesday).
This announcement of Eid ul Fitr holidays came from the caretaker Government of Punjab on April 14, 2023. Usually Pakistanis enjoy just three to four holidays on Eid ul Fitr but luckily this time the governments are announcing five or more holidays for Eid ul Fitr in 2023.
Recently, Federal Govt of Pakistan also announced five Eid ul Fitr holidays for workplaces, banks and educational institutions. Whereas the KPK govt gone one step further in pleasing the people with a treat of long holidays. As, recently KPK govt given six Eid ul Fitr holidays to the people of Khyber Pakhtunkhwa (KPK).
The central Ruet-e-Hilal committee meeting will take place on April 20, 2023 for moon sighting. However, according to the same Central Ruet-e-Hilal Committee the chances of moon sighting on April 20, 2023 are slim. So there is a huge chance of Eid ul Fitr taking place on April 22, 2023 in Pakistan. However, if moon is sighted in anywhere in Pakistan on April 20, than obviously the Eid day will be April 21, 2023.