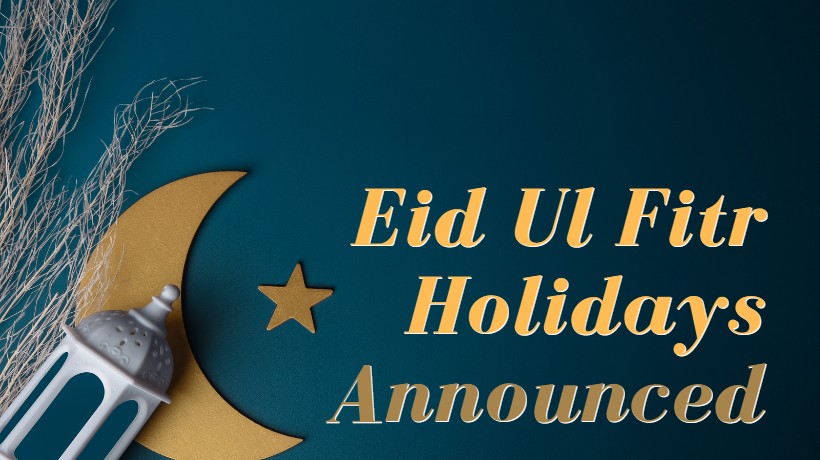 Eid ul Fitr is just round the corner, it is one of the couple of occasion here in Pakistan, where people get most holidays in a year. However, this time Eid ul Fitr brings much more fun and joy for the students and workers of Pakistan, as Govt have announced 5 days holiday for Eid ul Fitr instead of usual 3 to 4 days.
So, the holidays will start from Friday, April 21, 2023 and will go up to Tuesday, April 25, 2023, which makes it full five days of holiday. According to this holiday schedule, everything will reopen again on Wednesday, April 26, 2023. The Ministry of Interior have announced the details of these holidays which are to be given on the Eid-ul-Fitr 2023. However, an official notification in this regard is still pending, the notification will soon be issued by the Ministry of Interior itself.
The Central Ruet-e-Hilal Committee will meet on April 20 for the moon sighting for the Eid ul Fitr 2023. Eid ul Fitr in Pakistan will be either on April 21 or on April 22. It depends on the moon sighting and the decision of Central Ruet-e-Hilal Committee.
According to some online resources, Association of Private schools of Pakistan have already announced the eid holidays, which are from April 21 to April 24, which makes it four days. However, after the government have announced five days holiday, it is most likely that private schools will also revise their holidays for Eid ul Fitr 2023 to comply with the holidays announced by the government.
Pakistanis love to have the holidays, they also celebrate and enjoy them to the fullest. Many will be very happy to see the full five day holidays for eid ul fitr this times instead of usual three or four. How will you spend and enjoy your holiday, do share it with us in the comments section below.