On seventeenth day of Haqeeqi Azadi March, the Pakistan Tehreek e Insaf (PTI) chairman Imran Khan addressed the gathering via video link as the march reached Rawat. In his speech Imran Khan started from beginning and explained everything on why he is doing the march and why it is important for the nation.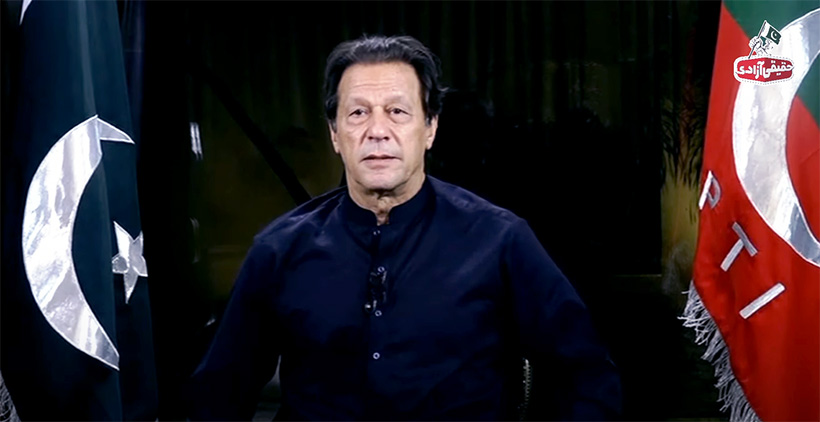 According to him most important thing was that the decisions of country should be done inside the country, should not be dictated from outside. Than he referred to his own ousting from country's administration about seven months ago, when had decided to take the oil from Russia and according to him, some other powers of world did not liked this. Ultimately, the powers in collaboration with local Pakistani collaborators were able to change the regime. According to him, India despite being one of close allies of United States takes the oil from Russia and makes other decisions which are in favour of their people. He than gone on to say, no external powers can perform such regime change operations without the local collaborators.
Other issue Khan highlighted and talked about was that there no protection of weak in country. Only powerful can get justice, law implementation is not the same for the weak or common man. He than mentioned his incident and told that when I am struggling to get justice, how can you expect common man to get it. So his Haqeeqi Azadi March wants to change all these injustices.
Imran Khan also mentioned the incident of killing of the renowned journalist and TV anchor Arshad Sharif in Kenya. How he was forced to leave the country with sixteen different cases being registered against him, only for reason he was an investigative journalist and was writing the truth. He also mentioned he is disappointed with the response journalist community given. They were unable to raise voice, they must keep in mind, this can happen to others too.
Imran Khan in his Rawat speech also mentioned the custodial torture going on these days. He mentioned Azam Swati as well as his former chief of staff Shahbaz Gill. About Azam Swati he said, was victimized while he was at home, than later on he was beaten after removing clothes while custody. Same was mentioned for Shahbaz Gill who Imran Khan said is a university professor not some criminal, foreign spy or terrorist. So he did not deserved this inhuman behaviour, which has be done to him.
Imran Khan also said there are over ten million overseas Pakistanis, if only half million of them invest in Pakistan, they can send enough foreign currency in Pakistan that we will never need any foreign loans or grants. However, Pakistanis economy is not stable and also anyone wanting to invest in Pakistan does not feel safe due to no guarantee of their investment being kept safe. He said if some foreign national just buys a plot in Pakistan, someone from land occupying mafias comes and illegally occupies it. Than offers the real owner to sell the plot for just ten percent of real price. He said, if we need change in country, then we will need to strengthen the implementation of our laws and he is fighting the same fight.
Imran Khan said his struggle to bring the powerful under the law will keep going. It is not just limited to this Haqeeqi Azadi march, the Haqeeqi Azadi (true freedom) Movement will go on after the march as well. Until the law is same in Pakistan for weak and powerful. He also said, it is not just the story of Pakistan but is the story of all underdeveloped countries.
Than after mentioning many other things, Imran Khan gave the date of 26 November, 2022 to his supporters and people of Pakistan to reach Rawalpindi. He told people to make sure that they reach between 1 PM to 2 PM, as he will be personally there to address them in Rawalpindi. He said, it will not be the end of movement, he will reveal details of his upcoming strategy in this regard.
Imran Khan in his closing remarks said, ask any economic expert, country's economy is in ruin today. Our economy is deteriorating from last seven months and going down day by day. However, the current government does not have an action plan or roadmap to do anything about it. People in power are just busy in law making that favours themselves and helps them put the corruption cases against them to the rest. He than termed the fresh elections as solution to this ongoing turmoil. He said whole nation will gather with me in Rawalpindi on 26 November and together we will demand the fresh elections.
Than Imran Khan again mentioned that the Haqeeqi Azadi struggle will not stop there, it will keep going until every Pakistani gets the equal rights, also until common man does not have to give bribe money to get things done or to get justice. He than signed off by saying, Insha Allah Pakistanis I will meet you on 26th of November in Rawalpindi.
Earlier then Imran Khan, while addressing same gathering, Shah Mahmood Qureshi, while talking about Pakistan Democratic Movement (PDM), alliance of more than ten political parties, said, when we were in power, parties which are now part of PDM always kept talking about us being inexperienced. He said they mentioned several times that PTI leadership is inexperienced and unable to run economy and when we will come in power, we will fix everything. However, when today Pakistan Muslim League Nawaz (PMLN) and its allies are in power, the inflation is sky high. There is no natural gas to supply to homes, electricity costs are also very high and also, despite the crude oil prices going much lower in rest of the world, petrol and diesel in Pakistan is being sold on same old high price set by PDM parties.
Shah Mahmood Qureshi along with many other things also mentioned that history tells us, whoever have raised voice for truth, he was killed to silence the voice. Today Imran Khan is on same stage and asking you, should he raise the voice or be silent. He also mention how Imran Khan in Wazirabad was determined after being hit by bullets. There was smile on his face, he waved his hand by making a punch in determination. He was bleeding but he did not lowered his head.